1.   Determine your desired style of door.

2.   Determine the size of barn door needed.
     Measure the doorway opening.  
Door openings with casing/molding: For width, measure across from outer edge of casing/molding to outer edge of casing/molding; for height, measure from the top of the outer edge of the casing/molding to the floor.  Add 1″ to 2″ per door width for overlap depending on privacy needs.
Door openings without casing/molding: Measure the inside of the opening across for width and from the top of the opening to the floor for height. Add 2″ to 4″ per door for overlap depending on privacy needs.
Be sure there is enough room to the side(s) of the door opening to slide the door(s) completely out of the way.
3.  Select Wood Type
Wood choices may be seen here

(hyperlink?).
4.  Select Finish
     Paint or Stain (hyperlink to paint/stain choices?)
If paint, solid or glaze

(What are the glaze options? Hyperlink here?)

Do you prefer a distressed or worn look?

(hyperlink to distressing terms here?)
5.  Select Hardware Style
     Powder coated Black or Nickel
     Hardware kits: Wagon Wheel, Horseshoe, Pulley, Strap (Kit includes track, mounting brackets, hangers, floor guide,      track mounted stop and all screws needed for installation.)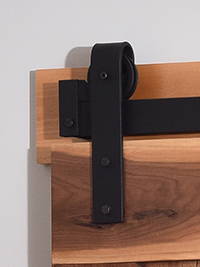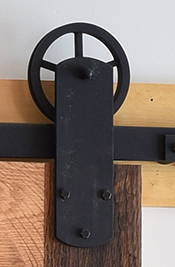 Insert pics of options here:
     Horseshoe                Pulley                     Strap                 Wagon Wheel
6.  Before ordering your door(s):
You must also make sure that you have enough room on one side of the opening for a single door and either side of the opening for a double door in order for your barn doors to open properly. This space should be equivalent to the width of your custom door(s).
Account for molding such as chair rail, thermostats, outlets, light switches, vents and any other object or objects that might impede the proper installation and the function of your sliding door.
There needs to be enough studs in your wall to mount a bracket at least every 16 inches along the track.
You will need a minimum of 6″ between the ceiling or crown molding and the top of the door molding or opening for the hardware to mount, depending on the style hardware that you choose.