4 Creative Ways to Display School Pictures
If you have school-aged children, September is school picture time! In our home, we are big believers in capturing memories for tomorrow, and school pictures are a great way to do that. 

It's crazy how fast children grow, and displaying their school photos is one fun way to document their growth. We hang photos up each year, in some cases swapping out the old for the new, and in others, we add the current year's school photo to a collage or gallery wall. 
Decorating our house with new photos each year encourages us to spend time together as a family and work to make our house feel like home. 
If you need some unique ways to display school photos, or just want inspiration for hanging family photos or creating collages - this is for you! Read on for 4 creative ways to display school pictures in your home!
1. School Pictures Photo Collage 
Photo collages are a great way to display photos in your home. For a unique and rustic option, you can use collage frames like this 6 opening reclaimed wood frame. It is perfect for showcasing school photos through the years, fun family portraits, or any of your favorite pictures. The openings are evenly spaced, making this a clean and gorgeous photo collage option. 
If you have multiple children, you can display school photos of each child in the openings. All you need are 6 gorgeous photos that are all the same size to create a timeless photo collage.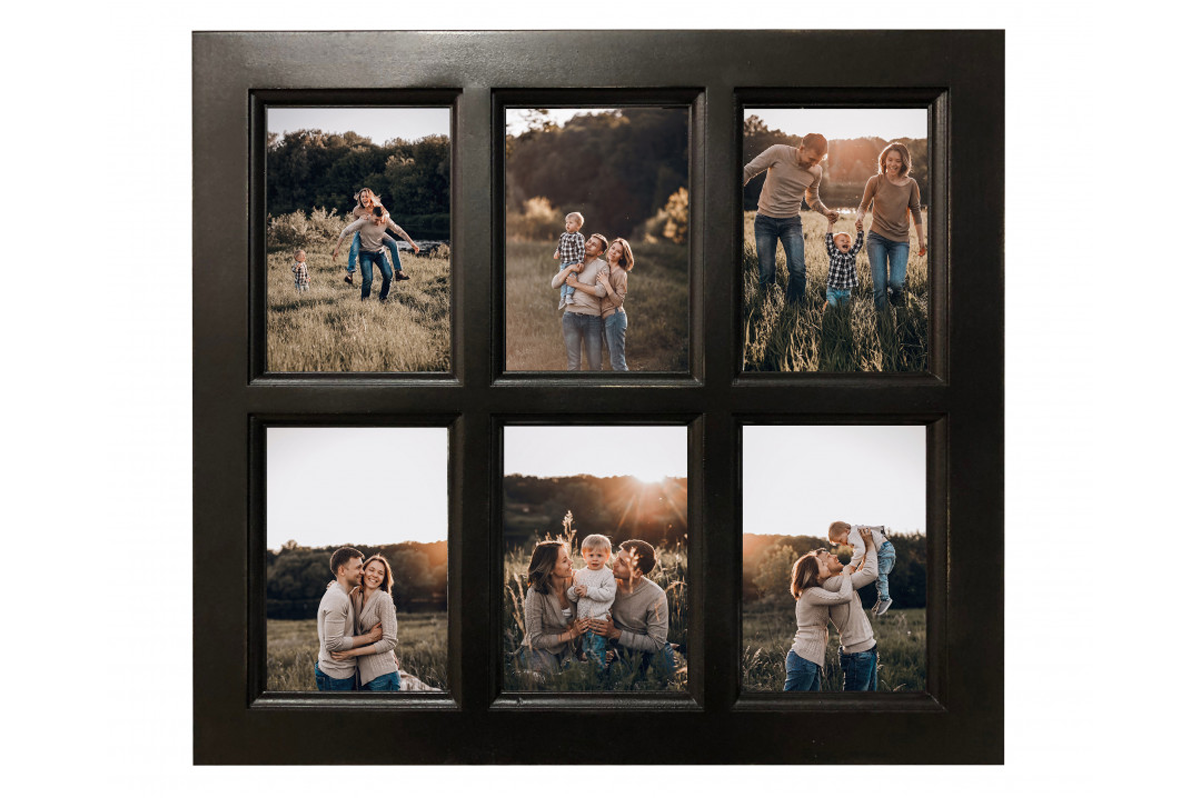 For a more DIY photo collage, make a wire display or use a corkboard to hang your photo collection. Clothes pins or push pins are great options for hanging pictures and allow you to display more photos than collage frames. You can also easily switch out school photos each year and you have the flexibility to display your images in your own unique way. A DIY collage is perfect for a budding interior designer!

2. K-12 School Photos Frame  
We love seeing how our children grow and change over the years. With a K-12 picture frame, you can display your child's school photos in chronological order, with a large opening in the center to feature senior pictures or a unique quote or image. This way all your school photos are in one spot! You can customize the number of openings and pick from black, white, gray, red, and reclaimed wood options.
One idea is to create a photo wall to display your K-12 school pictures along your staircase or in your dining room or living room. You can create memories as you add school photos one image at a time each year.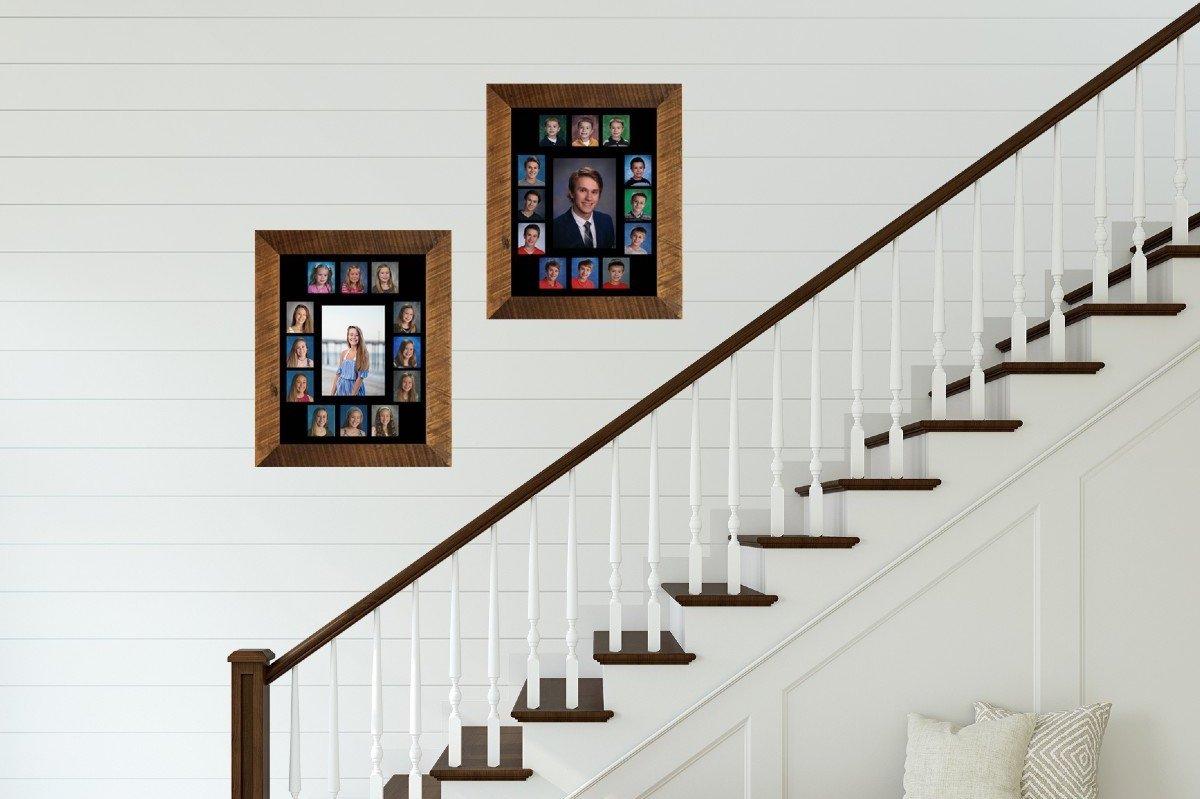 3. School Photos Frame Shelf
Another unique way to display photos is through your home decor! This dual-purpose picture frame shelf combines school photos and unique decor all in one. Add your new school pictures each year or other favorite photos, as a cool idea for your entryway!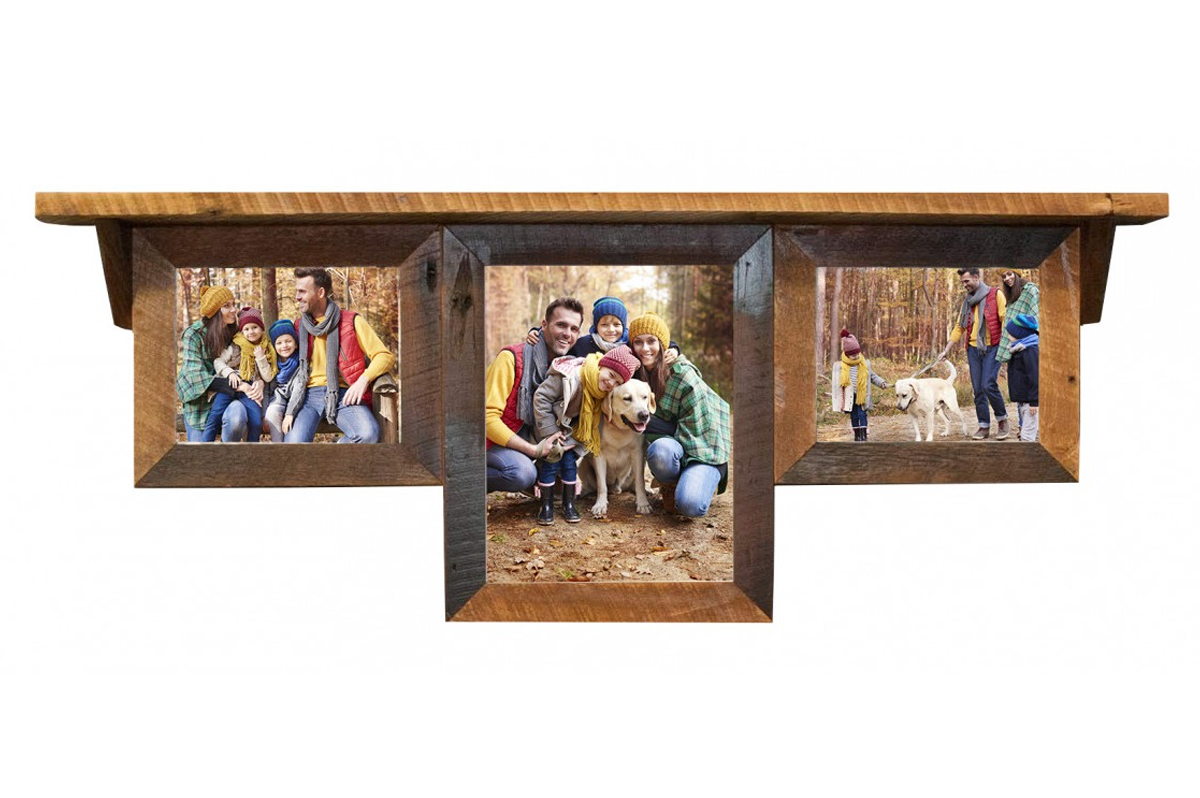 4. Distressed Wood Frames 
Sometimes, having individual frames is just what you need to display your photos. Try a raised frame on reclaimed wood for something that really pops, or a classic (with a twist) distressed white wooden picture frame. 
You can select multiple frames in different sizes and create a gallery wall with all your photos, or hang individual frames throughout your house.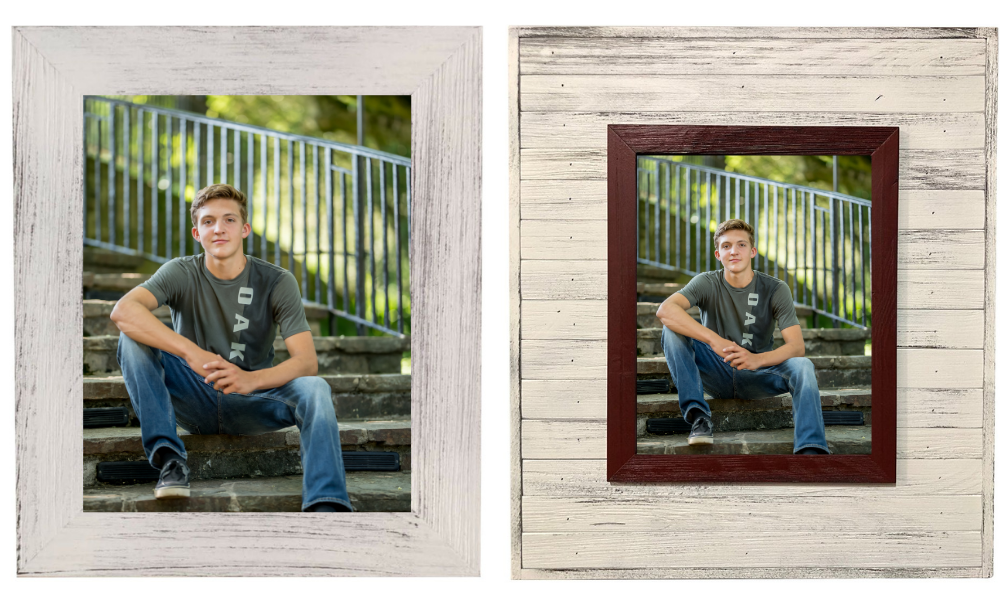 We hope this gave you some inspiration for unique ways to display school photos in your home! Whether you choose to create a gallery wall, collage, or simply pick and choose beautiful small frames to house your photos, you'll find that there are so many creative ways to display the images you love. 
Shop Frames for School Photos!
We hope you feel inspired after reading this blog post! Browse our collection of school year picture frames or shop all of our picture frames on our website for beautiful wood picture frames to add to your home. Our school photo frames come with 13-15 openings and the option for personalizing to keep it extra special throughout the years! Checkout the video below!