We, in PA, have had a taste of fall after a brisk cold front recently came to blanket our area.
Although National Chili Day isn't until the 4th Thursday in February, the Rustic Red Door team was inspired to take advantage of the mercury dip to host an RRD First Annual Chili Cook-off in conjunction with our beautiful boss's birthday. (Happy Birthday, Kerry!)
In preparation for this big event, I decided it would be a good idea to do a little investigating into the history of this ever-popular, cold-weather dish in hopes of impressing my RRD teammates with my newly acquired chili intellect. 
Did You Know?

O….M...Goodness! Just a couple of the facts I uncovered were (*ahem*) interesting. First up: In the 19th century, according to what'scookingamerica.net, "Some Spanish priests were said to be wary of the passion inspired by chile peppers, assuming they were aphrodisiacs. A few preached sermons against indulgence in a food which they said was almost as 'hot as hell's brimstone' and 'Soup of the Devil.' The priest's warning probably contributed to the dish's popularity."
Also: Another unknown-by-me fact is that the second hottest chili pepper, the Trinidad Moruga Scorpion, has capsaicin (which is what gives peppers its hotness) levels so high that holes were burned through the harvester's latex gloves onto their skin while it was being test-harvested. Yowza!
Chili competitions themselves are said to have begun in 1952 at the Texas State Fair in Dallas. Mrs. F. G. Ventura of the same city won the contest and held her title as World Champion Chili Cook for fifteen years! Although I was unable to discover whether Mrs. Ventura received a prize in addition to the "World Champion Chili Cook" title, this past year's winnings at the Texas State Fair were $100 and a Big Tex trophy. But hold onto your (cowboy) hats! This year's winner of the World Champion Chili Cook-off in Terlingua, TX received $25,000, a cast iron pot, and a block of Cutco® knives!!!! Yee Haw!!! THAT'S WHAT I CALL A PRIZE!
Frito® Pie, anyone?

While we're still on the subject of chili and TX, you should know that I spent more than half of my life in the Lone Star State. I would be remiss to not mention the fabulous delicacy known as Frito Pie.
I remember vividly my initiation to this palate pleaser soon after moving to a town outside of Waco. I was at the concession stand at my first high school football game and soon discovered I was the ONLY one there who had never heard of Frito Pie. (If Frito Pie is new to you, too, it's simply a "portable", individual serving-size bag of Fritos loaded with chili, a "cheese-like substance" and onions. DEEEELICIOUS!!! To this day, I eat my chili with big Fritos scoops instead of a spoon.)
According to our Midwestern friends, you call Frito Pie a Walking Taco. That works too :). But in this great article on Eater.com you'll find lots of interesting Frito Pie facts for those of you who may also want to dazzle your workmates with even more frivolous Frito info.

On to the Meat of Our Story
Yesterday's First Annual Rustic Red Door Chili Cook-off was a big success! There were 13 folks (employees/hubbies/kids/grandson) who joined in the fun; 5 brought homemade chili (recipes are below) while the remainder brought accompaniments (crackers, chips, cheese, sour cream, etc.).
Our overall goal was to have a good time together with minimal effort. Here are a few tips that helped us accomplish that goal:
Everyone signed up to help; not one person was tasked to bring more than his/her share.
Each chili dish was brought in a crockpot along with a serving ladle. (If you're expecting a large number, be sure the owners' names are on each item.)
Non-chili items we had:
          -Variety of crackers & chips
          -Cornbread Shredded cheese, onions, sour cream
          -Bowls including "tasting" bowls; (I recommend disposable for easy cleanup)
          -Spoons
          -Napkins
To hold the ballots for each chili, we used old baby food jars decorated with a strip of colored paper and twine. (Ballots can easily be created out of something as simple as plain paper cut into 1" x 3" pieces. We used halved, wooden Popsicle® sticks.)
We assigned a letter to each crockpot of chili.
Each person--even the kids-- was allowed to vote for his/her favorite chili. (Decide ahead of time if you wanna let the competitors vote for their own.)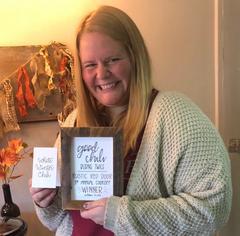 And after the votes were counted...
Jen, Rustic Red Door's adorable graphics artist, was awarded 1st place for her yummy and rich Winter White Chili recipe, while Kim (our lovely photographer) took 2nd place for her Sweet Savory Chili. Congratulations, Ladies! But, to be honest, ALL of the chilies were scrumptious!

That pretty much sums it up. For us, simplicity was key. But there is a plethora of resources to help give your chili cook-off a personality of its own with the help of articles that include pre-chili cook-off planning, tips for judging to free templates available for just about anything from invitations to the winner's certificate.
Whether you go for a simple or elaborate setup, this is probably the most important reminder: Allow for plenty of time to enjoy your guests, family, and friends.
Happy Chili-ing from our Rustic Red Door to yours!

"Chili is not so much food as a state of mind. Addictions to it are formed early in life and the victims never recover. On blue days in October, I get this passionate yearning for a bowl of chili, and I nearly lose my mind."  -Margaret Cousins, author

(1ST Place Winner)
WHITE WINTER CHILI - Jen Murray
1 lb. boneless, skinless chicken breasts, cut into bite-size pieces
1 medium onion, chopped
1 ½ teaspoon garlic powder
1 T canola oil 2 cans great northern beans, rinsed and drained (15.5 oz. each)
1 can chicken broth (14-1/2 oz.)
2 cans chopped green chilies (4 oz. each)
1 t salt
1 t ground cumin
1 t dried oregano
½ t black pepper
¼ t cayenne pepper
1 c sour cream
½ c heavy whipping cream
Tortilla chips, optional
Shredded cheddar cheese, optional
Sliced and seeded jalapeno pepper, optional
In a large pot, heat oil then sauté the chicken, onion and garlic powder until chicken is no longer pink. Add the beans, broth, chilies and seasonings. Bring to a boil. Reduce heat and simmer, uncovered, for 30 minutes. Remove from the heat; stir in sour cream and cream. If desired, top with tortilla chips, cheese and jalapenos.

SWEET SAVORY CHILI - Kim Bancroft
2 lbs. lean ground beef
1 medium sweet onion, chopped
1 orange pepper, chopped
2 large cloves of garlic, minced
1 can light kidney beans, drained and rinsed (15 oz.)
1 can petite diced tomatoes (28 oz.)
1 ½ t Lowry® Season Salt
2 t chili powder
½ t thyme
½ t sea salt
1 t cumin, heaping
¾ t cinnamon
1/3 c honey
*For added heat, add in 1-2 diced jalapeños peppers
In large pot, add ground beef, onion, pepper and garlic and Lowry Season Salt and brown on medium heat. Drain off excess fat. While meat cooks, open beans; drain, rinse and set aside. Add diced tomatoes to ground beef. Next, add other seasonings and stir well; add kidney beans and stir again. Simmer on low for 25-30 minutes to cook down the liquid, stirring occasionally. Add honey. Stir well and serve. (Makes great leftovers!)
(My family loves to make mile-high, piled nachos. We heat up our favorite tortilla chips smothered in cheddar cheese, and top them with chili, shredded lettuce, diced tomatoes, sliced jalapeños, and chives.)

NON-VEGETARIAN CHILI -Scott Foster
1 pkg. bacon
1 1/2 lb. ground beef
2 small onions, chopped
2 bell peppers, chopped
1 hot pepper of your choice, chopped
Paprika
Cumin
Chili Powder
Garlic Salt
2 cans of kidney beans (14.3 oz. each)
2 cans of tomato paste (12 oz.)
Tomato sauce (3-4 15 oz. cans depending on how thick you like your chili)
Cook bacon; when cool enough to handle, break into bite-size pieces and set aside. Pour most of the bacon grease into a separate container. Cook onions and peppers in bacon grease left in pan; remove onions and peppers and set aside.
Season raw ground beef to your liking, then brown in some bacon fat. Place bacon pieces, onions, peppers, ground beef, kidney beans, tomato paste, and tomato sauce in a crockpot. (Add enough sauce to achieve your desired thickness.) Stir well. Cook in crockpot on low for 5-6 hours.

THE BEST CHILI YOU EVER ATE - Rob Naughton
5 T olive oil
9 cloves garlic, minced
6 onions, chopped
3 ½ lbs. ground beef
2 ½ lbs. beef cubes
3 cans diced tomatoes (14.5 oz each)
36 oz. tomato paste
3 cans beef broth (14.5 oz each=total: 43.5 oz.)
3 bottles dark beer
3 cups strong coffee (8 oz. each)
½ cup chili sauce
1 ½ cups brown sugar
10 chili peppers, chopped
12 cans of beans (15 oz. each; a mix of dark/light kidney, black, pinto beans, etc.)
1 T salt
1 T oregano
1 T cayenne pepper
1 T coriander
3 T cumin
3 T cocoa
In a very large pot, heat oil then sauté garlic and onions; add beef cubes and ground beef then brown; add tomatoes, tomato paste, beer, coffee, and beef broth. Add chili sauce and dry spices; add chilies and 8 cans of the beans; simmer for 1 ½ hours. Add the last 4 cans of beans and simmer for 30 more minutes. Serve with sour cream, cheese, and cornbread. Serves 18-24.

CONEY ISLAND CHILI - Kerry Smith
2 lbs. of ground beef
2 packages of hot dogs, chopped
2 cans of tomato paste (6 ozs. each)
Chili seasoning
2 cups water
1 small onion, chopped
2 cups of cheese
Mustard
Cook ground beef, tomato paste, seasoning, and water on high for a few hours, stirring occasionally. Add chopped hot dogs & half of the onions 30 minutes before eating; add cheese, the other half of the onions, and mustard on top of the chili just before serving.