Back to School at Rustic Red Door
Ahhh...Back to School. Music to a lot of parents' ears, right? But it can be a stressful time of gathering all the necessary school supplies and backpacks, finding just the right outfit for the first day of school, listening to how your pre-teen daughter hates her hair, and...for boys...just making sure they have clean underwear ready for that special first day.
For lots of us, the Ahhhhh of Back to School also means kids are out of the house and we finally have a moment to sip on one. cup. of coffee. sitting down. uninterrupted.
Unfortunately, that dreamlike state doesn't last long enough. Ever. When you finally get your bearings, your mind begins whirling around with all the things that you've put off doing all summer because of such a time as this. That's where we come in. Here at Rustic Red Door, we want to offer you a few storage solution ideas that are not only efficient but also beautiful.
If your home is anything like ours, shoes are always disappearing or, worse, can be hazardous as you constantly step over them. There never seems to be a central, convenient place to store these necessary--but sometimes pesky--things. May we suggest our Fairfield Rustic Wood Storage Bench?
It's perfect for any mudroom or entryway and is ideal for holding each pair of shoes that's been longing for a home. Your kids will know exactly where to put and find their missing shoes. (This particular bench can also be a classic addition to enhance the end of your bed and to help keep items organized in your bedroom.) Our benches may be made in the custom size of your choice to accommodate enough storage for each person. PLUS, we have a wide variety of additional bench styles to select from, so visit Rustic Red Door soon and often.
Rustic Red Door's coat racks are a perfect way to organize backpacks, jackets, and coats. As with all of our furniture and decor, the coat racks are of very high quality and made with 100% wood by our Amish craftsmen. The coat racks have hidden screw holes and stained-to-match wooden plugs. Each one may be custom ordered to meet your family's needs.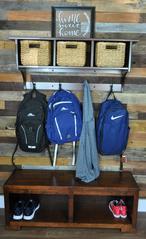 For more storage options, visit our Rustic Storage Benches page where you'll find beautiful design styles with built-in storage.
Enjoy the new school year!