Every Day is a Special Occasion
Tips to Create an Everyday Tablescape
Be honest with yourself for a moment, how often do you and your family sit around the dining table for a meal? Would you say that it's once a day? Once a week? Once a month? Maybe you can't even remember the last time.
A recent study showed that many Americans are eating separately much more often than they are eating together. That's pretty sad, isn't it? I don't know about you, but I would like it if my family were not a part of that statistic.
Now I know that it's not an easy feat trying to bring everyone to the dinner table these days. If you have more than one person living in your home, it's almost guaranteed that you have to deal with conflicting schedules. I get that. It's the same way in my house.
However, I know that there is at least a little bit of time that we can carve out for each other to sit down for a nice meal. If we're honest, maybe even more than one… am I right?
The Benefits of Sharing Family Meals
Take a look at this quote from a recent Instacart article that I read: As of September 2022, 91% of parents surveyed noticed their family was less stressed when they shared family meals together.
Less stress? YES, PLEASE!
The article also noted that 67% of people said that sharing a meal reminds them of the importance of connecting with other people, and 54% said it reminds them to slow down and take a break.
Connection? Slowing down? Taking a break? Check, check, check.
These are things that we all want and need in our families today. This precious time together shouldn't be reserved for special occasions. Every day we're alive is a special occasion!
Creating an Everyday Tablescape
At Rustic Red Door Co., we believe in family togetherness. To enable more shared meals around your table, I want to help you create a simple, elegant tablescape perfect for all of those daily "special occasions".
To demonstrate this tablescape, I used our new Wexway modern farmhouse dining table. It has a beautiful sturdy reclaimed wood top and a unique black trestle base. But, I can guarantee that this tablescape design will look good on whatever table your family gathers around!
In an effort to keep things as low-stress as possible, these table decor tips are going to be super simple. It's really more of a concept that you can customize with your own pieces. Let's start with the basics and build up.
Neutral Everyday Place Settings
To begin, we'll set the table with galvanized chargers topped with clean white plates. An everyday table calls for neutral, casual dishware that will pair well with a wood table. Both pieces have a little bit of a patterned edge because simple doesn't have to be boring.
If you want to refresh your everyday dishes, I'm sharing where I got these plates and all of the other materials for this table setting down below.
For the napkins, I chose a natural-colored cloth with a fringe trim for a look that is both sustainable and casually elegant.
To finish our table settings, I selected silverware in a beautiful deep copper sheen and water goblets that are unique in their shape and puckered chocolate tone.
Elevate Your Table With a Centerpiece
Adding a table centerpiece is an impactful way to elevate your everyday table while still keeping it simple and family-friendly. For our centerpiece, I went with a large carved cream vase.
I filled it with long faux green stems because, especially in the dead of winter, we all need a little dose of freshness to remind us that spring is coming.
You can fill your vase with whatever greenery or florals you desire.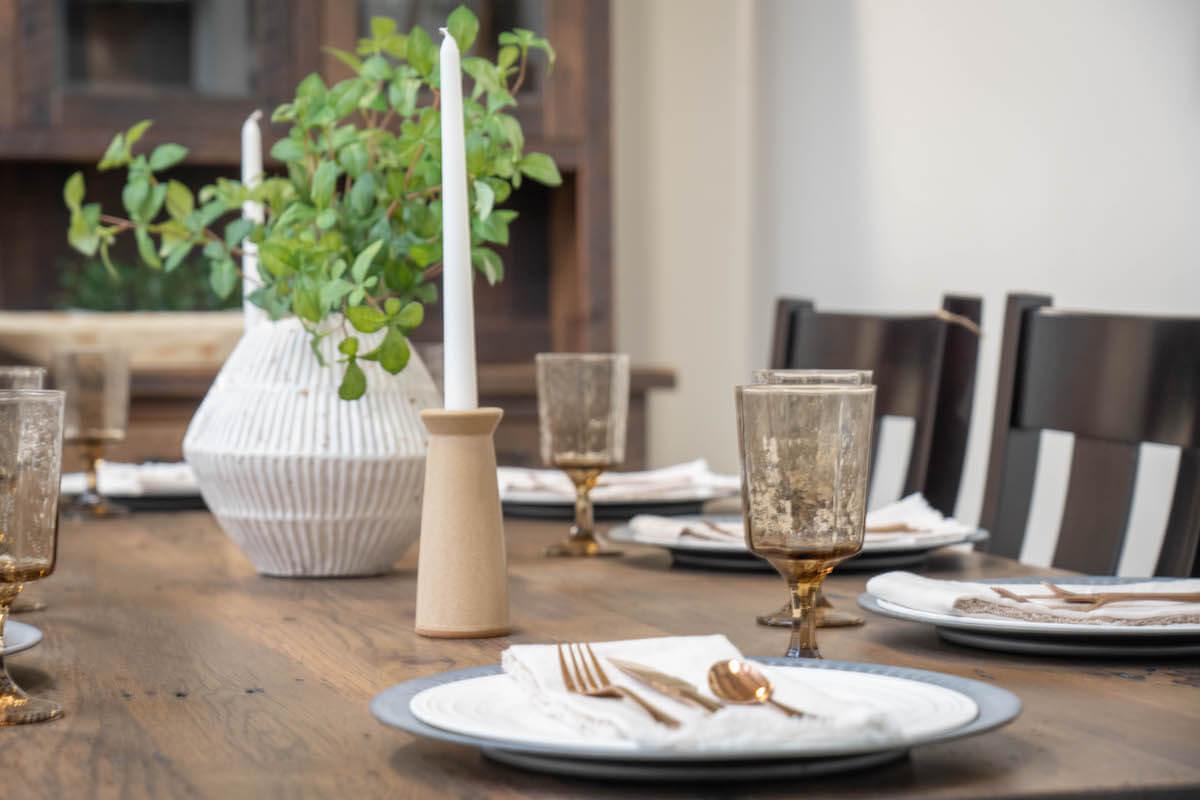 To complete our simple, everyday tablescape, I flanked our vase with two ceramic taper holders in a neutral clay color and fitted each of them with a white unscented candle stick. Who doesn't like the soft glow of candlelight? It can make even the simplest of meals feel more special.
Now that you have your table set, it's time to call your family to gather, even if it's just take-out because you don't feel like cooking. What's on the plates isn't nearly as important as who is in the chairs.
Remember, Rustic Red Door family…every day is a special occasion. Sit down together at the table and enjoy.