Highlights from the April Furniture Show!
April Showers Bring May Flowers FLOODING. Last month's trip to Ohio's Amish country was quite an interesting and wet one. Soon after my wonderful traveling companions Jen (our creative artist), Josiah, and I set out on that cool April morning, the showers began. For a couple of reasons, we were wondering if we had gone back to the days of Noah. It seemed like it would rain for forty days but the storm only lasted for the majority of the seven-hour trip. The result was still heavy flooding.
As fate would have it (or God's sense of humor?), we not only witnessed the flooding, but we also arrived in Ohio at the same time as the Exotic Animal Auction. The evenings sounded a lot like we were sharing our hotel with some non-humans, but a clearer indication we had possibly traveled way back in time were the zebras we saw in the back of a horse trailer. (We know Ohio has very loose animal laws…but ZEBRAS????) Eventually the sun did come out, a rainbow was hung in the sky, and we were able to walk on dry land to the furniture show.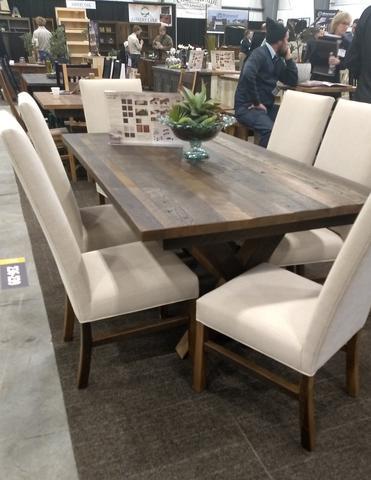 Shortly after arriving we meandered through the showroom to a multitude of exhibitions. Our main goal of the annual 2-day event was to find additional reclaimed barn wood items. Specifically, our intention was to find table tops and
bases that could be mixed and matched. We're excited to say our trip was a success, and we'll soon begin offering the newly discovered items! Primarily we will deal with iron/steel bases, but harp (wooden) bases that many of our customers currently request will also be included. Having a variety of choices will give our customers more options when choosing the desired look for their home.
Our plan is to stock the items separately and assemble the combination
according to our customers' requests. (Visit our website often to see our new products and our current dining furniture options.)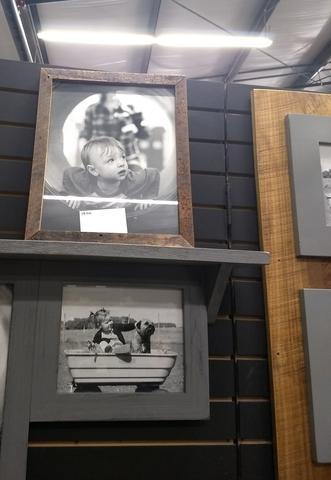 Other bonuses from our trip include:


discovering a new reclaimed wood frame supplier. Jen and I are thrilled for all the fresh possibilities we have to expand our selection of wall décor! Among those will be chalkboard frames and framed mirrors.
ordering a new rustic red dresser (with red paint & a black glaze) that will hopefully turning into line of rustic red furniture items. What a great way to add a splash of color to any room, and RED is the perfect choice! (Or perhaps we're a little biased?)
picking up our first personalized lazy Susan, engraved with Jen's hand lettering. We'll be able to offer this beautiful, versatile piece to you beginning in May & will continue adding letters as we go.  You can request yours now!
visiting a very resourceful and imaginative Amish gentleman who creates amazingly unique pieces from items found in his own salvage yard. Some of his handiwork includes furniture made from reclaimed barn wood, old wagon wheels, wagon carts, and rope. If your home needs a one-of-a-kind statement piece, he's your man!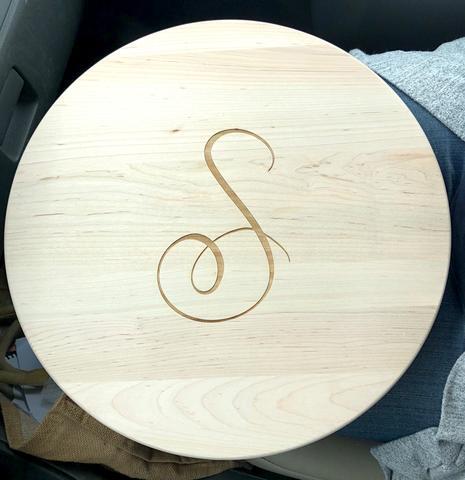 As you can see, we not only had a great time in Ohio, but we also were able to accomplish our goal and then some. Stay in close contact with us by following us on Facebook and/or Instagram where you can get frequent updates, enter our
giveaways or to join in on the never-ending, exciting adventures of our Rustic Red Door family.
Coming in June: The Grand Opening of our New Warehouse sale. We're very eager to show off many of the above-mentioned pieces we brought back from the April furniture show!