How to Clean Wood Furniture

Want to wipe away those pesky watermarks and accumulated grime from your wood furniture? Well, we've got a foolproof way to safely give your wood furnishings a deep cleaning. From wood tables to buffets, here's your go-to guide on how to clean wood furniture so you can keep it beautiful throughout the years.
There's a reason people love heirloom-quality wooden furniture. It's beautiful, versatile, and requires little effort to keep it fresh and new. But of course, the dust particles may settle into the wood grain as more time goes on. That's why it's so important to do a little more than dust wood furniture. Instead of using store-bought cleaning products with chemicals that can dull the wood's surface over time, we'd like to offer you a natural and environmentally friendly solution for cleaning wood!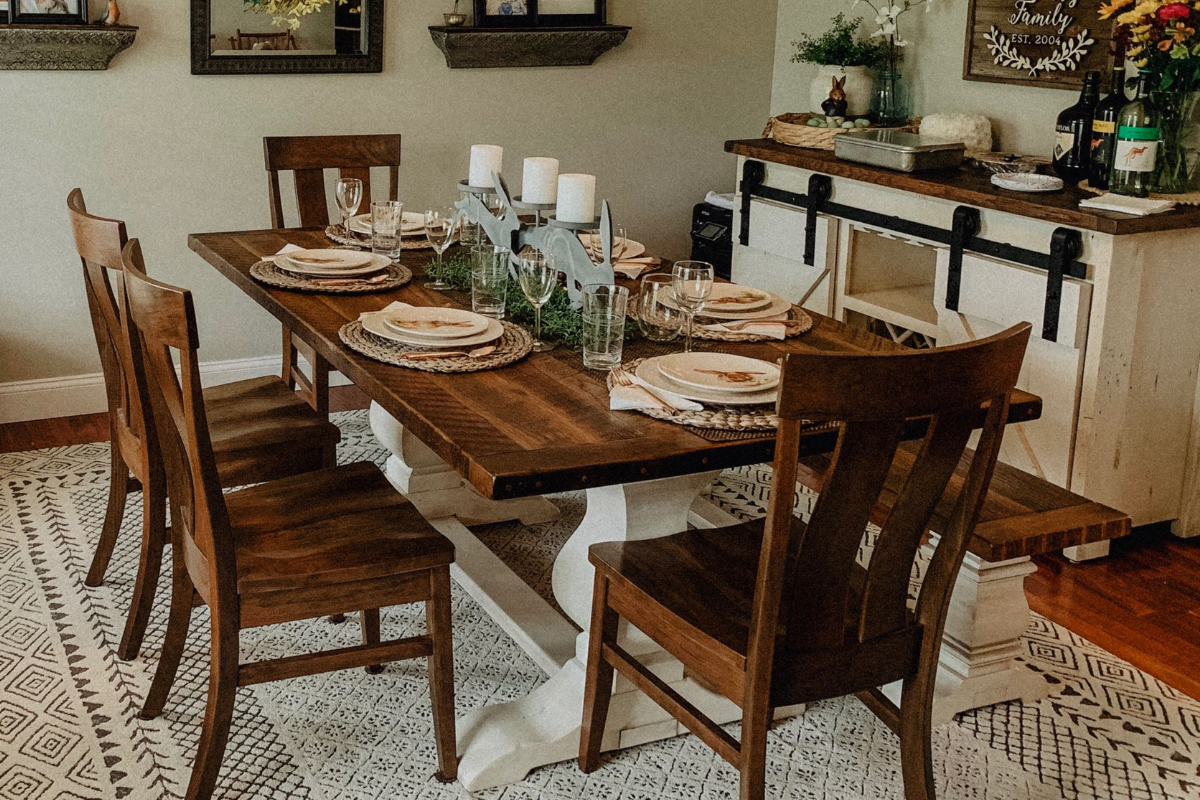 Cleaning Quality Wood...
You'll find with a lot of our Rustic Red Door pieces, they require very little care to retain their splendor throughout the years. If your home is graced by one of our magnificently handcrafted, solid wood dining tables, we recommend the following natural recipe found on the Better Homes and Gardens website.
This oil and vinegar recipe will not only clean grime and bacteria but also prime any solid or old wood furniture. Make sure to use a soft cloth.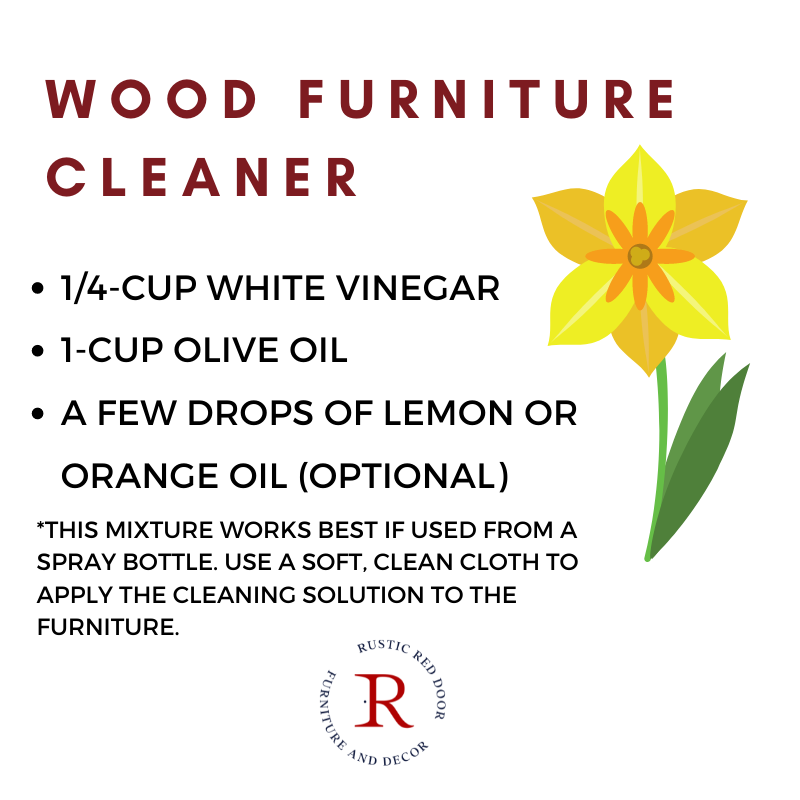 Another Wood Cleaning Ratio
Don't want to use olive oil? There's an alternative! You can also use a 1:8 vinegar to water ratio when cleaning wood furniture - 2 simple ingredients that are probably already in your home!
Tips for Cleaning Wood Furniture
Before using your DIY wood cleaner, dust your furniture with a clean cloth, preferably a soft cotton cloth or microfiber cloths. Dust with the grain of the wood to maintain the integrity of the wood. (Make sure to refold your microfiber cloth so you avoid redepositing dust back on the surface)

A mixture of 1 tablespoon distilled white vinegar to 1 cup of water will help remove normal daily residue. Otherwise, use one of the DIY wood cleaner recipes for a deeper cleanse.

Never saturate your wooden surfaces. When using a moistened wet cloth to clean your wood, immediately rinse and dry the surface when you are finished.

Powder-coated metals may be cleaned with a clean, damp cloth.
Our handcrafted dining tables will retain their beauty by being maintained with the above wood furniture cleaner. This cleaning method is perfect because it works for any wood finish with any protective coating. (For another simple and effective cleaning solution, mix vinegar and water at a 1:8 ratio in a spray bottle and shake well. Lightly spray the solution on the table then wipe with a soft cloth being sure to remove any excess moisture.)
If this is your first time to walk through the Rustic Red Door, you'll soon learn that we LOVE our products, and we're confident you'll fall in love with them, too. Nothing is mass-produced. Each item is hand-created by select craftsmen -predominantly Amish- who take meticulous care in developing each wood piece (sourced in America) into an heirloom-quality item. You'll observe this in every characteristic of our distinctive, solid wood furniture. Custom designs are available on almost everything we sell. Contact us for more information.
For additional Care and Maintenance recommendations for our solid wood furniture, visit our FAQs.