New Baby Means a New Nursery and Dining Room!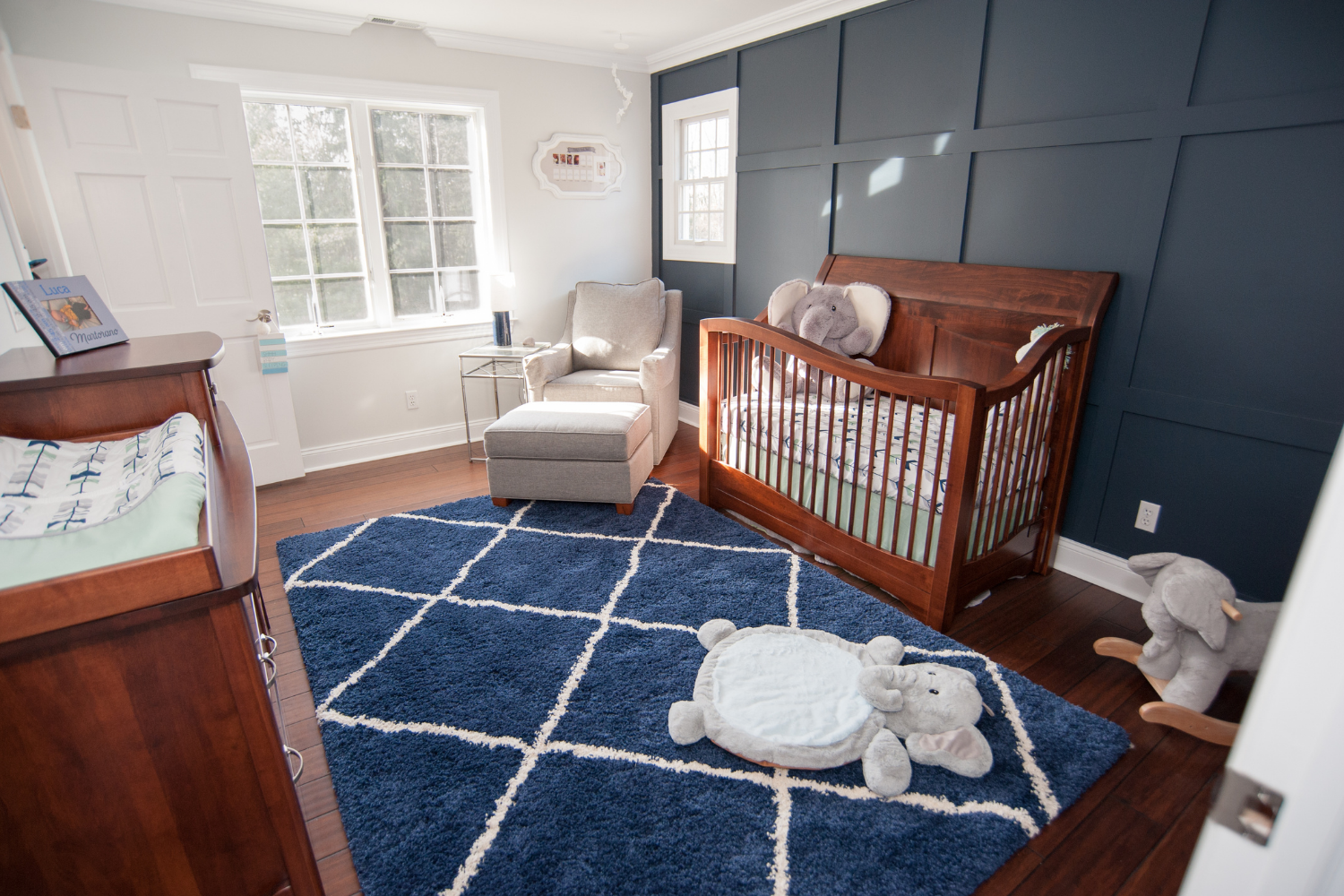 Location: Milford, NJ
Furniture/Millwork Design: Shaun Smith, Rustic Red Door
In this lovely New Jersey home, you'll find a charming and cheery nursery well-equipped with heirloom-quality "must-haves". The adorable, solid wood pieces are highly functional, durable, and designed to serve families well through the childhood years of many generations.
Each quality-made nursery item is handcrafted of solid Brown Maple by our select woodworkers in Ohio and finished in pre-catalyzed polyurethane to protect the wood from the demands of daily use.
The soft and subtle wave design seen at the base of the crib is carried throughout and adds a gentle accent to each wood furniture piece in this lovely nursery.
Quality Nursery Pieces
Pictured above is a convertible crib that can easily transform into a toddler bed. This Jersey family also added a very practical -yet equally attractive- changing tower plus a delightful bookcase (both pictured below) to their new nursery design. This gorgeous nursery was complete and ready in plenty of time to welcome their new little bundle of joy!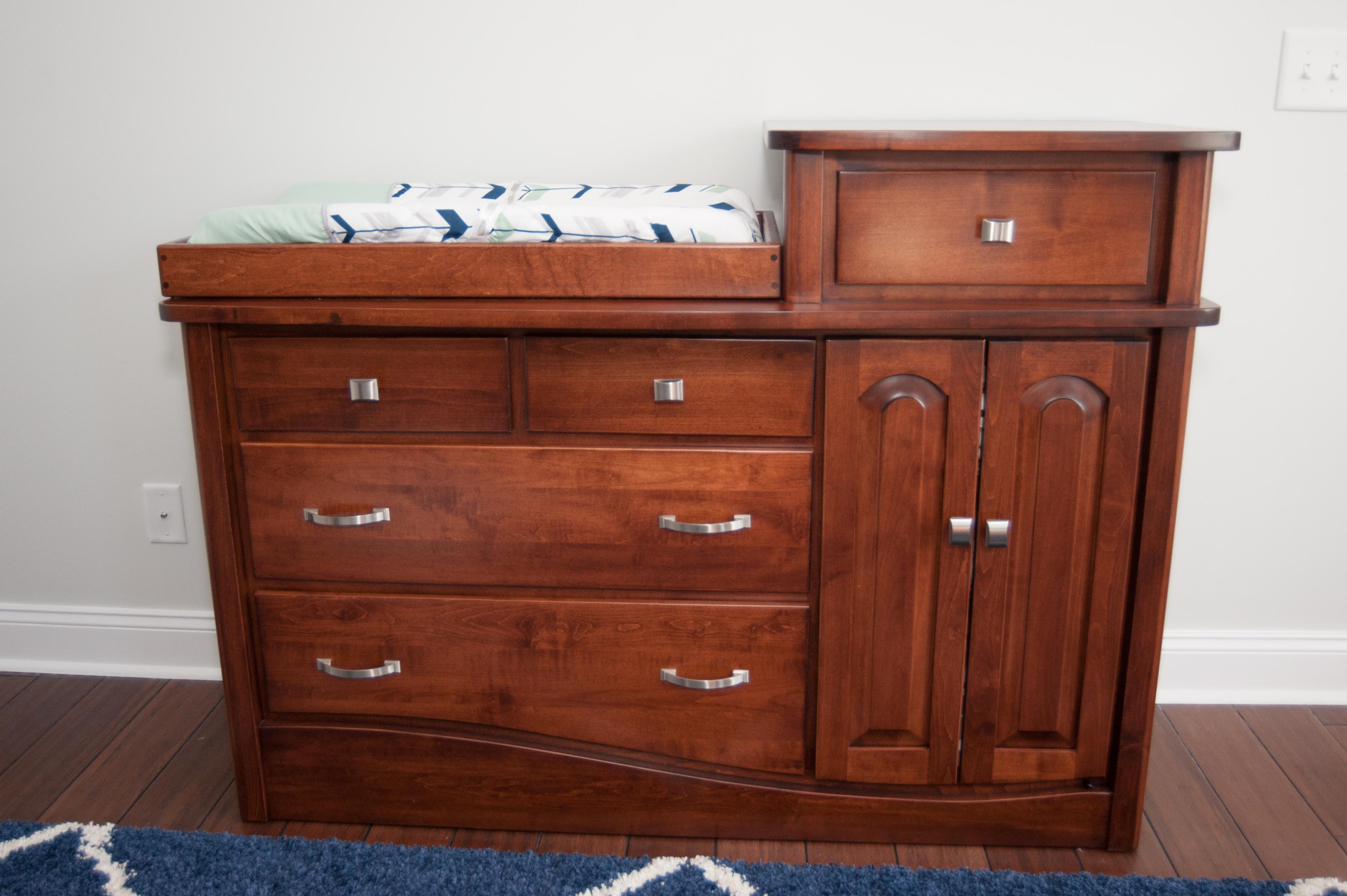 Cherry Dining Table Set
Added to the warm and inviting dining room sits a custom-built Rustic Cherry wood dining table, matching bench, and dining chairs. Inspired by the Bristol table, both the table and bench have matching features: beautiful industrial accents of turnbuckle rods, planked tops, and breadboard ends.
Natural Wood Characteristics
Obvious throughout the wood of this amazing dining table, chairs, and bench are naturally occurring knots and grain that add even more intrigue to these solid wood pieces.
Quality Woodworking Techniques
These beautiful items are carefully handcrafted by our select woodworkers in Ohio. Their trusted woodworking techniques were used to build each one of these fine furniture pieces and can be seen in the table and bench's tongue and groove joints.
We've added a pre-catalyzed polyurethane to protect the wood from daily wear and tear, ensuring quality furniture that will bring long-lasting enjoyment for these homeowners, their children, grandchildren, and beyond!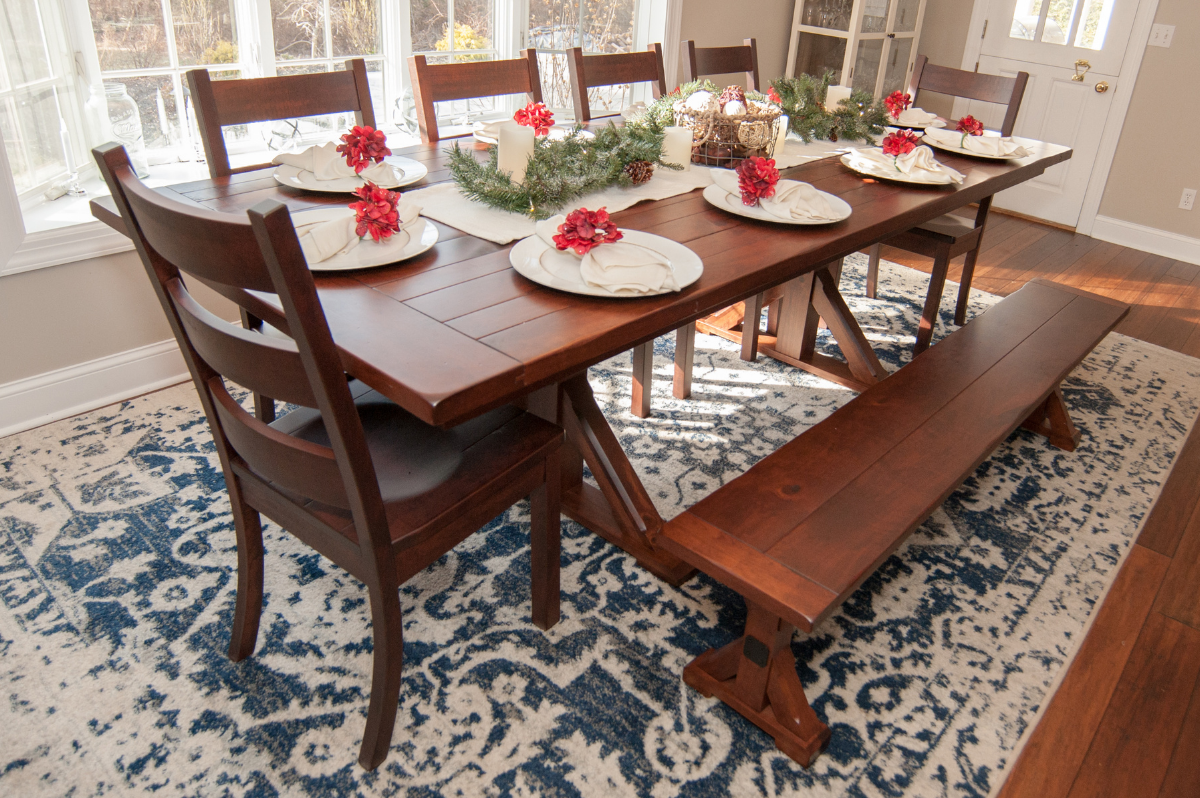 We're so excited for these new parents to welcome their baby into their home. Family is such an important part of our lives and we're honored that this family trusted us to build furniture for such a special experience.
Want to get custom built furniture for your home?
You don't need a baby to start celebrating life! Whether you want a crib, a dining table, or something that isn't even in stock, we'd love to help you create it! Get a design consultation to see how we can help.