Shop All Reclaimed Wood Nightstands
Delivered in: 12 - 18 weeks
Features

Dimensions

Delivery
Reclaimed Oak Wood
Provincial Finish
Pre-Catalyzed Polyurethane
Other bedroom furniture sold separately
We provide white glove delivery on this item, which includes in-home delivery and full assembly (if needed) as well as the removal of all packaging materials.
If you are local to us in Perkiomenville, PA please call us at 610-672-6454 about local pricing & delivery/pickup options.
Share
View full details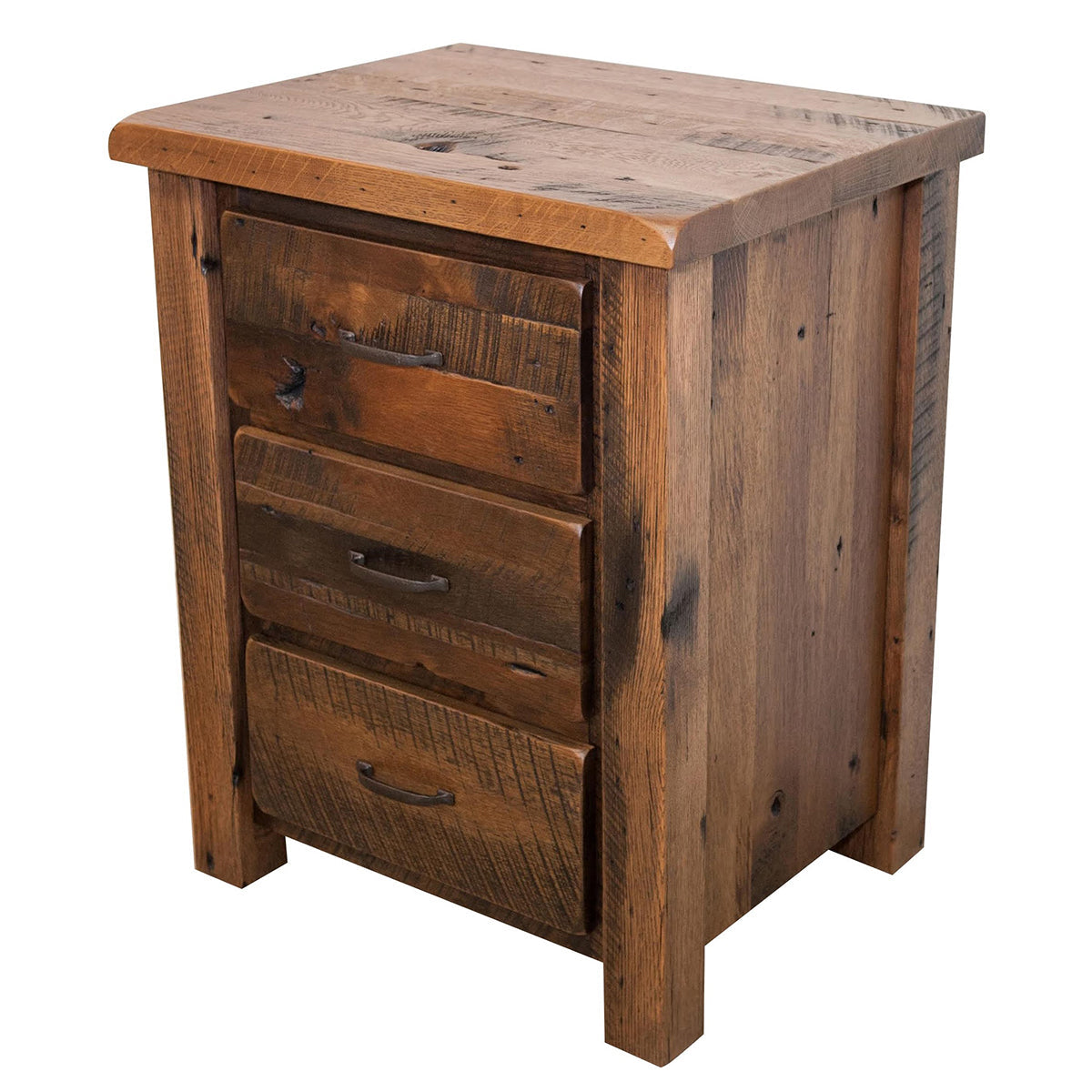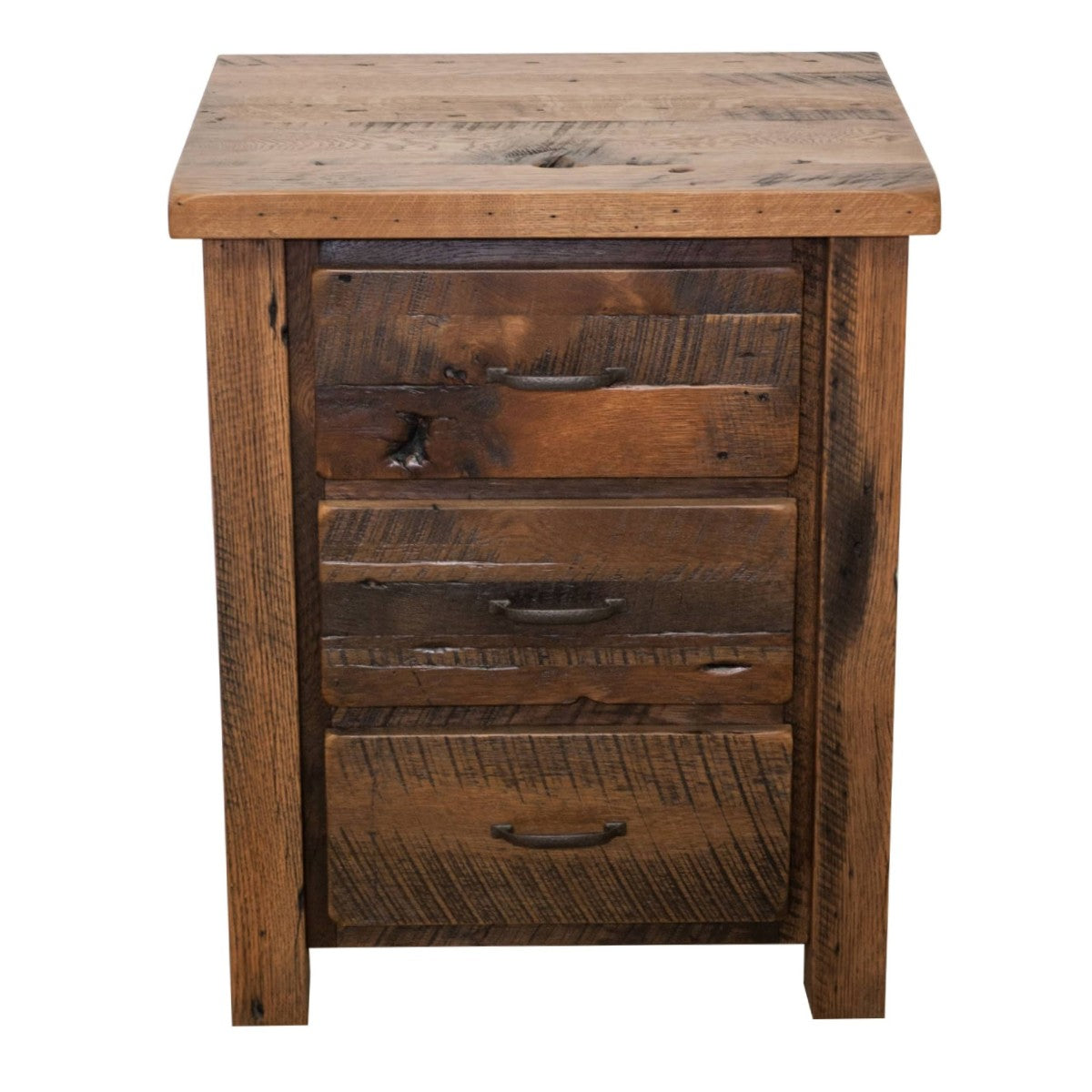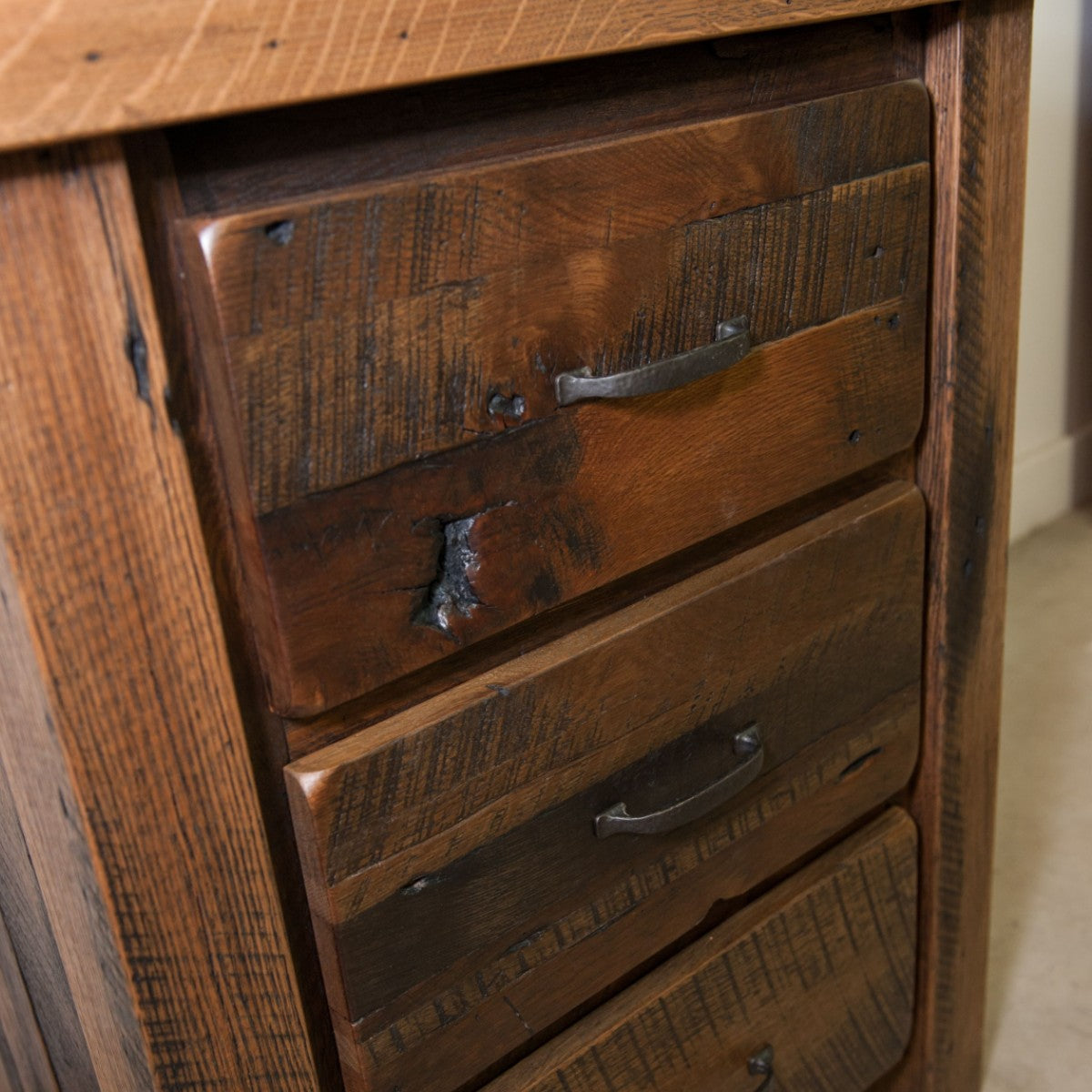 More about the Foxfield Rustic Reclaimed Wood Nightstand
3 Drawer Bedside Table
A nightstand is a must-have furniture item for a bedroom that prioritizes quality and comfort. A beautiful nightstand like this one is a great place to hold your lamps, decor, drinking cups, and other necessary items to ensure a comfortable environment.

This Foxfield rustic reclaimed wood nightstand is made of straight planks to bring a uniform design into your room. This includes 3 drawers for extra storage. Use it to store clothing, books, and any other essentials. This style can match well in a rustic, farmhouse, or even a contemporary home.
Solid Wood, Heirloom Quality
The material of this Foxfield nightstand is made of reclaimed oak. Our craftsmen in the Midwest expertly build each nightstand to heirloom quality. But what's so special about reclaimed wood?

Old foundations such as barns, warehouses, and old buildings are torn apart. Instead of throwing out the old wood, the usable planks are salvaged and repurposed into reclaimed wood. The natural aging (which can be up to 400 years old!) and the process of removing old nails reveals rustic contrasts that add a unique character - ensuring no two pieces are identical! Plus, the aging process makes it more durable, making it perfect for a bedroom end table. It's an eco-friendly choice to give old wood new life.
Customize Nightstands
Looking to find the best nightstands to place beside your bed? Each customer deserves a night stand that matches the exact style and dimensions they want. Perhaps you'd like a different number of drawers, finish, color, or something else. Let us know exactly what you want, our team will design it, and last, our woodworkers will craft it just for you!
Shop Matching Bedroom Furniture
At Rustic Red Door, we understand the importance of matching aesthetics in your bedroom. We offer a Foxfield collection that is filled with matching reclaimed wood furniture. Here, you can find bed frames, dressers, and living room furniture to match this rustic reclaimed wood nightstand.

Perhaps you're looking for the perfect nightstand and you'd like to see your options. We understand! Search for your favorite rustic nightstand here.
foxfield-reclaimed-wood-dresser-mirror,foxfield-reclaimed-wood-tall-dresser,foxfield-reclaimed-end-table,foxfield-reclaimed-wood-queen-bed-frame,foxfield-reclaimed-wood-tall-lingerie-chestfoxfield-reclaimed-end-table,foxfield-reclaimed-wood-dresser-mirror,foxfield-reclaimed-wood-queen-bed-frame,foxfield-reclaimed-wood-tall-dresser,foxfield-reclaimed-wood-tall-lingerie-chest
foxfield-reclaimed-wood-dresser-mirror,foxfield-reclaimed-wood-tall-dresser,foxfield-reclaimed-end-table,foxfield-reclaimed-wood-queen-bed-frame,foxfield-reclaimed-wood-tall-lingerie-chest
foxfield-reclaimed-end-table,foxfield-reclaimed-wood-dresser-mirror,foxfield-reclaimed-wood-queen-bed-frame,foxfield-reclaimed-wood-tall-dresser,foxfield-reclaimed-wood-tall-lingerie-chest
Read More