28 Rustic Christmas Decorating Ideas
It's time for a rustic Christmas! Now, we're fans of the beautiful and timeless atmosphere that rustic decor creates at any time of the year, but decorating our homes for Christmas has a special place in our hearts. Rustic Christmas decor creates a cozy, intimate, and festive mood that can't be beat. Weaving in natural wood and metal elements with plaids, flannels, and fresh greenery gives your home that rustic charm that so many of us desire at this time of year.
Each year, our incredible designer Jen fills our warehouse with the season's best Christmas decor. From inspired tablescapes perfect for a family Christmas dinner to cozy fireplace mantels to garlands, wreaths, and Christmas tree decor - our warehouse is full to the brim with amazing decorating ideas for the holidays.
For ideas on how to create a warm, rustic, farmhouse vibe in your own home this holiday season, we've rounded up our favorite rustic Christmas decorations from the past several years. We hope this holiday decor round-up is a helpful source of inspiration as you deck your halls for the most wonderful time of the year!
Looking for decor ideas for a specific part of your home? Jump to each section for all our best ideas!
Christmas Table Decor
There are so many beautiful ways to bring holiday cheer to your dining table. It all starts with a sturdy, timeless table - and if you are in need of a new one make sure to check out our in-stock tables just in time for the holidays!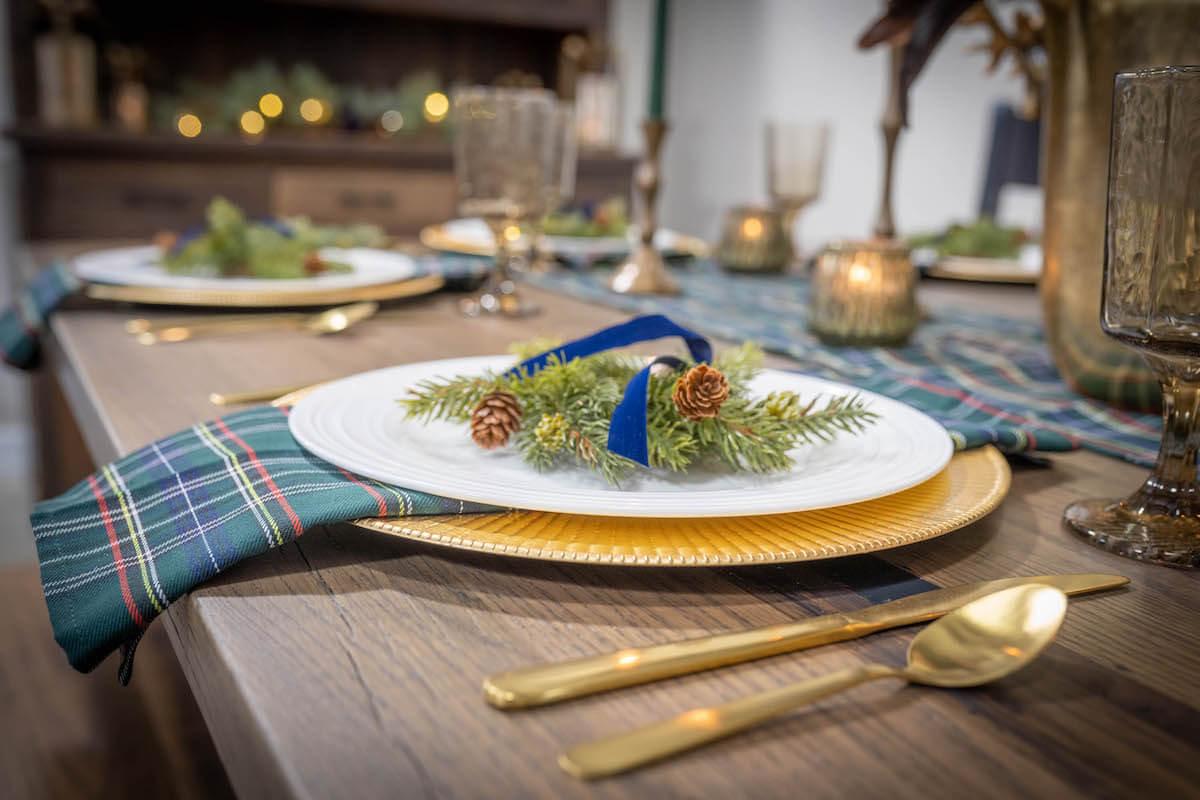 7. Preppy and Glam Place Setting
For a more sophisticated look, bring in brushed gold chargers and silverware paired with green and blue plaid napkins and table runner. See our latest blog for all the tips and resources from this Ralph Lauren-inspired Christmas table.
Holiday Mantels & Shelves
Whether you are decorating your primary fireplace mantel filled with stockings or just want to add rustic Christmas touches to different shelves and surfaces throughout your house, we have you covered with plenty of Christmas mantel and shelf ideas!
Rustic Christmas Accent Pieces
The final decor touches that really bring a design together are all of the accent pieces. There are so many rustic Christmas accents you can add, but here are a handful of our favorites to get you started.
We hope these rustic Christmas decorations inspired you with some festive and timeless ideas that you can incorporate into your home this year. We'd love to see what you create - share your holiday home with us on Instagram at @rusticreddoor.
Merry Christmas!