6 Easy Rustic Fall Decorating Ideas for Your Home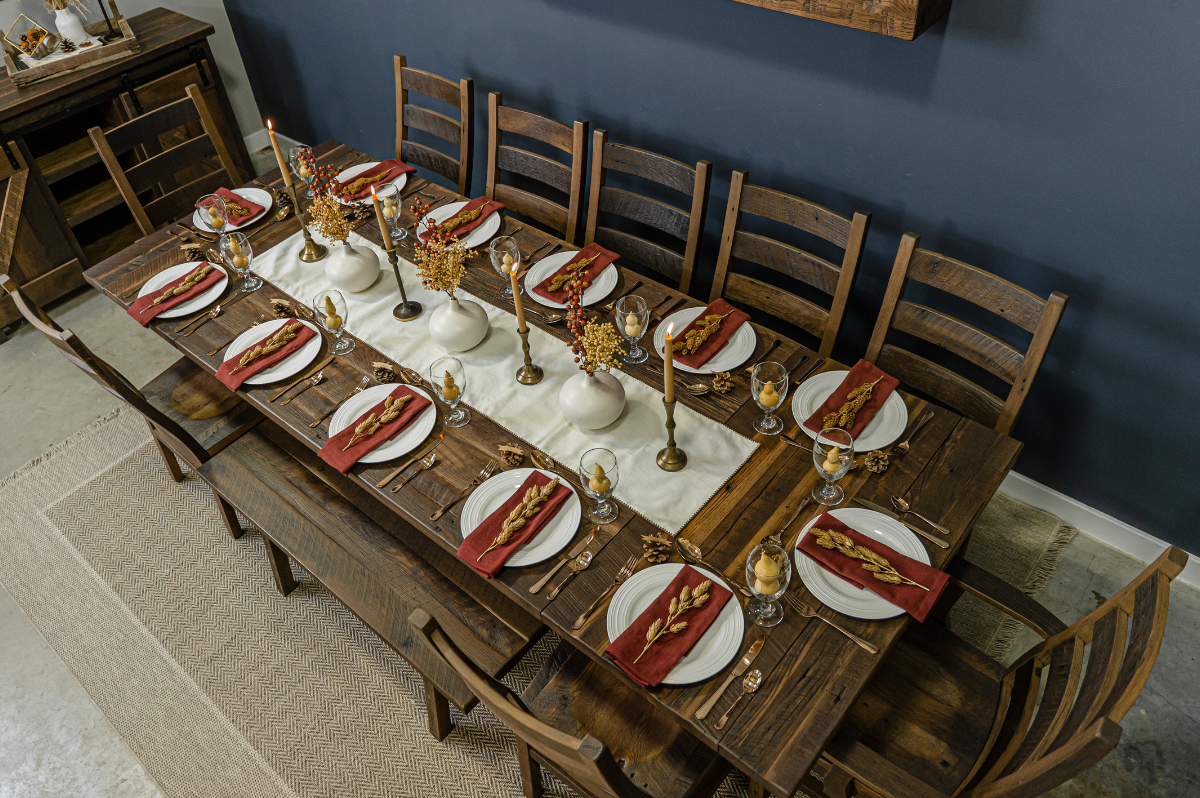 Since it's officially autumn we are sharing our favorite rustic fall décor ideas for your home. As the new season approaches, it's the perfect time to swap out your summer home décor in exchange for something more cozy and festive.
Fall décor brings to mind more rustic elements as we prepare to move indoors to escape the cold. Wood, pumpkins, fall foliage, blankets, candles, and chunky pillows are a few of our favorite fall decorations.
Whether you are a fan of pumpkin everything or prefer to incorporate more subtle fall colors into your home décor, we have plenty of fall décor ideas to ready your home for Thanksgiving and the harvest season in general.
Keep reading for rustic fall decorating ideas that you can incorporate into your dining room, on your mantel, front porch, and in your bedroom to make you and your guests feel all the warmth and comfort that this season has to offer!   
1. Fall Table and Centerpiece Ideas
There are so many options when it comes to creating a rustic fall table. This year at the warehouse we started with a gorgeous reclaimed wood dining table and layered seasonal burnt orange and muted yellow fall colors. We used faux fall leaves and sunflowers to bring the foliage of the season inside.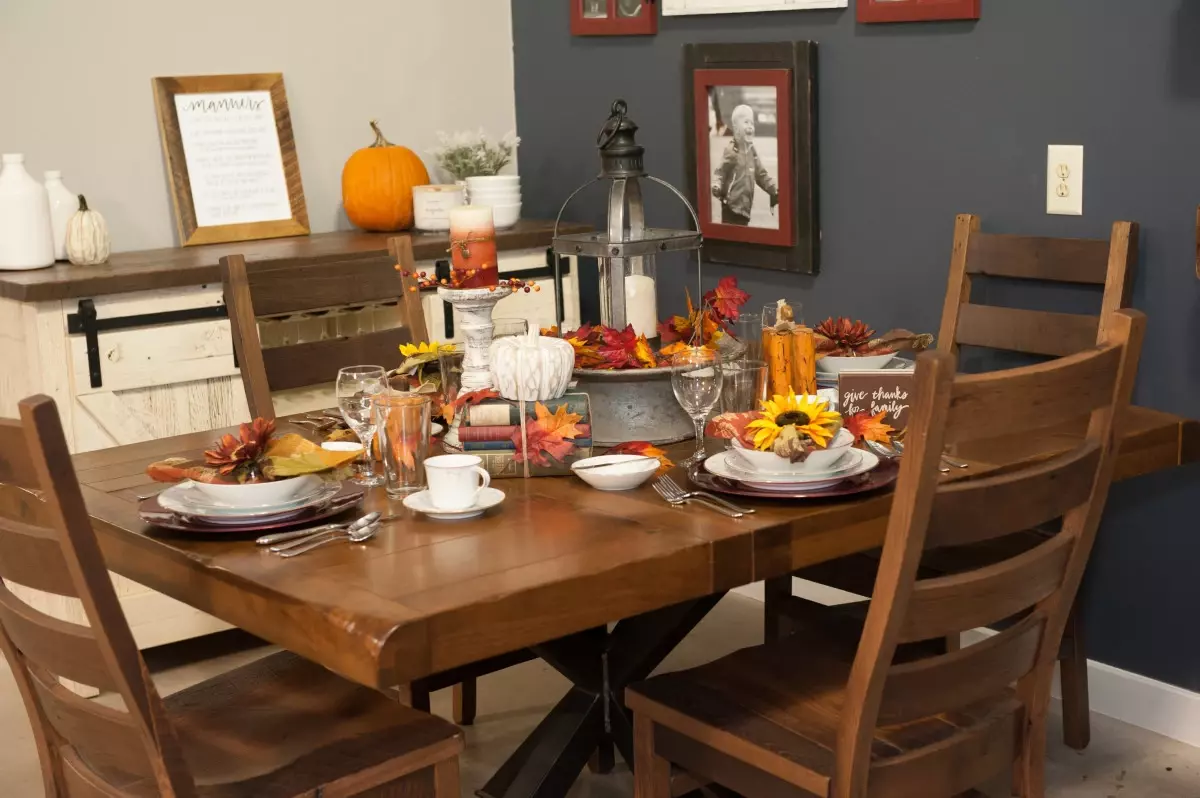 A large lantern candle is the anchor of the centerpiece, creating a cozy atmosphere around the table. Books, a white pumpkin, and more candles fill out the rest of the décor on this fall table.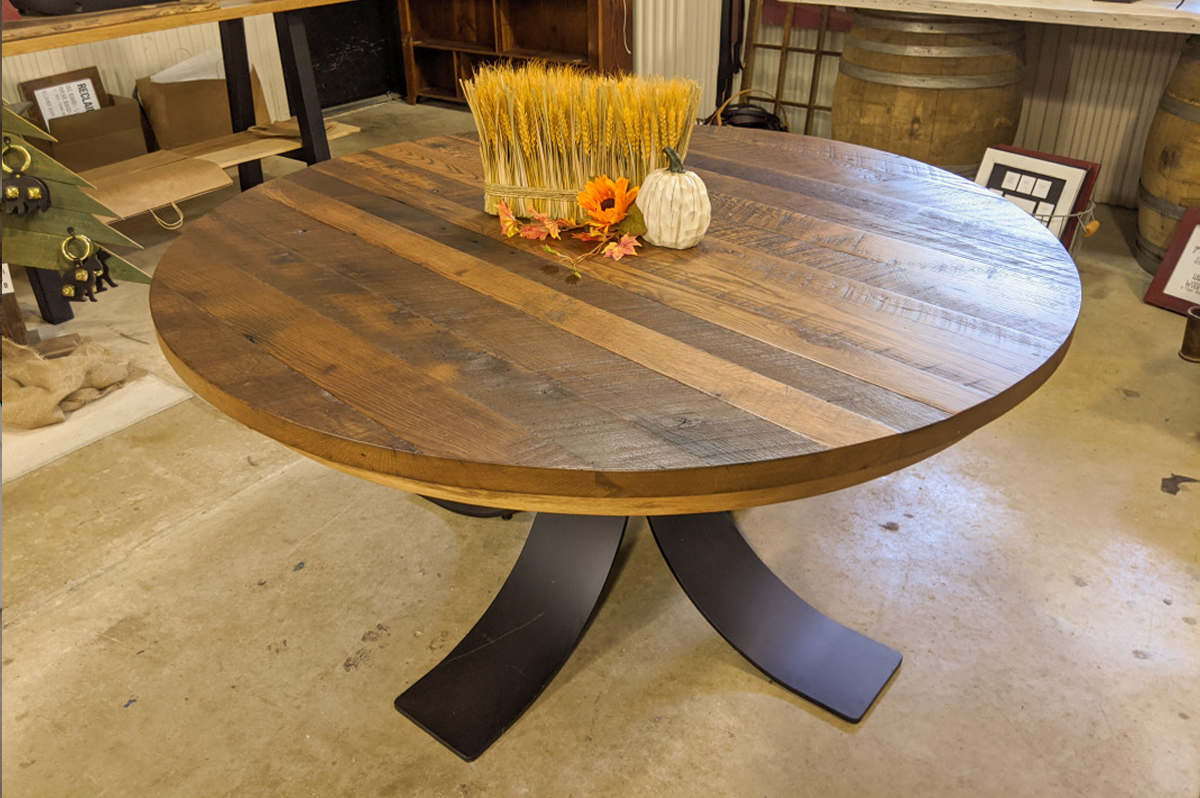 Another fall centerpiece idea is this faux wheat piece with dried flowers and a white pumpkin. It's simple and stylish, and the perfect complement to our barnwood dining table.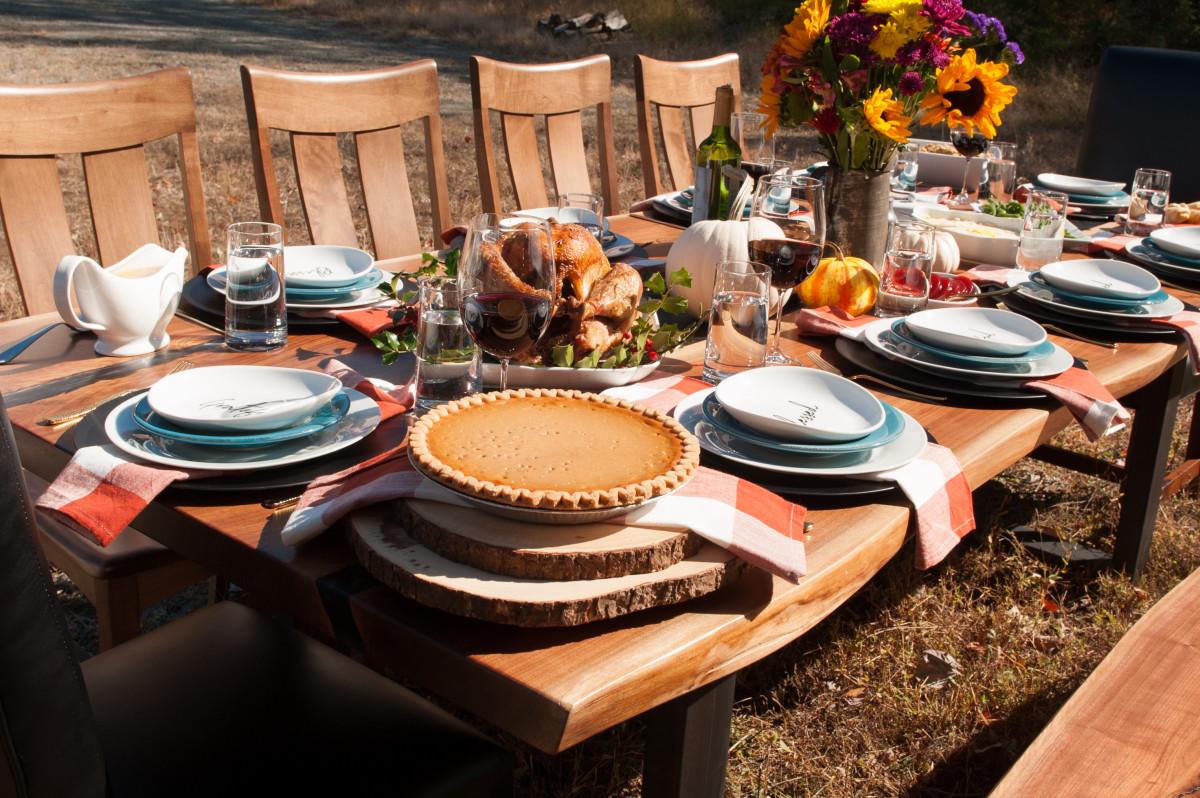 For your Thanksgiving centerpiece, you might want to opt for fresh flowers in yellows, reds, and purples to bring more ambiance to your space. You could also incorporate big neutral blooms for a more minimalist fall style. We love the addition of these simple plaid cloth napkins and mini pumpkins to bring in the holiday spirit without distracting from the real focal piece - the food! Can you imagine gathering your family around this beautiful table?
Finally, here is one last fall decorating idea for a more elegant rustic table. The centerpiece runner has a pumpkin vase with elegant copper and gold foliage alongside gold candlesticks. Gold pine cones, gourds, and silverware accent the design and contrast with the burgundy cloth napkins and simple white table runner. This elegant fall décor is perfect for a Thanksgiving feast!

2. Pumpkin Everything 
If you want to go for a more modern and muted fall look, we love using white pumpkins to decorate. They provide a touch of soft elegance, and you can either buy a real pumpkin or stick with faux pumpkins that you can use over and over again in your home decor!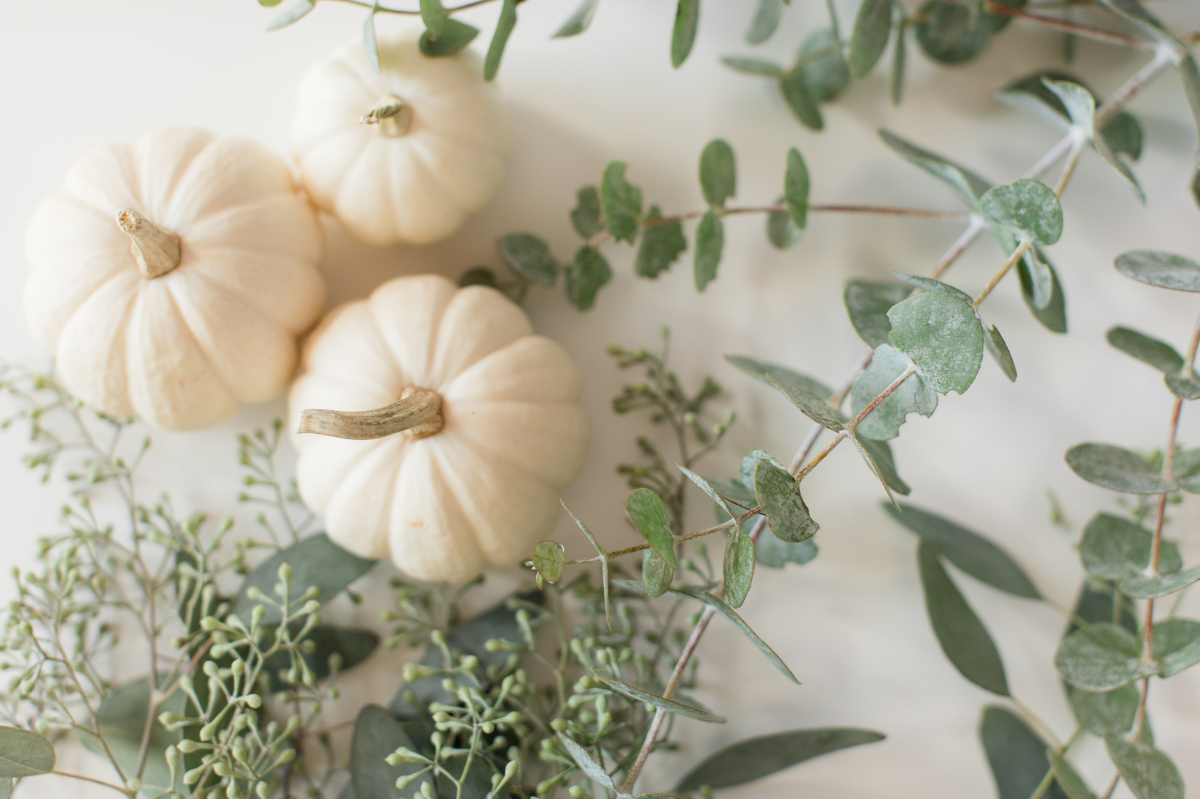 3. Fall Mantels
Fall means it's time to cozy up by the fire, so don't forget to decorate your fireplace mantel too! Add your favorite fall décor like a pumpkin, candles, a seasonal sign, or other festive Halloween décor. Make sure to have your favorite cozy blankets ready for those chilly nights!
4. Rustic Fall Entryway 
Welcome the new season in your entryway with these fall decorating ideas. Fall décor doesn't have to be overwhelming; just a few small touches here and there will invite the new season into your home. This arrangement on the console table right inside the front door is simple and inviting, complete with a faux wheat arrangement, a pumpkin, and a rustic metal basket.  
5. Cozy Bedroom Ideas
Your fall décor doesn't need to be limited to the areas of your home that friends and family can see. It's easy to bring the spirit of the season into your bedroom by switching out your bedding for some warm and cozy flannel sheets! This rustic fall addition is practical and easy. Add some more cozy blankets, pillows, and candles to really bring the essence of fall into the space.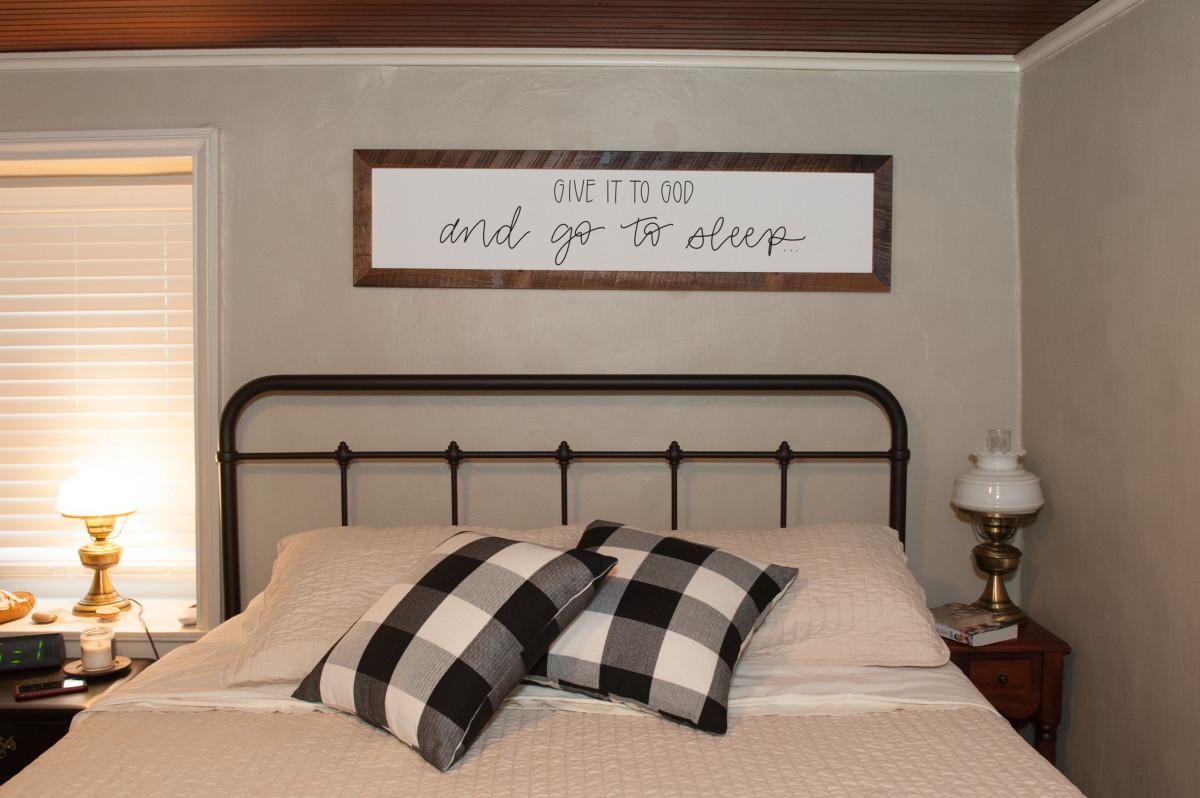 6. Front Porch Fall Décor Ideas
Your front porch is the first point of entry into your home, so of course, it deserves plenty of attention when you are exploring fall decorating ideas. Add curb appeal with pumpkins, gourds, seasonal blooms, and a fall wreath to create a welcoming entrance for friends and family to your home.
Get Inspired With More Rustic Fall Décor Ideas
As you can see, we used similar fall decorations for several areas of the house. This makes it easy to incorporate the fall season in different ways throughout your home - whether in centerpieces, a shelf or mantel display, or simple textures and colors artfully arranged. You can create a rustic fall style that matches the overall aesthetic of your home.
We hope these fall décor ideas inspired you to enjoy the beauty of the season and to begin decorating your house. Be sure to check out our rustic decor if you need new fall pieces to add to your home, and visit our blog for more season decorating ideas.