Introducing Our Newest Table... The Beckett!
Meet one of our newest arrivals: The Bold and Beautiful Beckett table! We have been working on this gorgeous new walnut dining table for a while, and we are so excited to finally reveal this great new addition to our dining table selection. 
Key Features of the Beckett: 
Solid walnut wood top
Low sheen black glaze
Hand welded steel base with a powder coat finish
Modern clean lines for a sleek look
Available dimensions: 42" x 60" to 48" x 144"
Watch our video to see the Beckett in action, and read on to get all the deets on this breathtaking table!
The Wood 
Like all of our tables, the Beckett is handcrafted by our genuine Amish woodworkers in Ohio. Its tabletop is made from beautiful walnut wood. 
The clean, simple lines of this table give it a modern vibe, while the rich walnut wood and steel base provide a rustic nod. We love the combination and think it would be a great addition to many different styles of home.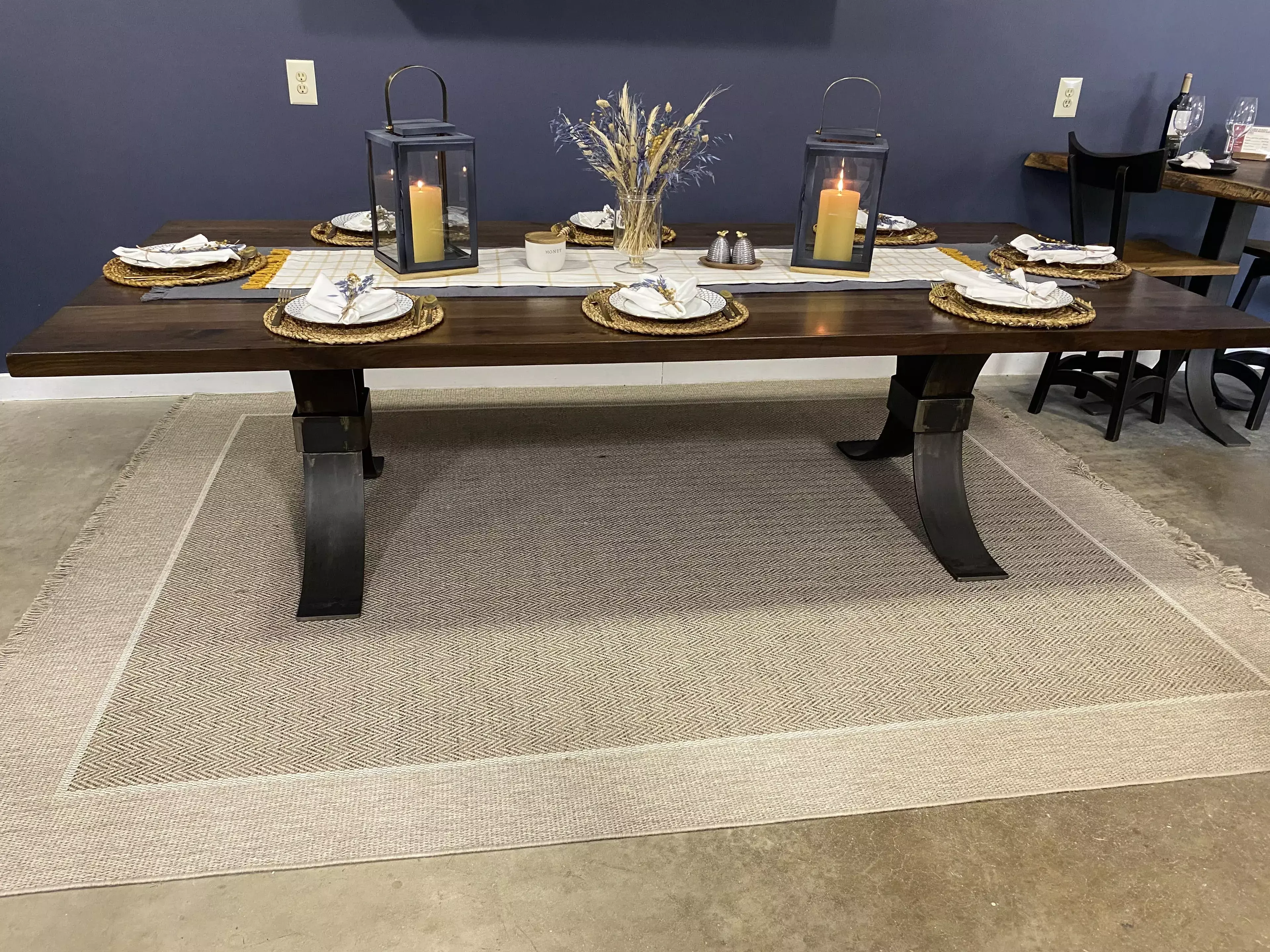 The Base
The Beckett sports one of our customer-favorite steel bases that gives this table a bold industrial flair. A powder coat finish is applied to the hand-welded steel base to help prevent corrosion and resist rust.

Customizable Options
Whether you're hosting a small, intimate gathering or large dinner party, there's a Beckett to meet your needs!
This table's dimensions range from 42" x 60" (comfortably seats 6) to 48" x 144" (seating for 14). You can see more information on table seating capacity here.
But, as with most of our items, the Beckett can be fully customized to suit your preferences. You can use the Beckett as a starting point and then customize your dining table with:
Wood type
Dimensions
Finish
Base design
Epoxy/glaze color
Shop Rustic Dining Tables
We hope you love the Beckett as much as we do! Get more information on this modern dining table and order or customizing your own Beckett table today. You can also explore our complete collection of walnut dining tables to find a style that matches your flare.
Stay tuned to see more of our new dining tables coming soon!