Live Edge Dining Table Gallery
Welcome to our live edge dining table gallery! Below, you can see our collection of alluring epoxy river dining tables. Most of these tables are custom-ordered for our customers. Keep scrolling to get some fun dining table (and dining room) inspiration!
In our live edge gallery, you can see an assortment of different options! The first 9 photos are all live edge dining tables made of black walnut. We love how all of the pieces look different and unique to their own. Some with epoxy accents, epoxy rivers, wood bow-tie inlays, and more. We love how the epoxy looks great in copper, silver, and black. Each color gives the walnut table a different feel, and we love the look of all of them!
These next two are two of our live edge maple tables. The round table is spalted maple. We love the epoxy river appearances of both! 
Click a photo below to get a closer glimpse at some or our favorite dining table projects!
Free Custom Design Consultation
Looking for a design consultation? Drop your information below and we'll contact you to get started on your next project!
Shop Live Edge Tables
Click an image below to explore the beautiful homes of some of these projects. Want to shop? Browse our selection of live edge dining tables. Pair that with live edge benches and live edge shelves.

Inspired to own a unique live edge furniture piece? Schedule a free consultation with one of our experts and we'll start the design process on your custom item.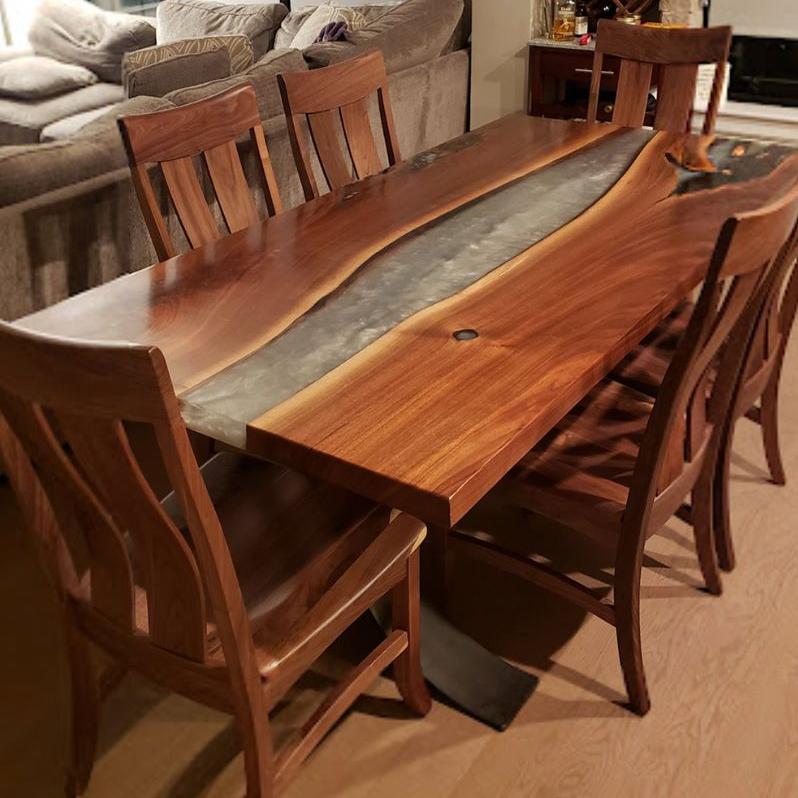 Customer Review
"I had the pleasure of working with Shaun and team to get this incredibly beautiful walnut river table and custom chairs. Throughout the process, they were informative and helpful and very knowledgeable about the products. As for the table and chairs, they are stunning. Beautifully crafted, no damages, and transported with care. This was a unique purchase that I'll keep and use for life."