Tablescape Inspiration for All Seasons

In Pennsylvania, we're lucky to experience all the seasons - from frigid winters to lively and balmy summers. As the seasons change, it's nice to bring some of the outdoors inside by updating your home décor to match. 
At Rustic Red Door, we love to decorate our dining tables - our family's favorite place to gather around for good food and better company. But, does that mean you have to buy all new decor whenever the seasons change? 
Nope! With a few simple modifications, transitioning your tablescape from one season to another is a breeze. Keep reading to learn a few simple tricks from our interior designer Jen to transition your home from one season to the next.
How to Reuse Home Decor
Decorating is one of the most exciting things to do in your home (cleaning is definitely not our favorite task!). Instead of throwing your seasonal decor into the closet for next year, we'll teach you how to be strategic and reuse your items in different ways to achieve the aesthetic you want each season. It's budget-friendly, easy, and makes transitioning less overwhelming and more fun.
Here are a few ways you can do this.
Keep the base of your design the same and simply update your color palette each season. For instance, use your favorite dishes all year long and update your placemats and napkins throughout the year.
Find seasonal items outside. If you live by trees, the outdoors is the perfect place to go on a little adventure with your family and find things like pinecones for Christmas! If you live by the ocean, you'll be able to find unique driftwood pieces to decorate your home for summer.
During each transition time swap out seasonal items like fresh flowers, seasonal fruit, and holiday accents to give your table an instant refresh.
Find budget-friendly home decor accents to complete your designs. We love Michaels, Home Goods, and thrift shopping
By keeping the base of your table design the same and making simple changes like these, you'll ensure your home feels welcoming and inviting all year round. Once you do, you'll be excited and ready to host your next dinner party!
Tablescape Inspiration for All Seasons
To demonstrate how to transition your home from one season to another, our interior decorator created a tablescape to change with the seasons. Any good design starts with a great foundation, and we used our round barnwood dining table. This table is the simple backdrop upon which we designed one table for five seasons - Spring, Summer, Fall, Christmas, and Winter.
The foundation of our table design is a large rustic wooden dough bowl centerpiece, which we updated for each new season. Read on to see how we transformed this table into a whole new seasonal look at every phase of the year.
Spring Seasonal Table
For spring, we wanted to create a simple and bright table. We established a cool-toned color palette with sky blues and leafy greens, reminiscent of a fresh outdoor garden. Touches of wood rattan and lots of pretty spring florals add warm accents to the design.
Our spring settings feature rattan placemats, galvanized chargers, and white hobnail plates. A gray table runner and napkins that are fresh and fluffy with light gray-blue and white trim tie the light and airy design together.
Summer Seasonal Table
As the warm months of summer approach, it's the perfect time to update our table with a brighter color scheme. A few simple moves take this fresh outdoor garden design into a beach-themed summer oasis that would be perfect after a day of fun in the sun.
TIP: If you live near the beach or have a beach trip coming up, this is the perfect opportunity to venture outdoors to find things like sand dollars, driftwood, and shells to bring back home with you. 
We used the same plates and chargers, but swapped out the napkin for a nice cream option and added a gorgeous seashell to each plate. Such a simple and beautiful transition!
The centerpiece changes are where the fun begins. We changed out all of our spring greenery for dried hydrangeas and pampas grass. We added a delicate gold lantern with a warm yellow candle and finished with a silver starfish to really bring the ocean theme home.
It doesn't need to cost a lot to create a beautiful tablescape. This design features shells and flowers/foliage found in nature (which are free!) and we love how it turned out.
Fall Seasonal Table
As the fall season approaches, it's time to trade in some of your light and airy spring or summer decor for the warmer earthy tones of the fall season. So how can we do that? For starters, we can change the overall color palette from cool tones to warm tones.
The cool silver tone of the spring/summer utensils can make the switch to a brushed gold perfectly in keeping with the new season. The clear glass tumblers can stay the same.
The next big change comes from the frayed cotton placemats in a warm pumpkin color. In lieu of the white hobnail plates, we selected cream-toned plates, each topped with a terracotta soup bowl. For a fun seasonal element, we added pumpkins and pine cones to the place settings.
The centerpiece transforms with a new candle and florals that are more appropriate for the current season. Easy peasy!
Christmas Seasonal Table
As the cold months approach, it's time to create a whole new seasonal look. We opted for a reindeer forest theme for Christmas by replacing the fall florals in our dough bowl centerpiece with evergreen wreaths and sleigh bells. The pine cones stayed and our candle got an updated red holder.
Winter Seasonal Table
After the holidays come to an end, you can make a few simple updates to stay within a winter vibe. We used the same plates and place settings but removed the evergreen wreath and added a wooden napkin ring for a toned-down winter feel.
We also toned down the Christmas centerpiece by removing the candle and focusing on winter greens and oversized pine cones.
These simple updates transform our dining room table from the holidays into a whole new seasonal look. We can bet that any dinner guest you have will be fooled into thinking you created this winter table from scratch!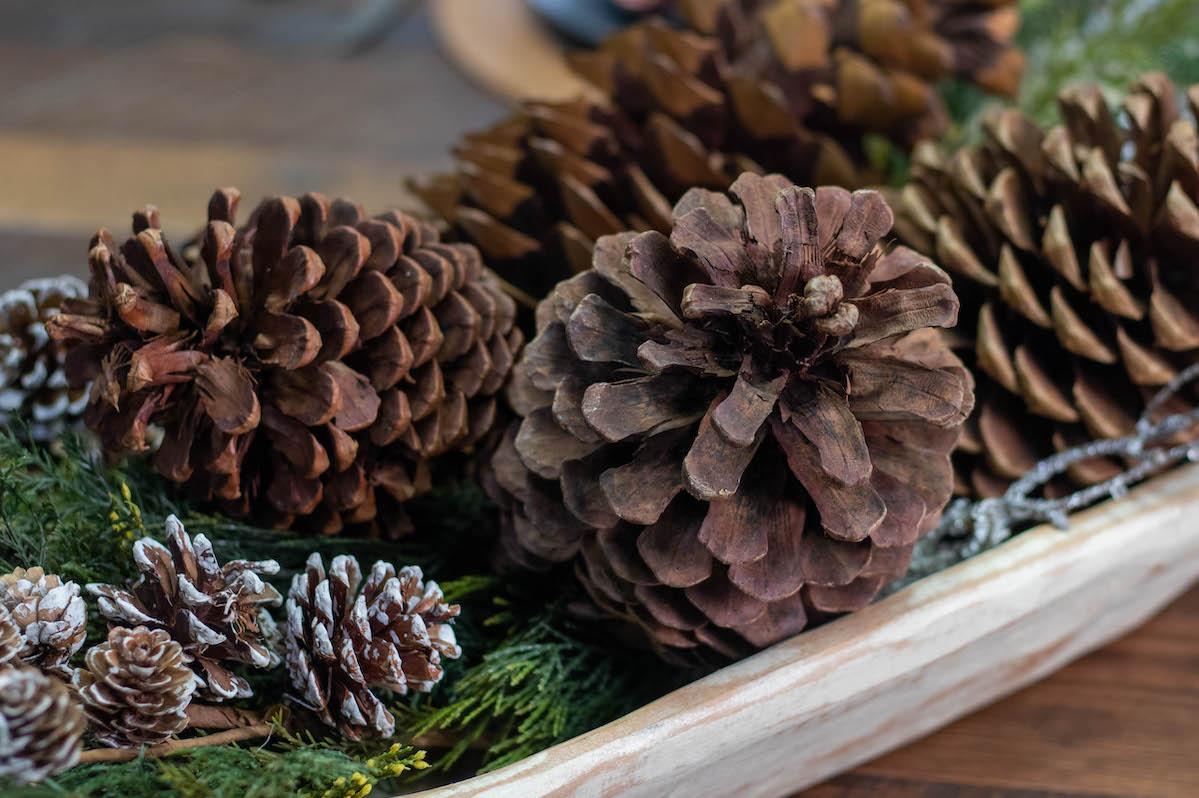 Get Home Decor Inspiration

We hope that you enjoyed this brief tutorial on how to easily transform one season's tablescape into the next with just a few simple modifications. With a clean and simple backdrop, it's easy to add fresh accessories to your favorite place setting and end up with a completely updated design. Using items from nature or reusing items again and again in new ways can make updating your home decor budget-friendly and fun!
Be sure to visit our blog for more tablescape tutorials, and follow us on Instagram for ongoing home decor ideas and inspiration! Don't forget to tag us on Instagram when you share your tablescape creations.