How to Choose Chairs for Your Dining Table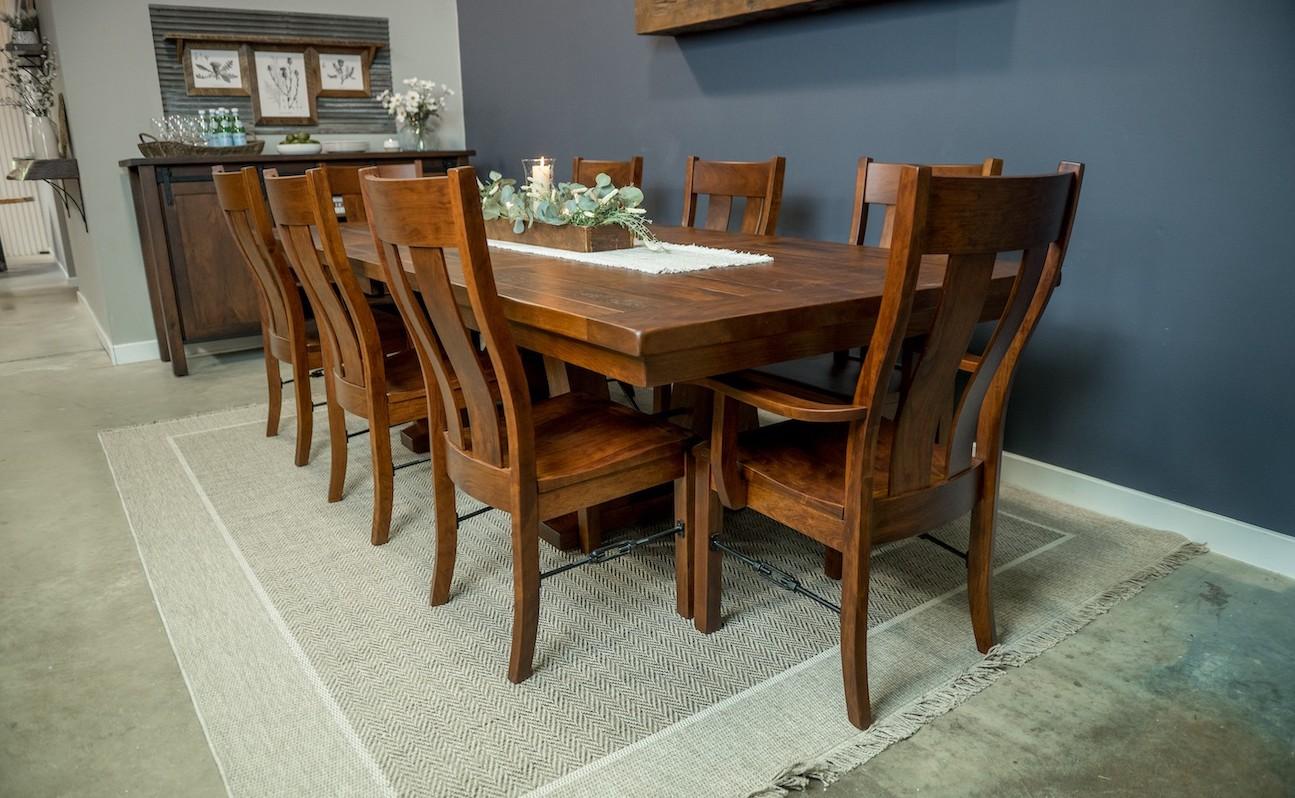 The dining table is the heart of any home, where friends and loved ones come to gather for special occasions or a simple meal. Once you have selected your dining table, it's time to think about your dining chair options! 
There are many factors to consider when selecting a dining table and chairs, including the table and chair style, chair size, and the dining room. Read on to learn how to choose chairs for dining table options and browse some of our favorite reclaimed wood dining chairs!
Chair Style
The dining chairs you select will of course depend on the table you've chosen so that you can have matching dining chairs.
You'll want to consider the type of wood and finishes that will best match your table.
Do you want solid wood chair seats or upholstered chairs?

Do you want chairs that have the same design as your tabletop, or do prefer contrast?
Upholstered seats can be more comfortable to sit in for long periods of time, but the fabric you select must match the other furniture in the room. The chair below is an example of a custom-made upholstered chair designed to match a southwestern style dining room. The upholstery chosen created a common design element to tie all of the dining furniture together.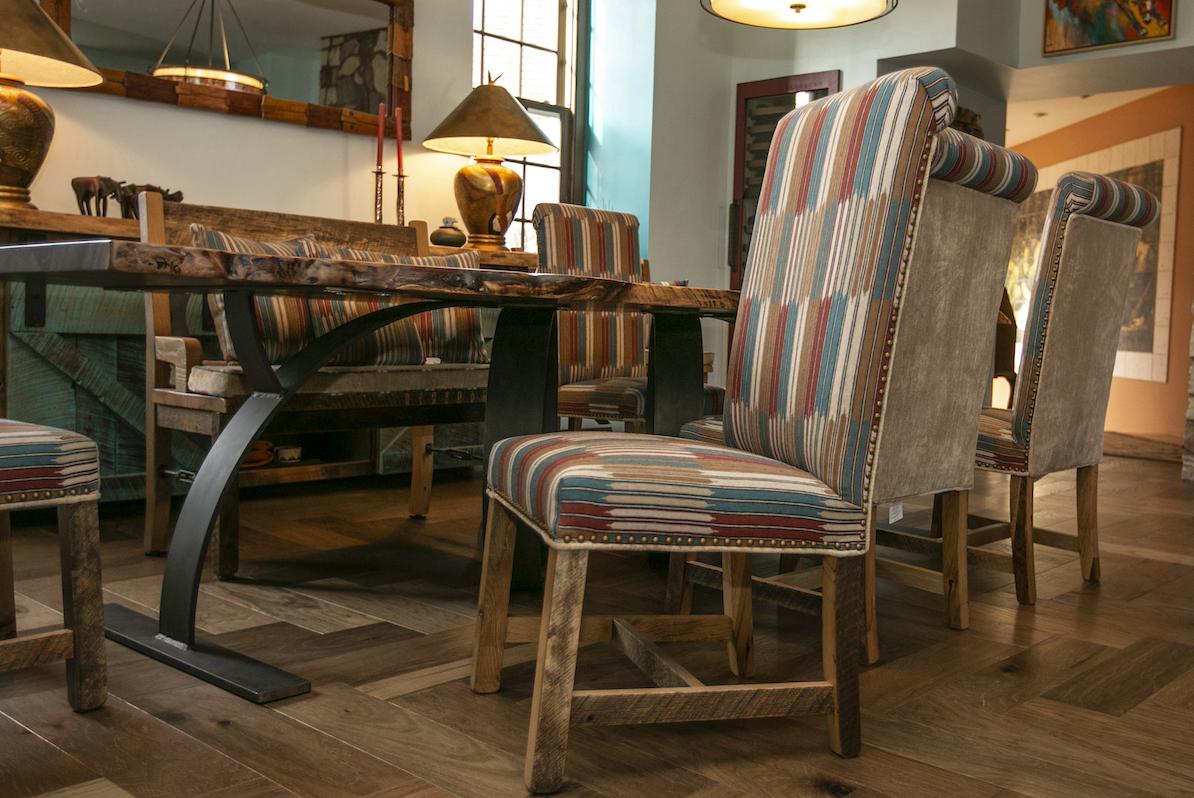 You'll also want to consider what style of dining chairs you prefer, formal or casual? For instance, do you plan to host leisurely dinner parties, or have more formal gatherings at your contemporary table? What other furniture will you have in the room? These are all important questions to ask yourself when choosing dining chairs.
Dining Chair Size
When shopping for chairs, consider both the number of guests that you want to comfortably seat in your dining area as well as the size of your table. The right dining chair size will ensure that each guest has enough elbow room to eat comfortably and to move around the dining room. You should also consider the location of the table legs. A good rule-of-thumb to follow would be to allow 12 inches of space between the seat and table to give sufficient leg room. Below are the average dimensions of a standard side chair.
Chair width: 15 inches

Chair height: 28 - 48 inches

Seat height: 17-20 inches
If you prefer armchairs to side chairs, these seats will be more comfortable to sit in for an extended time, but require slightly more space for the chair arms.
How Many Dining Chairs Will You
Need?
It's important to measure your table first when choosing chairs for your dining room. To dine comfortably, each person needs approximately 24 inches of seating space. For more elbow room, consider extending the seating allowance to 28–30 inches, especially if you have chairs with armrests or wide seats. 
If you need to seat more guests and are okay with a more casual style, a wood bench can be a great option for your dining room, but the comfort level is usually less than standard chairs. Because of this, a bench might be a better option for seating children than adults. Most tables can accommodate a mixture of all three of these chair styles, with armchairs on the end, side chairs on one side, and a bench on the other. Ultimately, it's up to you to decide what type of chairs you prefer in your dining room!
Ready to shop for dining room chairs? Here are some of our all-around favorite seating options to suit any table style.
Solid Wood Dining Chairs
If you have a standard height rectangular, square or round dining table, chances are you will want some solid dining chairs to go along with it.
Akron Barnwood Side Chair
Surround your table with supportive dining chairs like a barnwood chair so you can enjoy meals comfortably. These reclaimed wood dining chairs, made of aged oak barnwood, will bring warmth and a welcoming feeling around the dinner table.
These versatile chairs pair well with so many of our rustic dining tables, like the Pierce reclaimed barnwood table pictured below.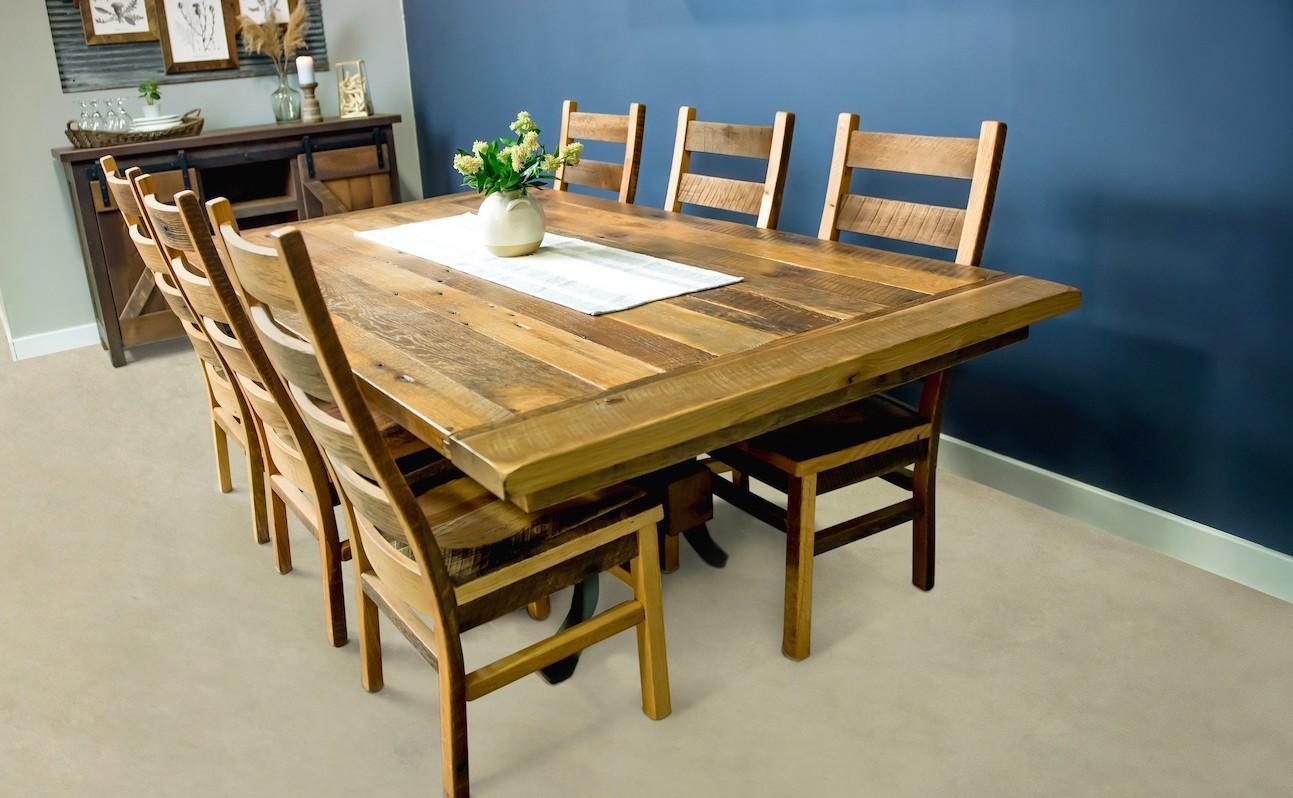 Rustic Cherry Side Chair
This rustic side chair is made of cherry wood and designed for comfort and functionality. These beautiful side dining chairs have a matching dining table made of cherry -the Holbrooke farmhouse dining table. With the option for extensions, the Holbrooke can seat a crowd. So make sure to order extra seats so that everyone has a place at the table!
Rustic Cherry Arm Chair 
The powder-coated steel turnbuckles add even more stability and character to this beautiful chair. The Holbrooke is also designed to match this rustic cherry arm chair.
Stools
If you purchased a pub or counter height table, or need stools for your kitchen island, you want to make sure that you purchase the right height for your needs. Below is a summary of the standard tables and recommended stool heights.
Standard/Cafe Height Table is 30"H: Stool Height - 18"H

Counter Height Table is 34"-36"H:Stool Height - 24"H

Pub/Bar Table or Kitchen Island is 40"- 42"H: Stool Height - 30"H
Walnut Swivel Bar Stool
Handcrafted of solid wood, our walnut swivel bar stool is the perfect option for your pub height counter or table. The stool measures 30" high and will fit well with a 40" - 42" table. The smooth scooped seat paired with the black painted back makes this one of our most comfortable, and stylish, stool options.
Mission Style Solid Oak Bar Stools
If you are looking for a simple, clean, and sturdy stool seating option, look no further than our mission style bar stools. Made of quartersawn oak, these stools are built to last and emphasize the beautiful natural characteristics of the wood.
The mission style stools are available in 18", 24", or 30" heights so they can suit any of our standard, counter, or pub height tables.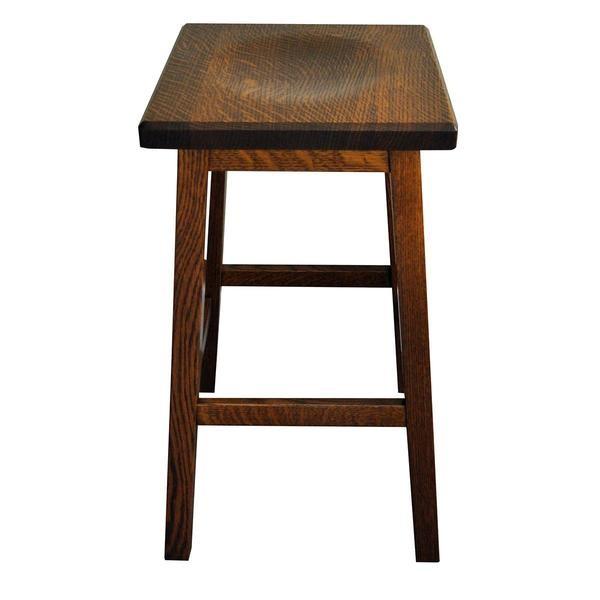 Bench Seating Options
Although chairs might be what first come to mind when you consider seating for your dining table, benches bring their own unique set of benefits. Adding a bench to your dining table can be the perfect option if you need to fit more people around the table. They can work especially well for children, and can also be used in other areas of your home such as your entryway.

Rustic Barnwood Bench
Our rustic barnwood bench is one of our most popular bench options that pair well with any reclaimed wood dining table, such as the farmhouse style dining table. This farmhouse-style bench will naturally boost the rustic vibe in your dining space.

This bench can also be customized to different lengths to match your dining table needs.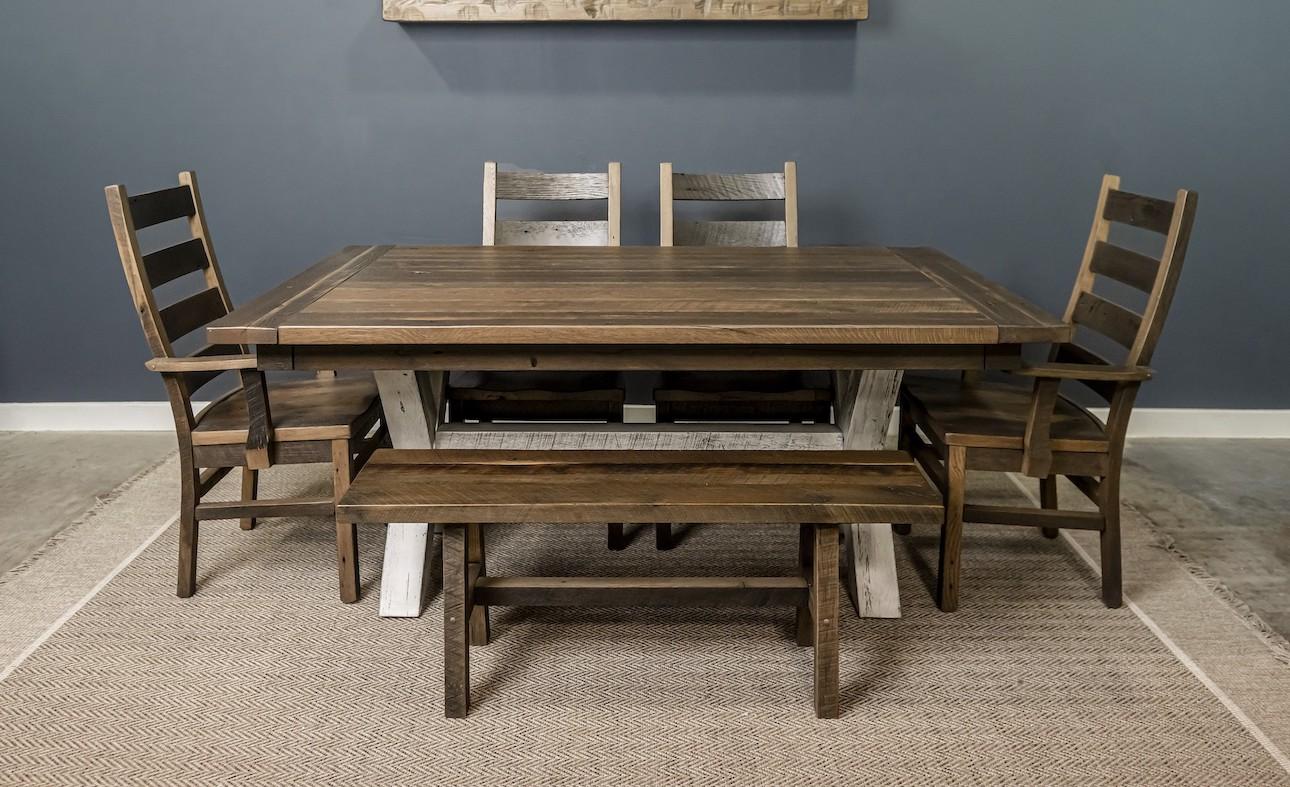 Shop for Dining Table and Chairs
Most dining rooms can accommodate several types of dining chairs, so selecting the right ones for your room ultimately comes down to size, style, and comfort. When you follow the few simple guidelines outlined here, you can find the dining table and chairs that will fit perfectly in your home.
If you're ready to shop for a new table and chairs, we have a wonderful selection to browse from! Check out our reclaimed wood dining tables and reclaimed dining chairs.