Everything You Need to Know About Live Edge Wood Furniture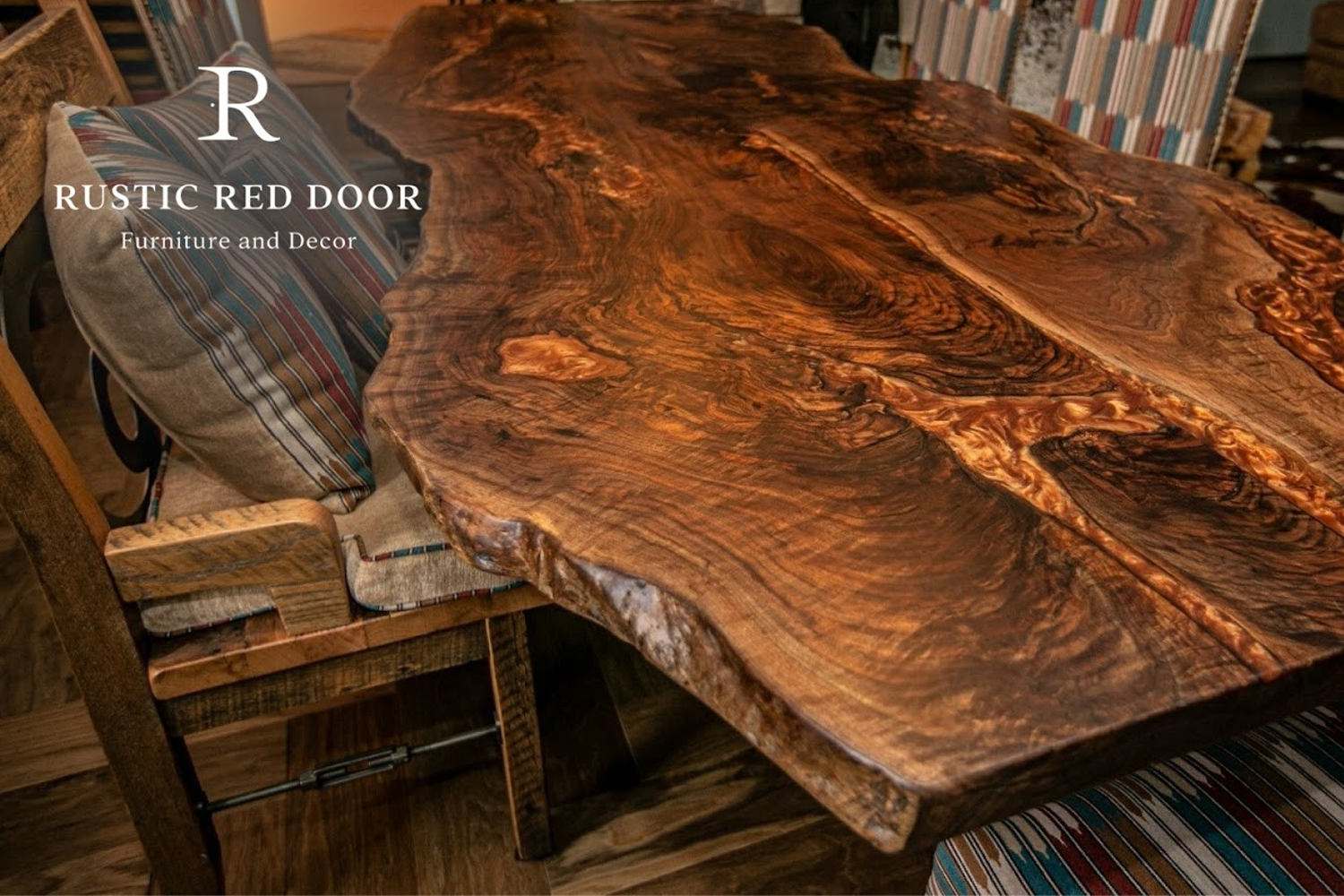 If you want the beauty of authentic nature in your home, a piece of live edge wood furniture might just do the trick.
Instead of a more traditional furniture piece with clean lines, a live edge feature commemorates the natural beauty of a tree. And the best part is that each live edge furniture piece is unique to itself with the tree bark's curves and many other natural features incorporated into the design.
Live edge pieces give you unique beauty straight from the incredible outdoors.
What Is Live Edge Furniture?
Live edge simply means that the original, living form of the wood slab's edge has been left in its original shape rather than it being milled into a straight plank. Keeping its natural contours maintains the natural beauty of the woods or forest by visibly preserving the tree's trunk. 
Wood with burls is very popular with live edge coffee tables and live edge pub/cafe style tables. Often, epoxy is used to fill any voids or knot-holes to prevent uneven surfaces and to give the piece a wow factor, especially if the void is large.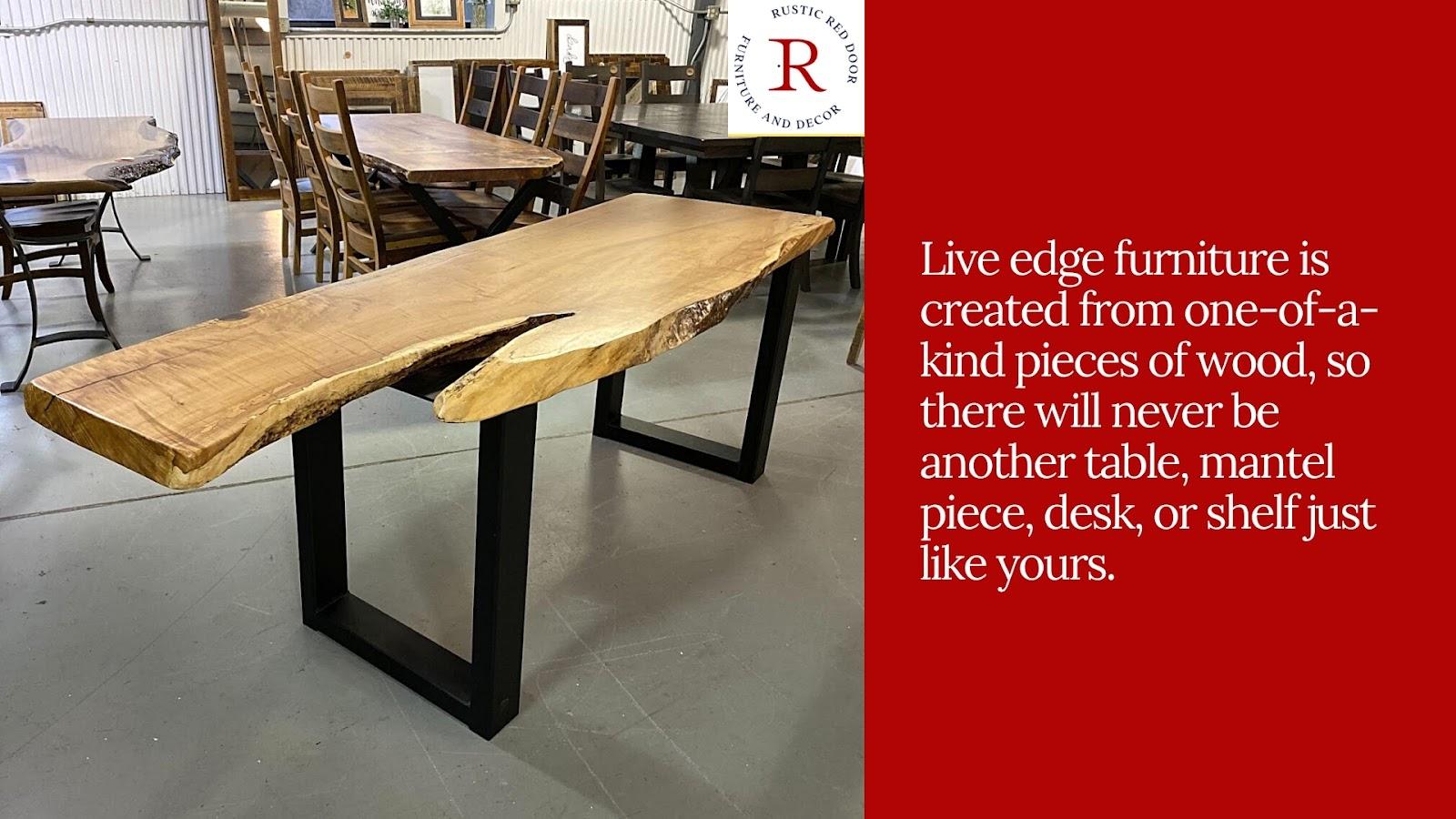 Unique Charm with its Natural Edge
Live edge furniture is created from one-of-a-kind pieces of wood, so there will never be another table, mantelpiece, desk, or shelf just like yours. Pieces are generally custom-made with many hours of labor invested by different craftsmen. So they are truly works of art!
Live edge wood blends well with a myriad of style choices, so its versatility is a plus. Bringing in a little bit of nature can really help soften modernism's harder edges. This is especially true with office or commercial furniture.
We don't often see a cabin-y commercial business office! Rather, we generally see the latest, most modern trends in the office conference rooms. However, when a sleek, modern office has a natural edge conference table juxtaposed with contemporary chairs and fixtures, it completely transforms the room into a warmer place.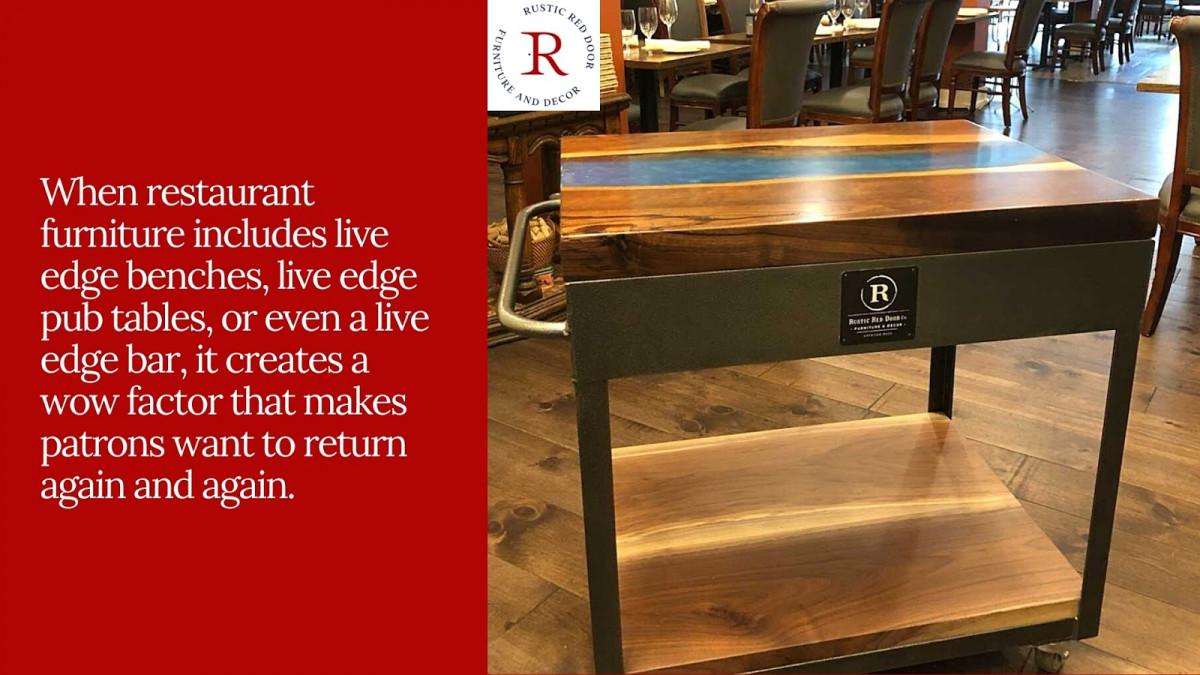 Restaurant décor has also gotten in on the action. When restaurant furniture includes live edge benches, pub tables, or even a bar, it creates a wow factor that makes patrons want to return again and again. 
Live edge pieces have a neutral timeless style that complements modern interior designs. You can't go wrong with the rugged and exotic beauty of natural wood. So it makes sense that a one-of-a-kind, live edge piece will never go out of style, even if orange carpeting and avocado-green appliances make a comeback (perish the thought!)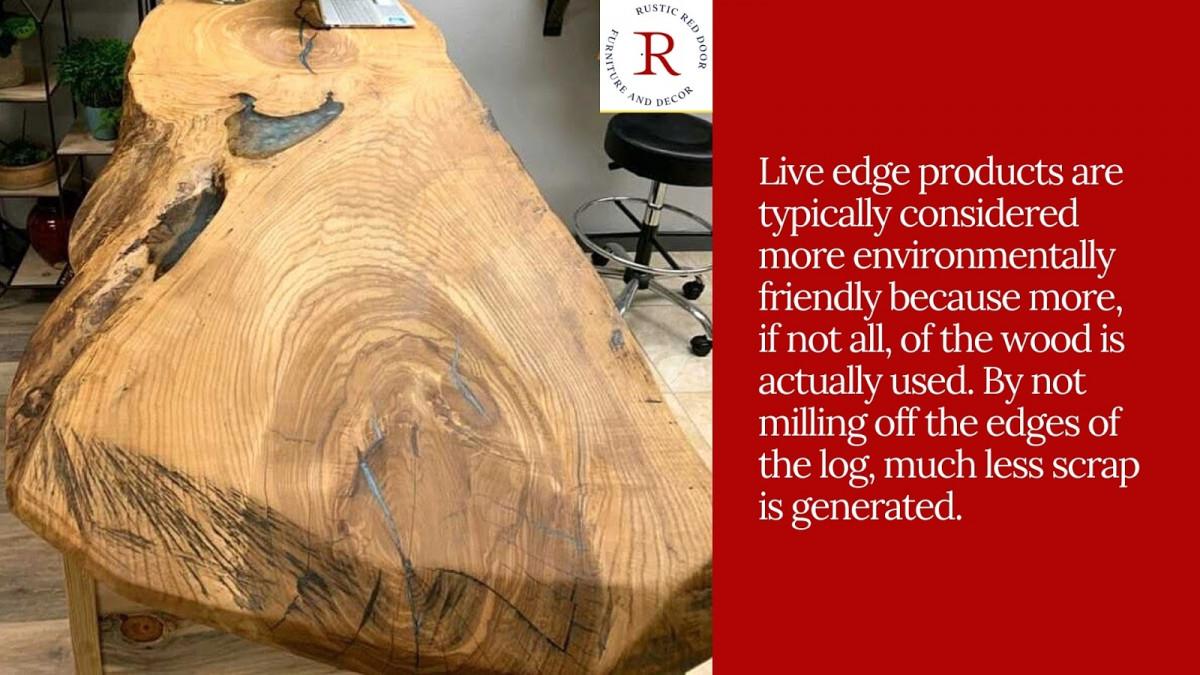 Environmentally Friendly
Live edge products are typically considered more environmentally friendly because more, if not all, of the wood, is actually used. By not milling off the edges of the log, much less scrap is generated. And the gnarls, burls, and knots would normally disqualify it from being used in traditional furniture. Ironically, these "flaws" wind up reducing waste! So in a sense, each tree goes further.
Also, choosing reclaimed barn wood helps keep materials out of the landfill and lowers the demand for virgin lumber. It also preserves history by giving new life to old, neglected barns and other farm structures.
In general, live edge pieces are more resistant to wear and tear because they are solid hardwood constructions that don't use plywood or veneers. Unlike cheaper, industrially produced pieces, live edge furniture will be around for a long time, handed down through the generations!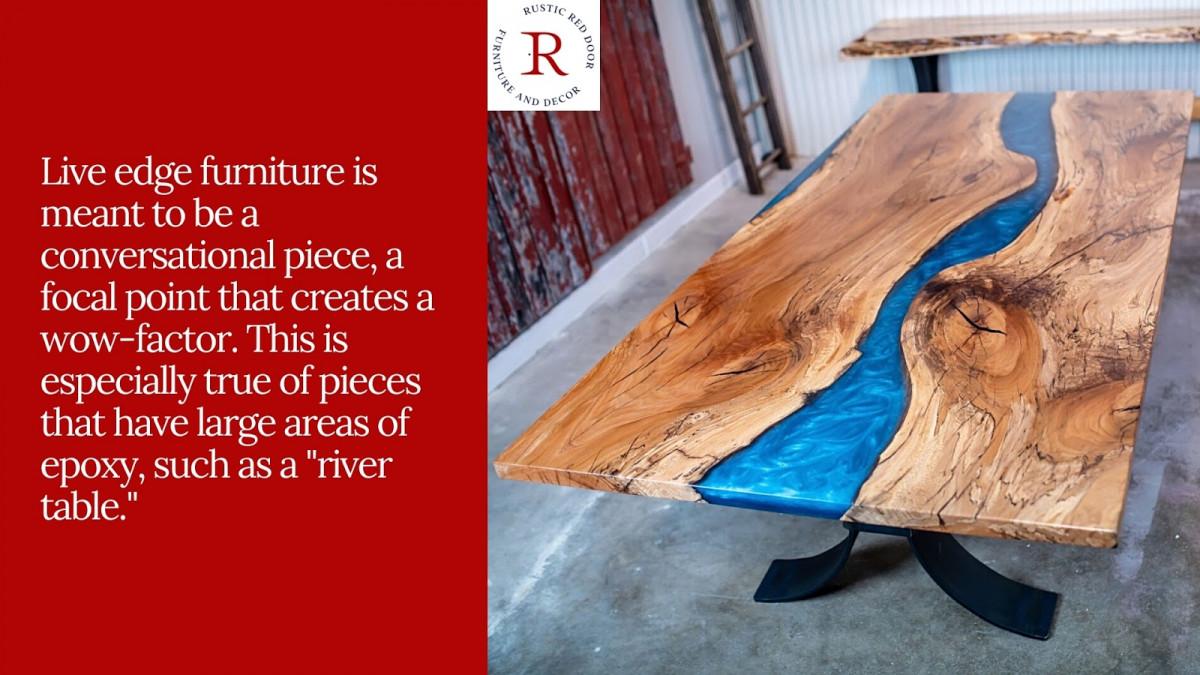 Less Is More
Live edge furniture is meant to be a conversational piece, a focal point that creates a wow factor. This is especially true of pieces that have large areas of epoxy, such as a "river table." Unless you're furnishing a cabin or country house, it's usually best to choose one or two pieces for a room. (i.e., a live edge coffee table in the living room, live edge shelves in the den, a live edge desk in the office, you get the gist.) Heck, even a live edge charcuterie board on the table will be a fun focal point.
The Price of Live Edge (Spoiler: It's worth every penny)
The recent surge in popularity of live edge furniture has created high demand for the less common gnarly wood. Live edge wood is more difficult to produce because the type of wood and manufacturing techniques used in making conventional furniture reduce the likelihood of curling and twisting. Each piece is custom-made, requiring many hours of work from many highly specialized people. This is particularly true for pieces containing epoxy which is especially time-consuming to produce.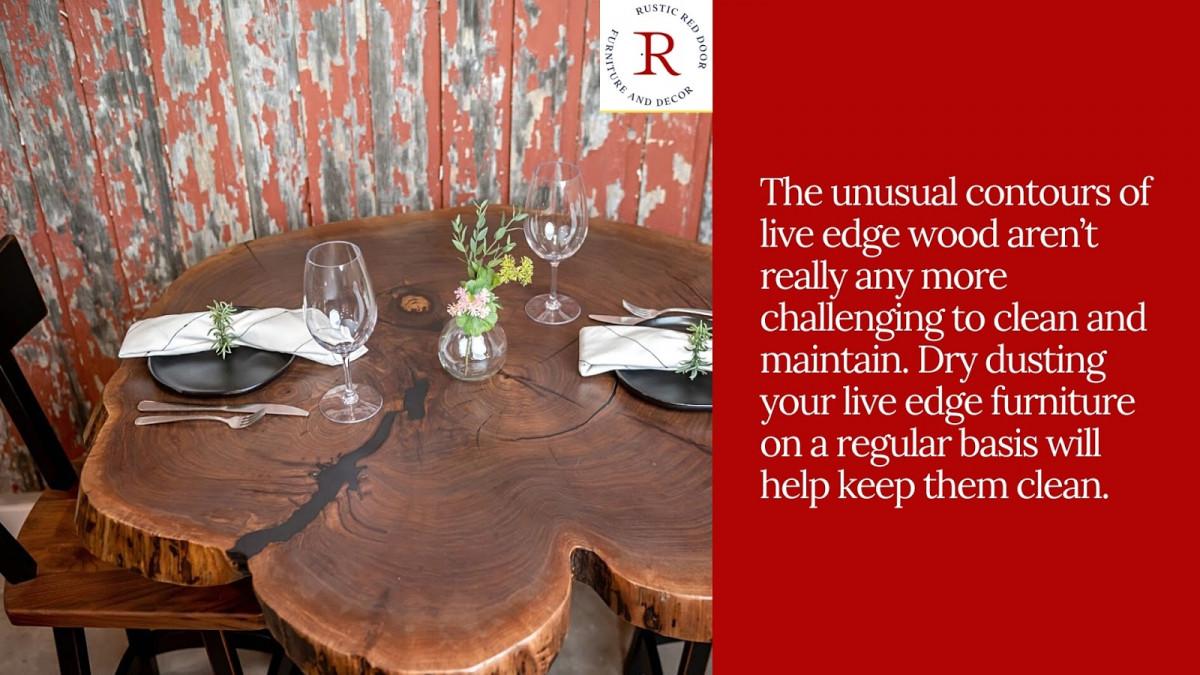 How to Clean Your Live Edge Furniture
The unusual contours of live edge wood aren't really any more challenging to clean and maintain. Super soft, highly absorbent microfiber cloths will lift dust right off the surface and are better at getting dust deep from within the nooks and crevices of the live edge. Dry dusting your live edge furniture on a regular basis will help keep them clean. 
Wipe down with 1:8 vinegar to water solution

Vinegar is naturally antibacterial and helps remove built-up residue from the nooks and cranes of irregular services
Some live edge wood table tops are highly varnished, which means that the figured wood is very glossy. Folks might forget that the tabletop is not, in fact, glass! But most of our customers prefer a lower sheen. And although the finish is resistant to moisture, we do not recommend leaving spills or a condensation-laden cup on the live edge wood top for an extended period of time. Instead, if you're planning to enjoy a long, leisurely meal at the table, we suggest keeping coasters handy.
Know Your Retailer
Live edge furniture is popular, and since it's not very difficult to slice up a tree, many fly-by-night producers have popped up making it difficult to know whose products are high quality. It's critical that the manufacturer has used wood that was cut and dried correctly or there will be problems down the road with twisting and warping.
All of Rustic Red Door products come from trusted sources, and we prefer to work with domestic suppliers and craftsmen for the very reason mentioned above. Many of our partners/suppliers are Amish or Mennonite, two groups famous for their high moral and ethical values. They are also well known for their craftsmanship. We built relationships with the finest and highest-integrity woodworkers who could meet the demand for customization that our clients require from the largest slab table to the simplest quilt hanger.
Want a Live Edge Dining Table?
Visit our site to view our beautiful handcrafted live edge furniture. You can fine live edge dining tables, live edge pub tables, live edge benches, coat racks and more. As usual, our live edge products can be customized to your preference.