15 Beautiful Thanksgiving Table Decor Ideas
Nothing compares to a Thanksgiving gathering of family and friends sharing good food and conversation around the table. But before the turkey is roasted, potatoes mashed, and the perfect pie is served - it's your place settings and table decor that will be on full display for all of your guests to see.
Decorating your table doesn't need to be complicated or costly, but it can be a fun way to elevate your Thanksgiving celebration and create a memorable experience for your guests. With just a few special touches, you can create a completely fresh look with your everyday dishes.
To help you get started, we've rounded up 15 of our best and most beautiful Thanksgiving table decor ideas. From rustic harvest-themed centerpieces to personalized place cards, there are so many ways you can set the table this holiday season. Whether you're going for an elegant look or something a little more casual and neutral, there's something on our list for you. Replicate one of our ideas to set your table this Thanksgiving or simply use this guide as a starting point to dream up your own table decor that's uniquely you!
Sophisticated Fall Feast
This simple but elegant tablescape is perfect for a large gathering with several place settings. Incorporating creams, golds, and rich rust colors, this table delivers rustic sophistication.
Rustic Place Settings
To keep things clutter-free for a large table, skip both placemats and chargers for this tablescape and begin each place setting with a simple cream-colored plate. Rust-toned linen napkins topped with a sprig of wheat, gorgeous rose gold silverware, and a clear glass tumbler with a decorative gourd complete the place settings.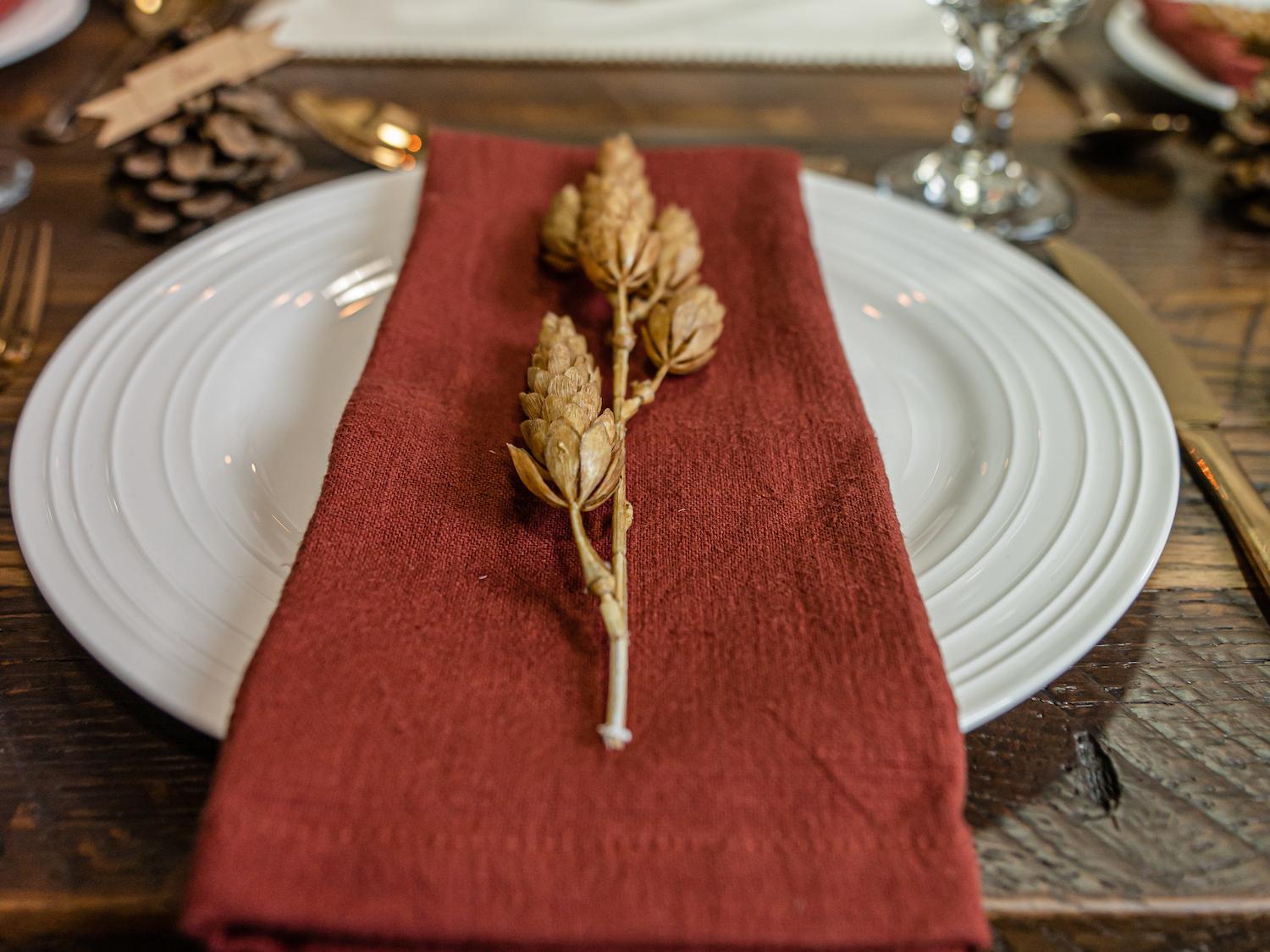 Pine Cone Place Cards
Finish things off with a fun, personalized pinecone place card at each place setting. They are too cute!
Get more tips on decorating this rustic fall table.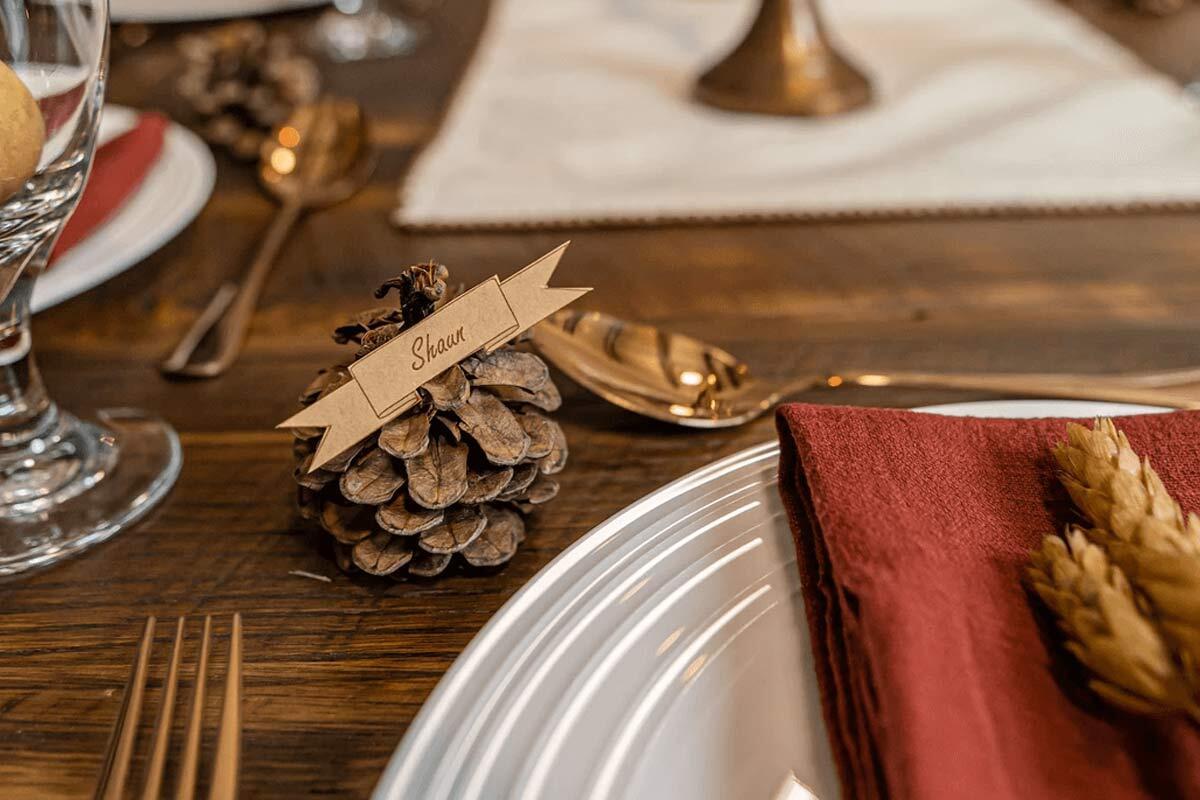 Neutral Fall Table
Instead of the "in-your-face" bright oranges, golds, and burgundies in typical fall decor, this table opts for a neutral and soft color palette with lots of interesting patterns and texture.
Apple Basket Plate Toppers
These sweet unassuming apple baskets topped with a plaid napkin and sprig of wheat are casual but oh so chic. This Goodwill find inspired the entire fall tablescape!
Get more information and sources used for this neutral fall tablescape.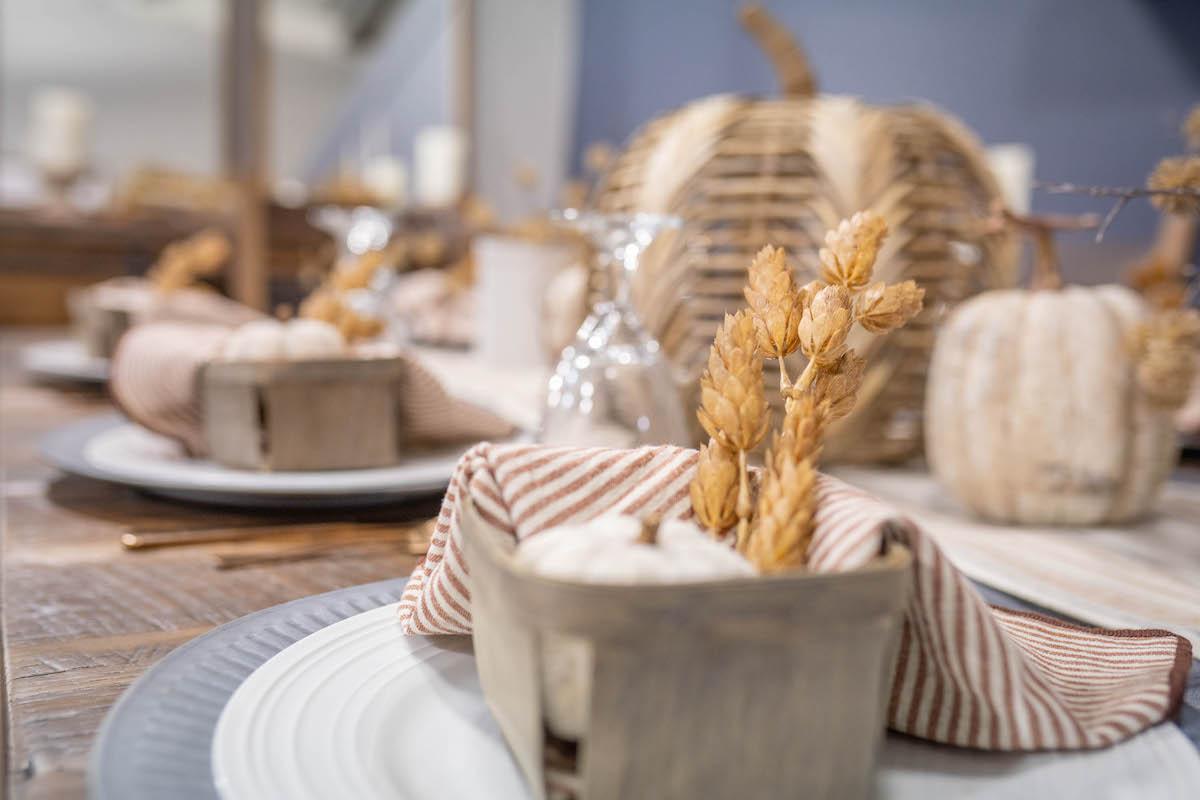 Intimate Autumnal Table
This tablescape is best suited for a cozy, intimate gathering and features autumn in all her glory!
Harvest Dough Bowl Centerpiece
A truly show-stopping fall centerpiece! Inside a rustic cream-colored dough bowl sits artfully arranged fall foliage, berries, wheat, pinecones, and a few textured pumpkins and leaves. Nestled at the core of the centerpiece is a luminaire-style candle within a glass hurricane to add warmth and a little bit of sparkle.
See more tips here on recreating this intimate Thanksgiving table.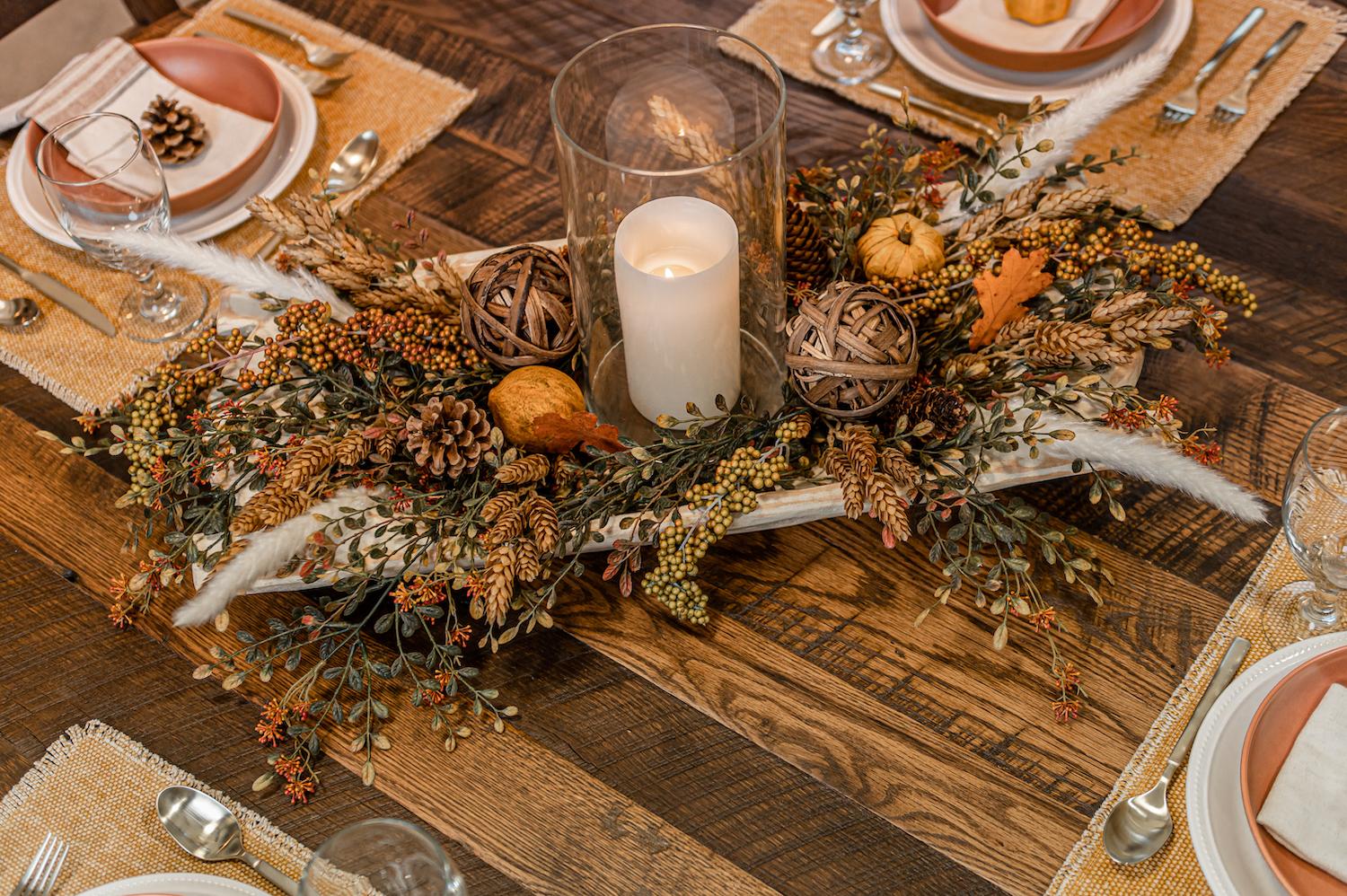 More Thanksgiving Decor Ideas
Want even more fall decor ideas? Incorporate any of these simple additions to your table or other areas of your home this fall season.
More Fall Table Decor
Happy Thanksgiving!
We hope these Thanksgiving table and home decor ideas get you inspired for your upcoming feast. Remember, you don't need to be an interior decorator to create an Instagram-worthy table. Find a few decor pieces that you love and can use over and over in different ways.
For more decor tips, be sure to follow us @rusticreddoor. We want to see what YOU create this Thanksgiving. Tag us to share your table and home this holiday season!