Four States in Four Days
Custom Furniture Delivery to New Hampshire
A few times a year our family embarks on special trips around the Northeast to deliver furniture to our customer's homes. Late this fall Shaun and I did just that when we took a trip to the White Mountains in New Hampshire to bring a new barnwood dining table to its forever home (more on that below).
Before we got there, we made a few stops along the way to places I've always wanted to explore. Tag along with me to see more about our trip!
We started in Lake George in New York, a lake I've always wanted to see. We stayed one night and had a foggy, beautiful fall day by the lake. The next day we started making our way to New Hampshire and made a few fun stops along the way.
Then we went to Lake Champlain in Vermont. I was really excited about this stop because I had never been to Vermont. So I was able to cross that state off my bucket list! We stopped at Shelburne Farms and took a nice long walk down to the water. I was so happy to visit this peaceful-looking lake!
That night we stayed in New Hampshire and got ready to deliver the custom-made table the next day. This is a brand new home for our customers. We had previously delivered another table to them at their primary residence in Massachusetts (check out that trip delivering their walnut live edge table).
The Granby round barnwood dining table we delivered to their home in New Hampshire was a gorgeous 60" round, extendable Granby table. When adding the two 12" leaves, the table lengthens to an oblong top that can comfortably seat 10-12 guests. We also delivered ten of our Pathway barnwood dining chairs that were customized to include turnbuckles at the legs.
Their cozy, rustic dining room has a beautiful view of the White Mountains--the perfect backdrop for their new furniture-- and I can imagine so many memorable meals gathered around their table in years to come!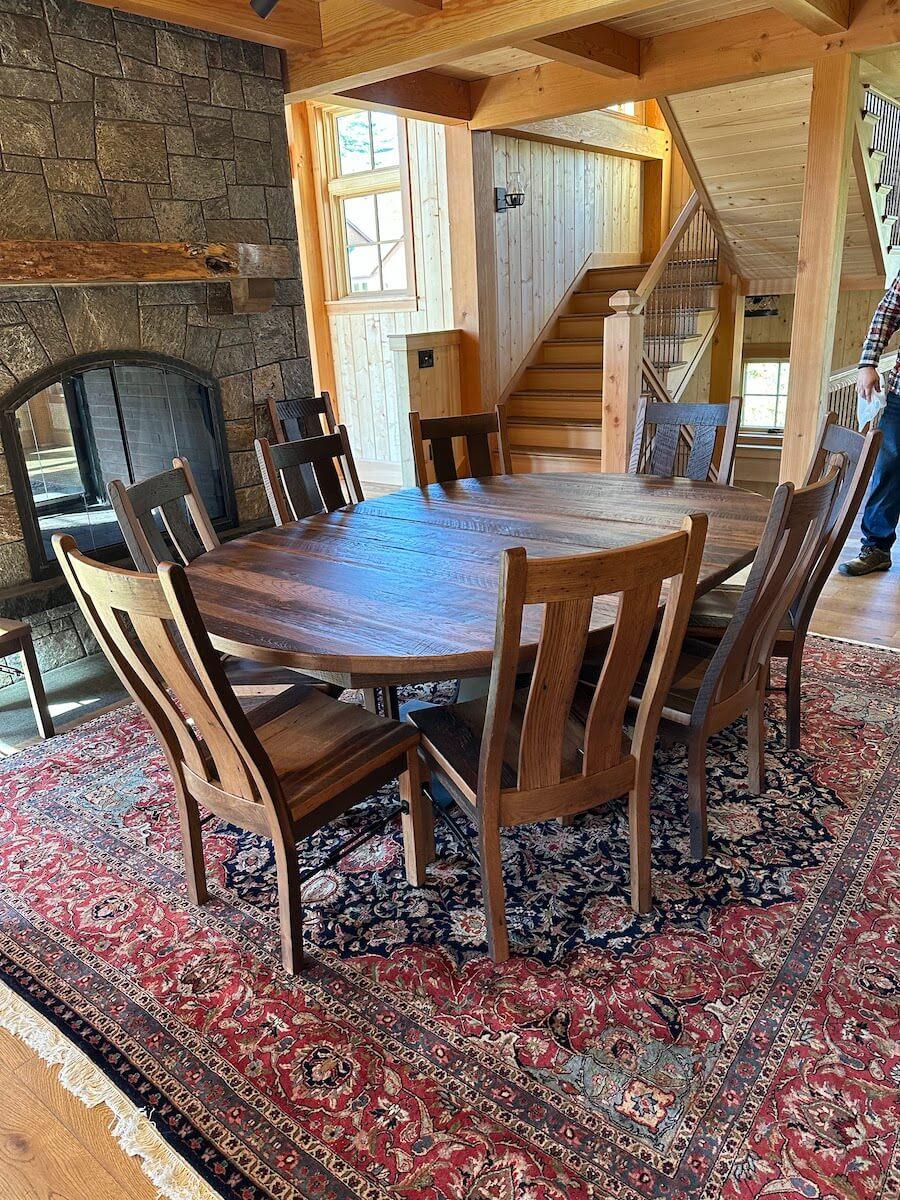 After the delivery we did a little hiking in the mountains, it was the perfect leaf-peeping time. We also took the Cog Railway to the top of Mount Washington which was really cool. It's the highest mountain peak in the Northeast, and we got some incredible views.
This trip was also my birthday weekend, so on that last day, Shaun asked me what I wanted to do to celebrate. I chose a visit to Block Island off of Rhode Island. The last time I was at Block Island was sailing with my family when I was 8 or 9, so revisiting brought back lots of great memories of time spent in New England as a child. It was really cool to explore again as an adult.
We took the ferry over to the island and then rode mopeds around. We stayed in a really cute, quaint beach house called the Avonlea right on the water. It was perfect!
One thing I love about New England is how the mountains meet the sea, and we got to experience that while exploring the cliffs the next day. It was stormy and overcast but really beautiful, I just loved being on the rocky coastline.
So that was the trip! Four states in four days: New York, Vermont, New Hampshire, and Rhode Island. I'm sure we hit a bunch more just driving through them. ;) I'm already excited for our next road trip!
- Kerry Smith