Seascape to Tablescape:
Nature Inspired Table Decor Perfect for Summer
Whether we're talking about picturesque New England, one of the serene Coastal Carolina's, or the nostalgic vibes of the Jersey shore, one thing is for certain, there is nothing quite like the beauty of a beach town. Each summer, many of us fall in love all over again with those quaint cottage lined streets with their heavenly-hued hydrangeas and shell-sprinkled walkways. 
So herein lies our theme for this season's table design…from seascape to tablescape. 
Before I begin taking you through my design process, here are a couple of things worthy of note:
First, you can't have a tablescape without first having a great table, and the one that we chose to highlight along with this season's design is our beloved Granby barnwood dining table. 
Next, in order for you to get a head start on creating your own sea-inspired table, here are a few of the featured decor pieces that I'll be incorporating:
White-washed wood 
Dried hydrangeas and pampas grass
Light gold and brass accents
Neutral place settings with natural fibers
Found seashells 
With that being said, let's get into the tutorial... 
A Beach-Inspired Centerpiece 
I began by selecting the base of my centerpiece and from there, I built up and out. I decided that since one of the best wood finishes, in my opinion, to give off a "beachy" feel is white-wash, I'd go with my creamy white distressed dough bowl. 
Centered inside of my dough bowl, I placed a simple brass-trimmed lantern along with an unscented pillar candle surrounded by shells found on…you guessed it…the beach!  
Next, I layered in some gorgeous dried limelight hydrangeas and sprigs of pampas grass. You can find these items at the beach as well…or perhaps, if you are very lucky, you can find them in your own backyard. 

In the front of the centerpiece, and a little askew, I propped up a sterling silver starfish for a little pop of whimsy. 
You could say that it's the [literal] star of the show!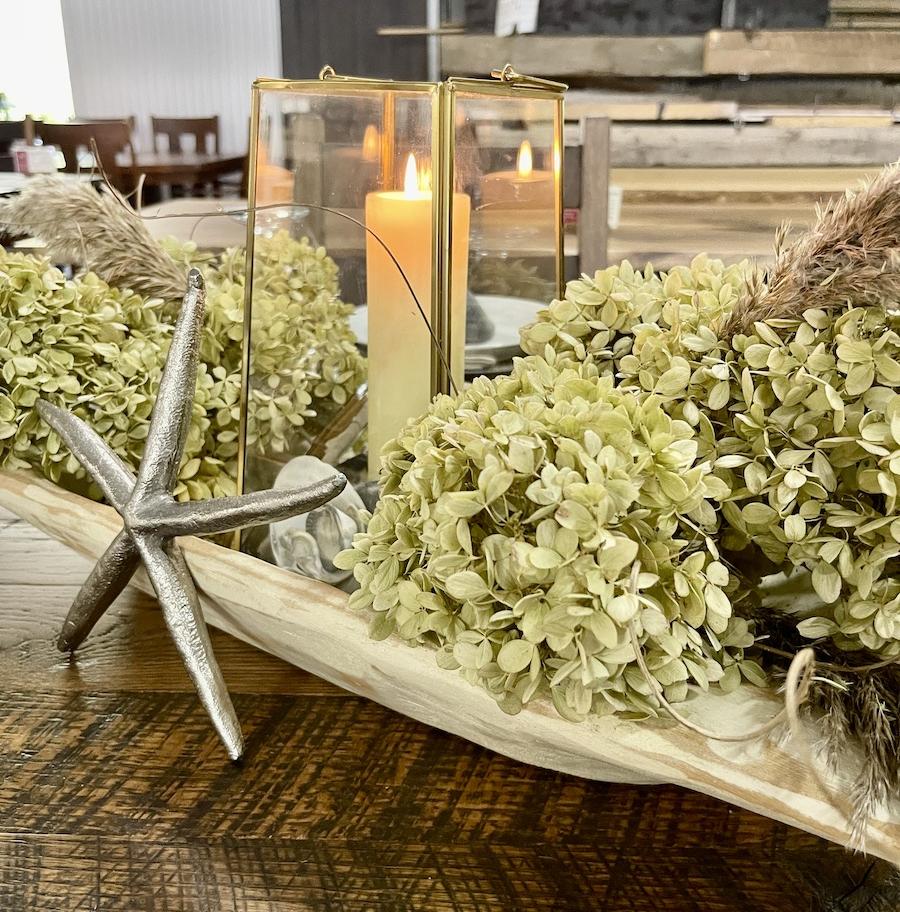 Clean & Simple Place Settings
Now that we have our centerpiece put together, it's time to set the rest of our table. As with the centerpiece, we'll build our place setting from the bottom up. 
In keeping with our beach-inspired theme, I went with open-weave rattan placemats and galvanized chargers topped with clean white plates. 

The silverware is simple but stunning with its brushed light gold finish.
Find Your Dream Dining Table 
Ready to find the perfect table for your family that will last for years to come? Snag our free Dining Table Guide for help selecting the right table size and shape for your eating area and learn how to express your unique style. 
Laid across each plate are simply folded linen napkins in muted tones of chocolate, taupe, cream, and denim blue. 

These colors just so happened to work super well with the large conch shells which I used to finish each place setting. Each of these shells is unique and I love the character they add to every seat at the table. 
Add some clear glass goblets for whichever refreshing beverage you so desire, and your beach-inspired tablescape is complete!

Find Your Own Nature-Inspired Home Decor
There's something very therapeutic about decorating your home by using elements that are found in nature, isn't there? 
I'd like to give you a friendly challenge to take a little walk outside to see what you can bring indoors to create your own special space. Just make sure that whatever you choose…you knock out the bugs first… ;) This is a crucial step when decorating with any pieces found in nature - trust me when I tell you that you do not want to find out the hard way on this one. 
Thank you for reading! I hope this barnwood dining table tablescape inspires you to go out on your own nature collecting adventure! If you do, please be sure to tag us on Instagram @rusticreddoor to share your nature-inspired home decor with us. We'd love to see what you create! 
Happy Decorating! 
Jen Fanucci 
Seascape Table Sources
If you want to recreate this table at home, here are the sources for the decor items used in this seascape design. 
Napkins, Lantern, Candle, Silverware -

Target

Dough bowl, Rattan Placemats, Galvanized Chargers -

The Nest

Pampas grass -

Cocalico Creek

Plates -

Homegoods

Starfish - Antique store

Dried hydrangeas - My sister's hydrangea bushes!

Sea shells - The beach!