The Benefits of a Round Dining Table
Dining tables are the heart of a home. They are more than just a place for good food to be shared - they are the social center of family events and daily activities, where memories are made and conversations are had.
If you are searching for the perfect table for your home, you may want to consider a round dining table for your dining room or eat-in kitchen area. Round dining tables and pub tables are found all the time in restaurants, but the benefits of these tables shouldn't be overlooked for home dining.
Round tables are ideal for
fostering conversation and creating an intimate dining experience

Great fit for smaller spaces

Help you optimize the number of guests you can fit around the table
Is a round dining table the right fit for you? Read on to learn the many benefits of choosing a round table for your home and see some of our favorite options that are currently in stock!
Intimate and Welcoming
A round table means a welcoming and inviting experience for all. Unlike rectangular tables where you can only talk to the people sitting right next to you, round dining tables are perfect for group conversation. With everyone facing towards the center, catching someone's attention is much easier and it's far easier for everyone at the table to join in on the topic at hand.
For the hearing impaired, a round table also makes it easier to read lips, another way in which this table shape creates a welcoming dining and conversation experience.
Improves Flow
Round dining tables are very visually appealing if you have a more open floor plan. Without sharp edges and corners, they have more space to walk around them making it easier for a guest to move around the space and sit down.
There is also good flow within the table itself. Food can easily be passed among guests, and conversation shared. Round tables truly are the epitome of family-style dining and create a feeling of connection around the dining table.
Good for Small Spaces
If you have a smaller area where you are trying to fit a table, a round shape is an excellent furniture choice. These dining tables have smaller footprints but can seat more people than a square or rectangular table of the same size.
Without sharp corners, it's easier to move around the table and pull out your chair. Squeezing in extra guests by pulling more chairs up to the table is another added benefit! A round table with a pedestal base like our Foles table (shown above) creates extra legroom, making it easier for guests to sit down.
Wondering how many guests you can seat around the table? Below are standard sizes for round dining tables. If you need extra capacity for your table, consider choosing one with extendable leaves for special occasions.
Round Table Seating Capacity
2-4 People: 3 Feet

4-6 People: 4 Feet

6-8 People: 5 Feet

8-12 People: 6 Feet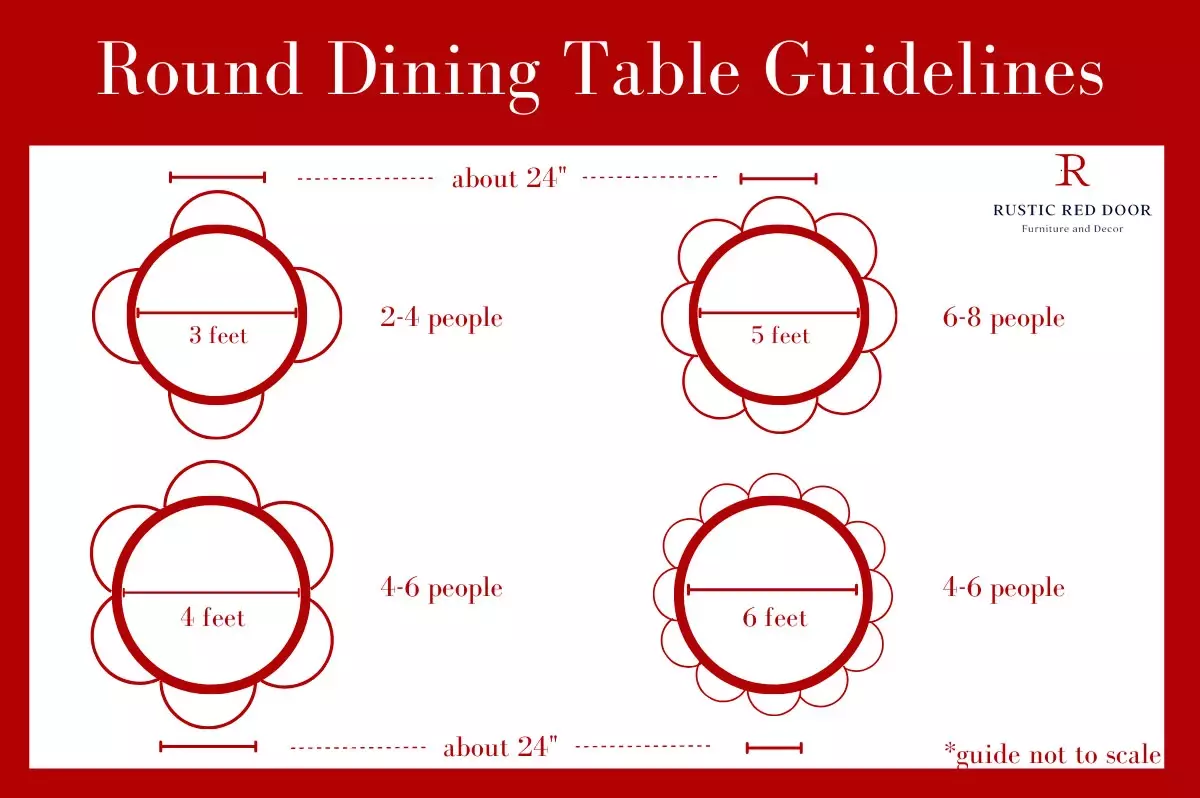 Ideal Locations for Round Tables
Round tables can exist in many areas of your home, but the following locations will optimize the benefits that these tables have to offer.
Breakfast Nook - Round dining tables are a great option for a breakfast room and create a casual dining experience for families.

Eat-in Kitchen - A round dining table is perfectly suited for informal family meals as well as homework sessions with your kids. We have a barrel pub table in our eat-in kitchen and you can almost always find a kid or two seated around it!

Round or Square Rooms - If you have a round or square dining room a round table is a great option. Rectangular tables are better suited in rectangular rooms.

Small Spaces - A small round pub or cocktail table is the perfect option if you only need to seat two to four guests. This creates a far more pleasant experience than a square or rectangular table that takes up more space and limits access to seating.

Sitting Area - Round tables can also be a great option for secondary seating areas like for reading a book or enjoying a great cup of coffee.
Shop Round Dining Tables
Your dining table is made for the moments that matter, and there is no greater importance than that. If your home can benefit from a round dining table, we invite you to explore our collection of customizable and one-of-a-kind options. All of our dining tables are handcrafted in America and made to last a lifetime.
From rustic round dining tables to live edge tables to pub tables, all of our furniture is handcrafted in America and built to last a lifetime. If you want to customize a table of your own, fill out the form below to get started!