What Is Reclaimed Wood Furniture
and Why You Should Buy It

Reclaimed wood has become an increasingly popular option for furniture and home décor in recent years. Perhaps its fame came from the newfound love of rustic furniture in modern society. Or maybe reclaimed furniture has increased due to the recognition of many that our consumer-driven society has been reaping the consequences of our laissez-faire attitude toward the environment. Maybe, for other reasons, we've just begun to see alternative and invaluable uses for things we once hastily discarded, like reclaimed lumber.
Whatever the reason, reclaimed wood pieces have become a beloved option for quality furniture, and are being used for everything from wall paneling to cabinets to dining room tables and more. But what exactly is reclaimed wood, and what are the benefits of buying reclaimed wood furniture?
What is Reclaimed Wood
Reclaimed wood, also known as recycled wood or salvaged wood, is wood that is being repurposed and given a new life. Reclaimed wood materials are often taken from old buildings, old houses, construction sites, and barns.
Reclaimed Wood Furniture is Eco Friendly
Unlike virgin wood, purchasing reclaimed wood furniture is an environmentally friendly option. Repurposed wood helps to slow down the destruction of trees in our forests and retards the accumulation of bulk waste in our landfills. Reclaimed wood can be considered a renewable resource for furniture makers to rely on.
Reclaimed Wood is Full of Character
In addition to its environmental benefits, one undeniable reality is that authentic, reclaimed wood is beautiful! Every knot, grain, wormhole, nail hole, saw mark and imperfection is exclusive to that one wood piece. Each plank, with a personality of its own, is uniquely designed by its Creator—never to be replicated by another piece of wood. Furniture made from reclaimed wood has a beauty and history that is unmatched by furniture made of new wood.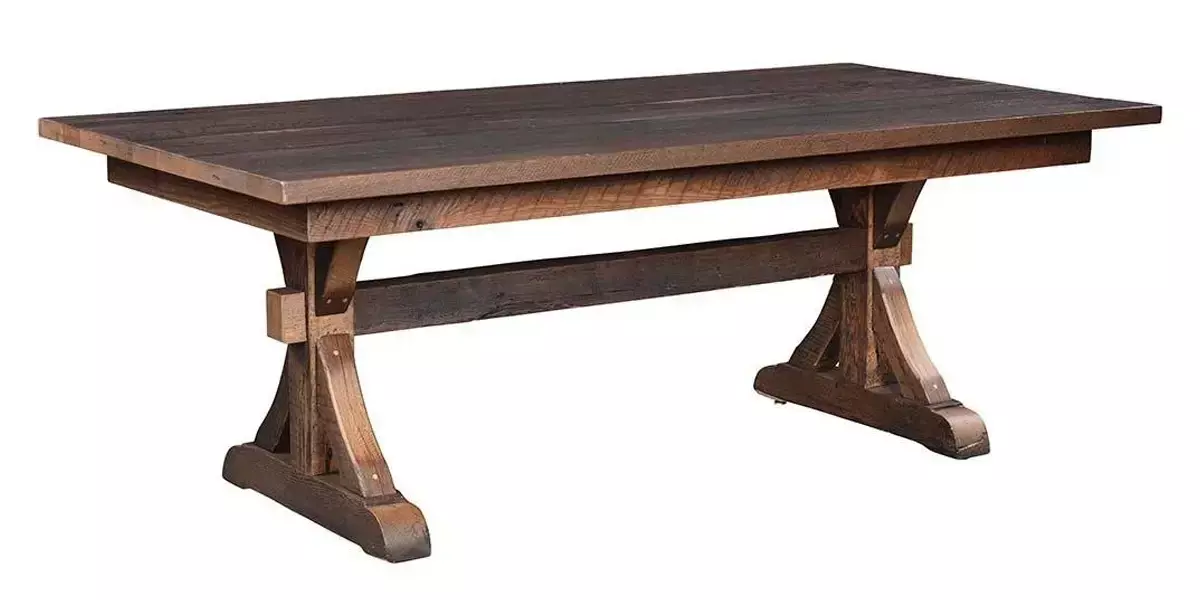 What about the real wood used in the reclaimed wood furniture, doors, and planks sold by Rustic Red Door? Our craftsmen use only genuine reclaimed wood from old barns or old factories—not a veneer or another look-alike wood made to resemble old wood. Reclaimed wood tables are a favorite in our store. Shown here is an example of the Bristol reclaimed wood dining table.
Most of our selection of reclaimed wood is oak, chestnut, elm, ash, beech, maple, poplar, and walnut. Many old barns also had hemlock and pine in them. Old-growth pine or heart pine is naturally strong and much harder than today's pine.

The wood from these barns was cut down 100-200 years ago from trees that were typically hundreds of years old. This wood is full of history and has been around for a long time and needs to be preserved so it can be enjoyed for generations to come. We also use reclaimed wood from wine barrels or whiskey barrels to make one-of-a-kind pieces like the pub table shown below.

Constructing pieces from reclaimed wood includes a more involved and rigorous process of selection and hand planing, but the results speak for themselves. Each magnificently smooth-surfaced creation, with its delicately exposed wood grain, becomes a prized possession to its owner. As you can see, we take pride in the quality craftsmanship and attention to detail that's seen in each product we offer.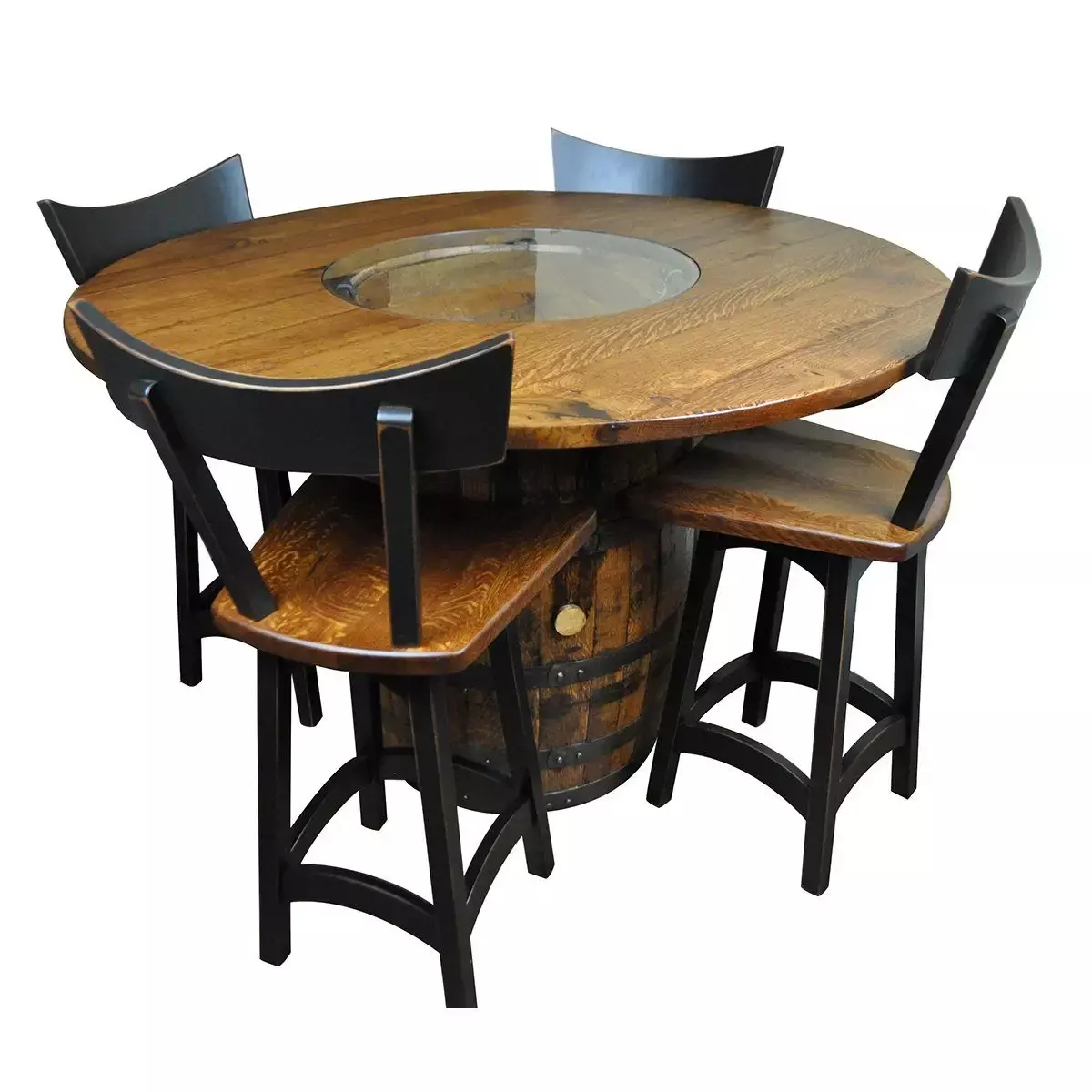 Buy Reclaimed Wood Furniture
Want to discover what type of reclaimed wood furniture you can place in your home? At Rustic Red Door, we have a wide selection of reclaimed wood products. You may like our reclaimed wood dining tables, reclaimed wood benches, reclaimed coffee tables, or one of our other fine reclaimed wood pieces. 
Custom Order Furniture
If you're new to our company, you might not know that we specialize in custom furniture projects. Most reclaimed timber furniture that we carry can be customized, so you can have reclaimed wood furniture designed to your exact specifications. We ship free to the lower 48 states. If you live near Perkiomenville, PA, contact us to set up an appointment and visit our Rustic Red Door showroom. You will get to see a sampling of our amazing reclaimed wood furniture products!
Want inspiration? You can browse our other custom furniture projects to see what we helped our residential and commercial clients create. Check out our product gallery here!