Ways to Adjust to Your Empty Nest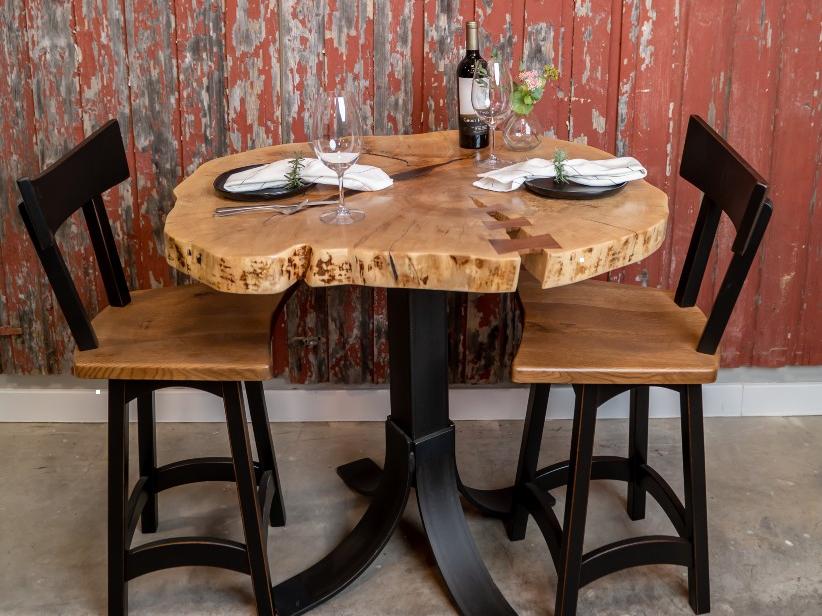 According to the Mayo Clinic, "Empty Nest syndrome" isn't really a syndrome, but rather a common experience that many people don't expect to have. Their advice is:
"If your last child is about to leave home and you're worried about empty nest syndrome, plan ahead. Look for new opportunities in your personal and professional life. Keeping busy or taking on new challenges at work or at home can help ease the sense of loss that your child's departure might cause."
According to Rustic Red Door, "Empty Nest Syndrome" is a euphemism for "Yes! We survived!" Our advice is: 
Practice NOT grinning from ear to ear
Pop the bubbly
Redecorate!
New Perspective
Let's face it, getting the kids to the launch pad has taken a lot of time and energy. Who hasn't had the experience of wondering where the years have suddenly gone? One day you're stepping on Legos, running late for soccer practice, and wondering what the heck that weird smell is. Then it seems like the next day you're waving as they drive or fly off to college, a new city, or even just across town to their very own place. 

At some point you realize that you've graduated. Oh sure, they'll always need you and you'll always worry about them, but you're not a full-time parent anymore. And that's when it hits you: "I don't need kid-friendly furniture anymore!" For years, you have sacrificed for your offspring, allowing your design decisions to be driven largely by functionality and the needs of your children. But now? Put your feet up, take a deep breath, and let your mind wander through the myriad possibilities before you. 
Rethink the Family Room
All languages have their quirks and English is no exception. One of our favorites is that we park on the driveway and drive on the parkway. Another quirk we find bemusing is that the family room and the living room are generally two separate places. As if families aren't living and the living aren't families!
Of course, we all know why this happens. Kids aren't exactly famous for their nuanced reasoning and long-term memories. You're asking for trouble if you allow them to drink milk in the living room (with the white carpeting), but forbid grape juice. Better to have a rule of no drinks in the living room. Aaaaaaaaand... the family room is born!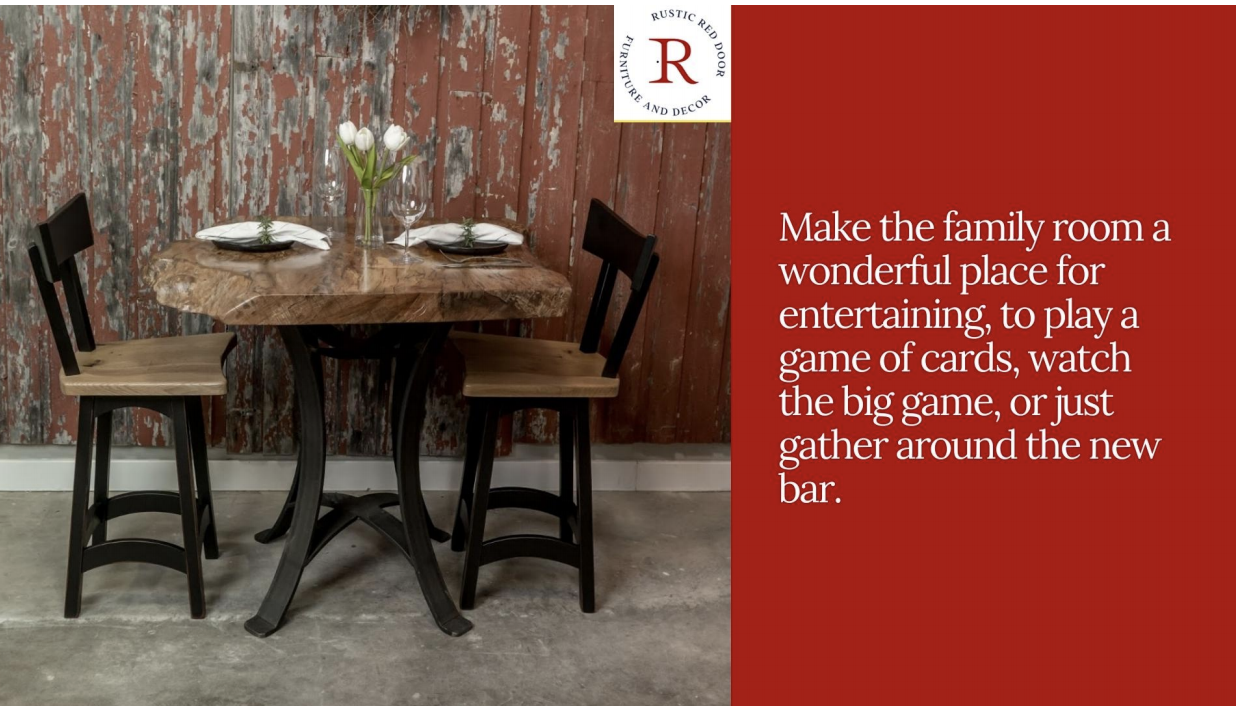 However, now that the family room is no longer the war zone it once was, you can make a wonderful place for entertaining that's less formal than the living room. Maybe a place for the grown-ups to play a game of cards, watch the big game, or just gather around the new bar you're going to build? If so, one of our live edge pub tables might be the perfect focal point for your new Rec Room. 
Our live edge pub tables are stunning and will add a wow factor to your repurposed Rumpus Room. Actual reclaimed and live edge wood is fashioned into an amazing table. Each table has its own distinct markings and is finished by hand in pre-catalyzed polyurethane. This allows the many unique characteristics of the wood to pop, creating an eye-catching piece whose weathered surface and well-earned marks will continue to tell its story for years. 
Or go with one of our many wine buffets. These farmhouse wine buffets are made for wine lovers. Our Covington Farmhouse Wine buffet is made from gorgeous rustic cherry wood which is known for its irregular knots and varying grain textures. The imperfections of this wood give it character and make it even more appealing. It holds up to 16 wine bottles signaling to your guests that you're ready to have fun and make some memories. Pair a rustic wine buffet with a live edge coffee table and you've got a fun, yet tasteful place to gather, socialize, and celebrate!
Guest Room
Nothing tells your children that you are confident in their ability to spread their wings and fly solo than converting their bedroom into a guest room! Once you've cleared out the photos, posters, sports memorabilia, and trophies, you'll be ready to create a guest bedroom that's a calm space anyone will feel welcome in, even your grown children when they come to visit. ("Wait, what? You took down my Twisted Death Zombie poster?!?!?")
The focal point of a bedroom is, of course, the bed. We offer a Reclaimed Wood Bedframe that will tell your guests, "We were expecting you!" This is a unique and rustic design choice that allows for the history of the wood to be showcased. Rather than being sanded down, filled in, or cut off, the nail holes, weather damage, and other imperfections in the wood are celebrated and put on display. Your guests will feel like they're drifting off to sleep in a piece of history.
Combine it with a Reclaimed Wood Dresser and you've got a room that is an experience. The rich, murky stain and oil rubbed hardware create a purposeful look that brings class and elegance to its rustic character. The genuine Amish craftsmanship uses only solid wood, eschewing veneer and plywood. The knots will vary by piece, bringing a unique one-of-a-kind charm to every dresser. Matching nightstands are also available, rounding out a room that will make your kids regret moving out!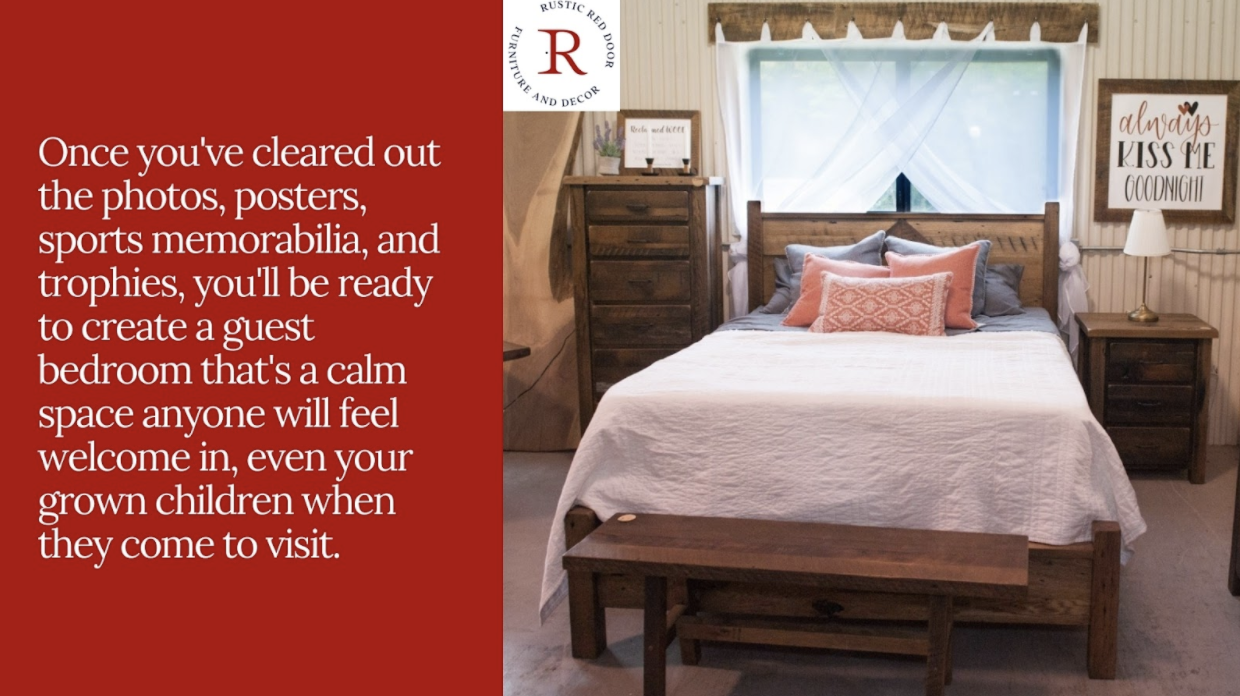 Home Office
Is your computer in the corner of the kitchen or family room? Is your printer perched precariously atop an out-of-place filing cabinet? Are your pens and office supplies scattered about various surfaces and random drawers? No, we haven't been peeking in your windows! Many of us have been there.
Juggling life's daily challenges sometimes necessitates taking the path of least resistance and the place where you pay your bills, do your banking, and check your eMail gets squeezed into a less-than-ideal place. With the emptier house, you now have options. A nice, quiet home office is now a real possibility.

Or do you already have a home office that until recently has also been Zoom Central? Having remote schooling forced a lot of home offices to do double duty. Stacks of homework, schoolbooks, and an overflowing paper recycling bin have been your constant companions as you tried to conduct your own business. Perhaps the familiar calls of, "Have you seen my..." piercing the air at precisely the EXACT wrong moment are still reverberating? 
Have you been secretly dreaming of reorganizing the office? Well now is the perfect time to hit the "refresh button." It may be daunting, but now is the time to clean out the closet and play the "What-does-this-cable-go-to?" game. Just think how happy you'll be at yourself after you've gone through the files in the filing cabinet and boxed up all those receipts, warranties, and tax records (consult your accountant!) from the last couple of decades. After the closet is tidy, the filing is sane, and that scanner that's not been used in years has been dropped off at the recycling center, it's time to reward yourself with a fresh look!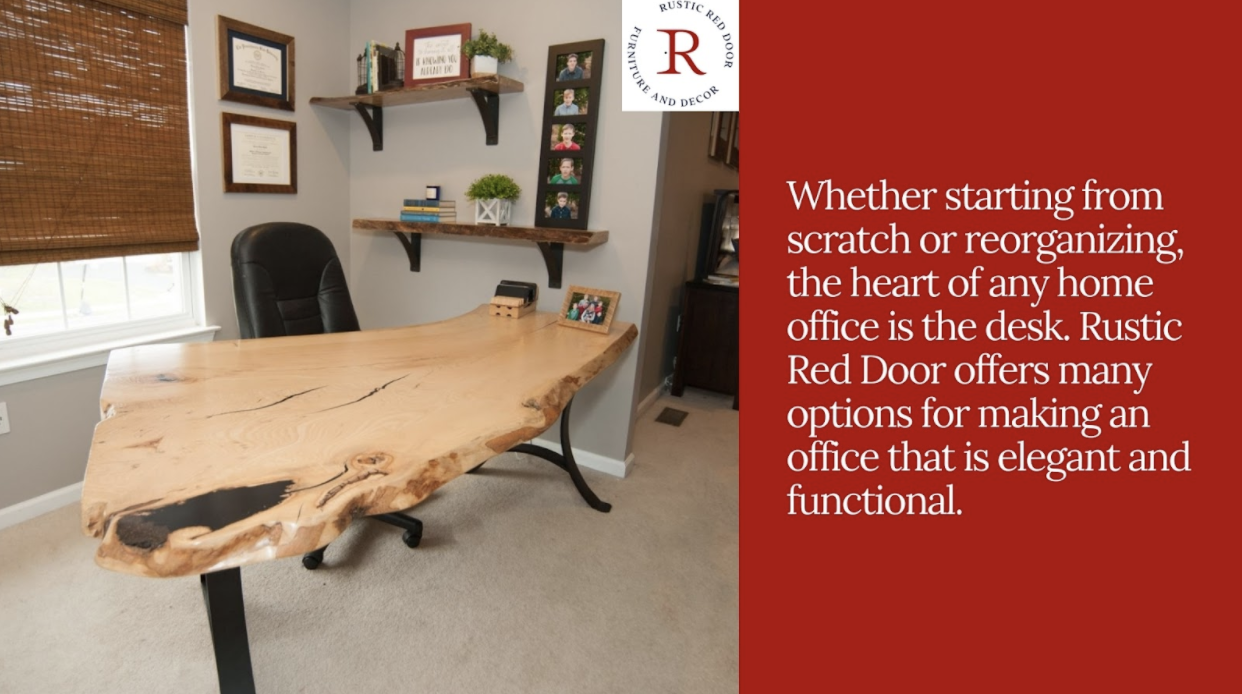 Rustic Red Door offers many options for making an office that is elegant and functional. Our rustic desks will beckon you to come and complete your tasks. These are not your usual office desks with the little pencil drawer (containing six paperclips, three pennies, and a dusty two-cent stamp) and that filing drawer on the left with two handles, so that it looks like two drawers.
Or for a more traditional look, you might choose our Reclaimed Barn Wood Knee Hole Desk. It has the form of a standard desk including a pencil drawer for those pennies and that two-cent stamp. However, this desk is anything but standard. Made from reclaimed barn wood, the dings and weather marks are left in and highlighted. You may not know the wood's history, but you can be sure that it has one. Besides the pencil drawer, it has two standard drawers and two filing drawers. And each filing drawer only has one handle, so the desk is not lying to you!
Dining Room
The dining room is where Rustic Red Door really shines. We have an awesome palette of tables, benches, chairs, and buffets to take your dining room in any number of directions. In fact, this might be a good time to mention our complimentary Design Services. We are happy to consult with you on your project via phone, FaceTime, or Zoom.  
Depending on how modern, country, or rustic-chic you want to get, we have several design choices for you. Our round maple dining table is rich and classic for a more formal look. Pair it with some brown maple dining chairs, and you're well on your way to a warm traditional dining room.
A farmhouse table with white trestle base paired with rustic benches will bring a country, farmhouse feels to your home. The Avon Table is a timeless design that features Amish craftsmanship, oak barn wood that's sourced in America, and is finished in Provincial Stain protected with a pre-catalyzed polyurethane which makes this farmhouse dining table resistant to heat and moisture. 
Or maybe choose one of our live edge dining tables with a steel base to bring your home a modern-meets-rustic vibe. For instance, our resin river dining table is a modern and artistic way to preserve old natural wood. The resin flows through the tabletop, captivating the eye and imagination. 
We pour this alluring epoxy resin between two slabs of the finest, hand-picked American walnut. The color is customizable and since no two slabs are identical, each river table is an extraordinary work of art that your guests will be talking about long after they leave your home!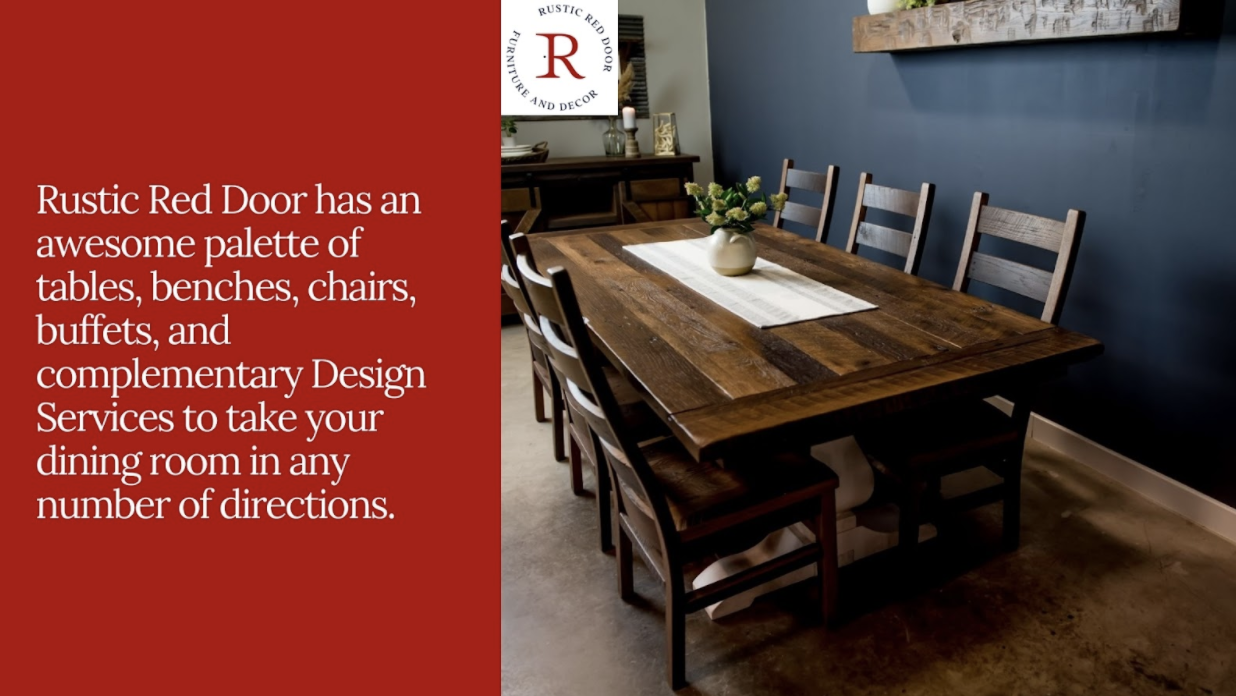 Library
C'mon, admit it. You'd love to be able to say, "Why don't we continue this conversation in the library over a brandy?" So why not make one of the kids' bedrooms into a cozy library? Home libraries, often called studies or dens, are usually different from home offices. Sure, a home office can have a rich, cozy feel. But if you use your home office as an actual office, it probably has more of a functional character. But a library? A couple of overstuffed chairs, an antique globe, maybe a fireplace, with some dark, richly stained rustic furniture and you've got a place to unplug and snuggle up with a good book!

A bookcase is a good place to start. One or two of these or a wall with some of our live edge shelves will be a wonderful way to keep your books off the floor, so to speak. And we don't mean to imply that a home library or study is strictly a place for lounging or goofing off. It can be a place of reflection or for conducting business, but without the trappings of the office. It is usually a little more personal with design elements that might be distracting in a home office. It can also offer an escape from the office when you need a change of scenery or when your wife or husband needs to use the computer/printer or join a zoom meeting.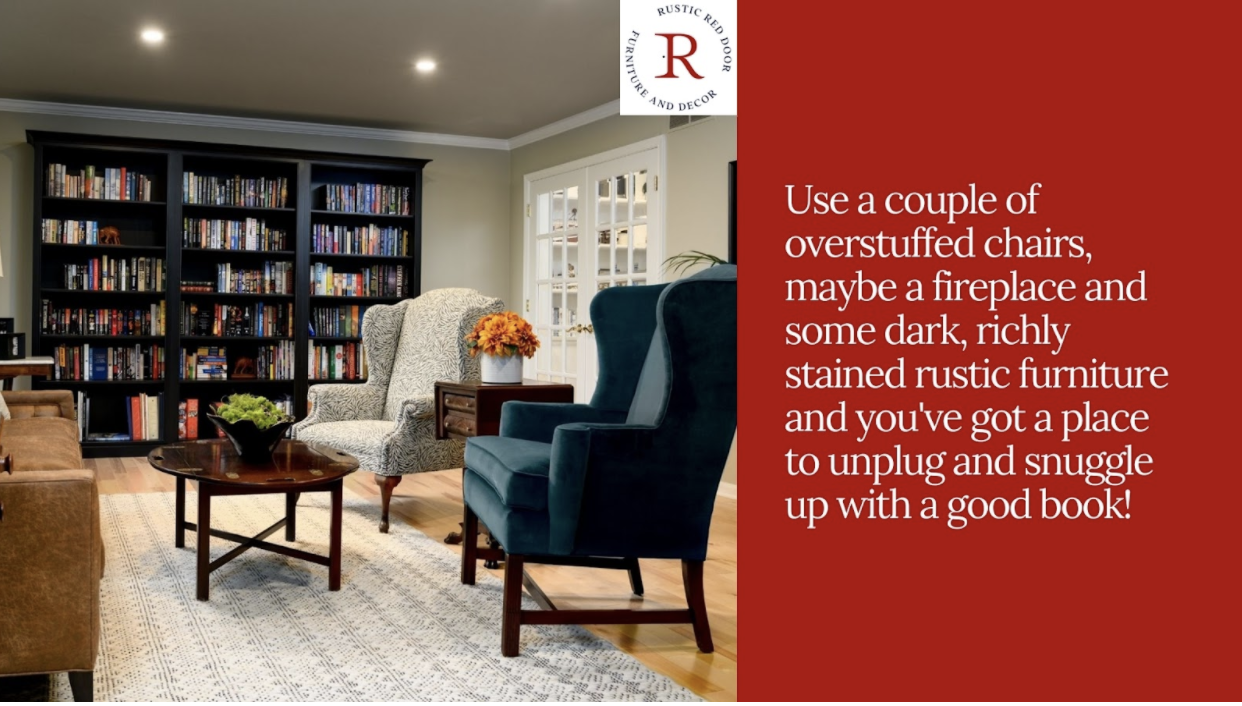 Where to start?
Now that the children are gone, take a moment, look at the spaces you have available, and think about projects you may have put off for years. Look around your house, your living room, dining room, bedrooms, even your laundry room. In fact, take a minute to peek inside every room in your house. No doubt you will find inspiration and ideas to transform and revitalize all your living spaces.

This time in your life is an opportunity to invest effort and money in a less kid-friendly direction. Besides selling the jungle-gym playset and reseeding the bare spots, your backyard can now have a small pond or a fountain with fine landscaping. Instead of a membership to a fitness club, you can add a home workout room. The basement or storage room can be transformed into a wine cellar, wood shop, or DIY craft room. You can even finally have that Zen-like meditation/yoga room you've always dreamed of.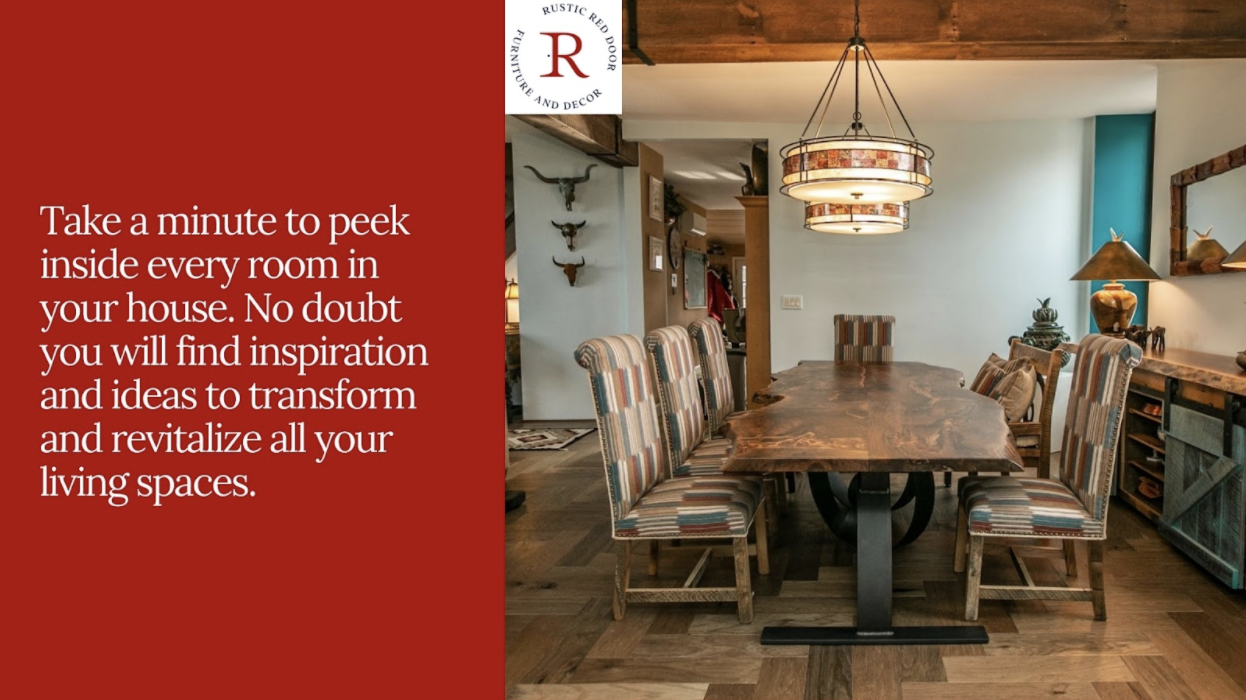 Naturally, we think this is also a time to invest in finer furniture. Children, no matter their ages, have a tendency to damage furniture. Now that juice spills, dirty shoes, horseplay, and art projects gone wrong are a thing of the past (at least until grandchildren begin to turn up!), you can buy furniture that is more adult-friendly. All our furniture is built by trusted, domestic craftsmen. They are heirloom pieces that will last decades and never go out of style. By choosing Rustic Red Door, your repurposed-nest will impress your guests, and even your children the next time they visit!