Shop All Square Dining Tables
Features

Dimensions

Delivery

More Info
Reclaimed Oak Barnwood

Plank-Style Top

Pre-catalyzed Polyurethane

Can Have Up to 4 Middle Leaves, Sold Separately

Trestle Base

Available in Provincial or Natural Stain
Table Pictured Here in Provincial Stain

Chairs and Benches Sold Separately

Tables have solid top unless leaves  are selected
Square tabletops become rectangular in shape when leaves are added.
Dining Tables are approximately 30" High

Various Tabletop Dimensions Available

Middle Leaves: 12" each 


6" breadboards
We provide white glove delivery on this item, which includes in-home delivery and full assembly (if needed) as well as the removal of all packaging materials.
If you are local to us in Perkiomenville, PA please call us at 610-672-6454 about local pricing & delivery/pickup options.
Share
View full details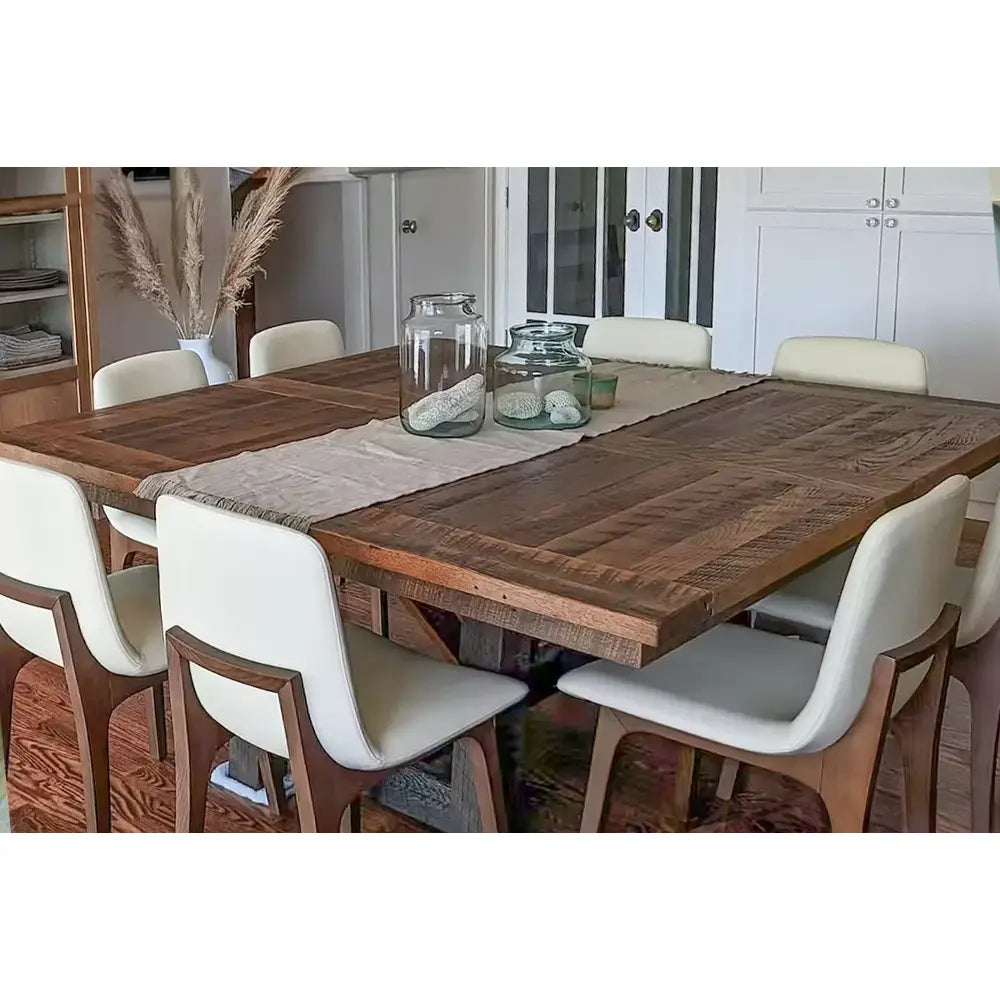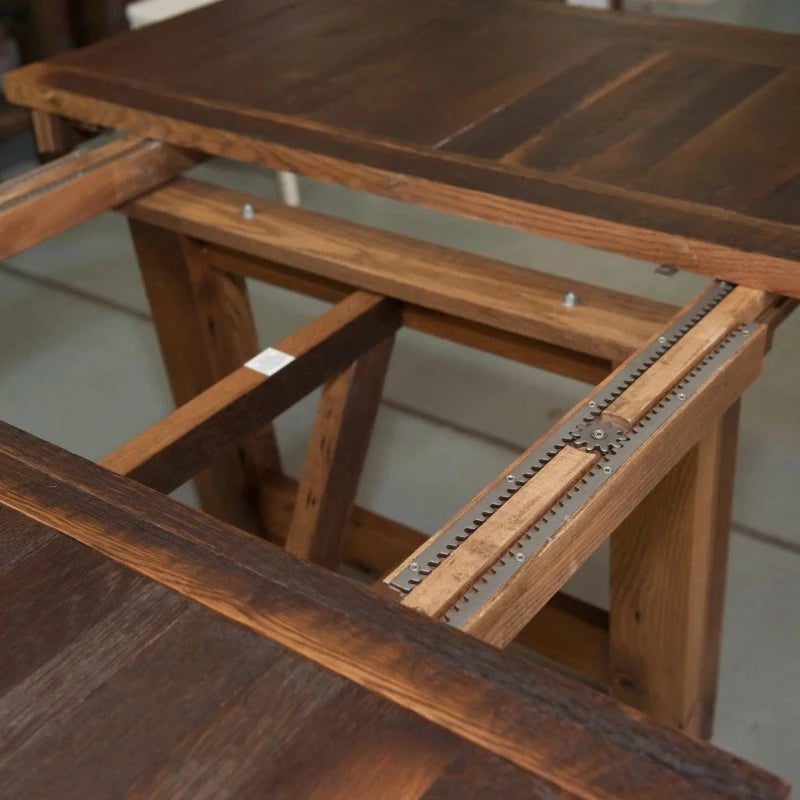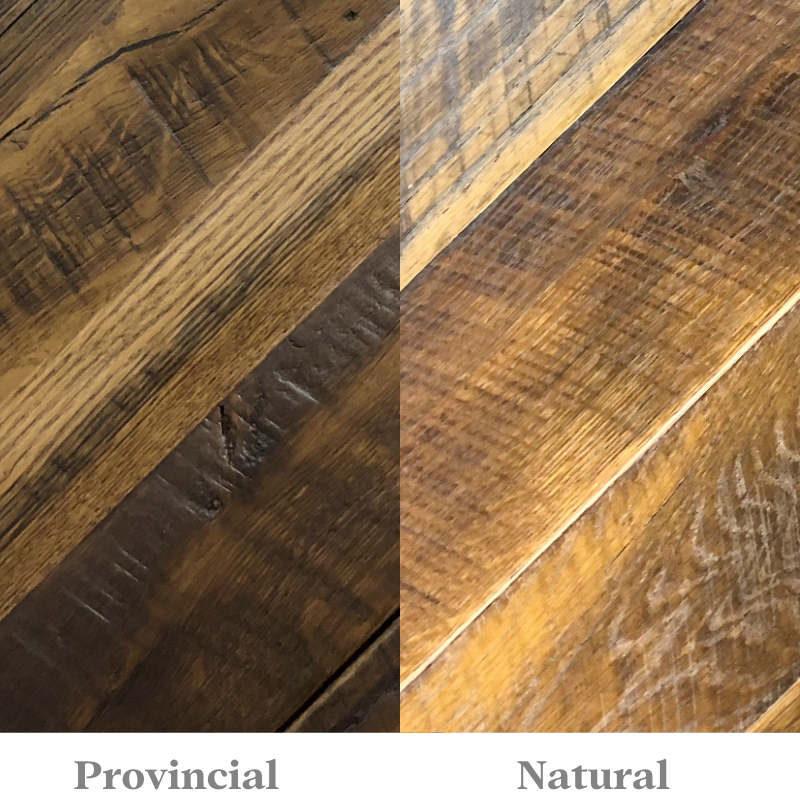 More about the Hawthorne Square Reclaimed Wood Dining Table
Square Reclaimed Oak Barnwood Dining Table
A home is never complete without a beautiful dining table. Lack of proper chair tuck is a design flaw that causes awkward and uncomfortable "knees-bumping-into-the-table-leg" mishaps. One of our most requested items, the Hawthorne square reclaimed wood dining table, is a remarkable rustic beauty.
This farm-style table features a planked top with 6" breadboards, but it offers so much more. Because the square tabletop with its sizable overhang is combined with this specific type of trestle base, it's also the answer to eliminating those awkward chair scoots by providing ample leg and knee room on every side.
Barnwood Table Handcrafted for Durability
This piece is hand-crafted from Reclaimed Oak Barnwood that has faithfully stood the test of time. Reclaimed Barnwood adds a piece of history from old American barns. Now, they're used to create a beautiful dining table for your home.
This piece has a trestle-style base
Table pictured here measures 54" x 54" with the option of adding two 12" leaves (sold separately) taking it to 54" x 78". This beautiful piece, with its unique and naturally occurring wood characteristics, is the ultimate farm-style table.
This square dining table is finished in Provincial Stain and protected with clear, pre-catalyzed polyurethane. Its durability makes it a wise investment in heirloom quality that can be readily passed to the next generation with the assurance of a comfortable dining experience and perfect chair tuck every time.
**(Chairs and extendable benches may be purchased separately.)
Shop More Reclaimed Wood Dining Tables
Finding a dinner table piece for your home is the ultimate search. You want to make sure you find one made of durable material that matches the aesthetic you're looking for. Browse through our collection of other reclaimed wood tables.
Find Seating Options Here

Whether you're looking for chairs or benches, we've got them all here! Check out our rustic dining chairs and benches for this beautiful dining table. Contact us for more information about custom chairs and benches.
Custom Options Available For Your Reclaimed Dining Table
It's important to get the dining table you're looking for. We know you want a durable piece. Custom options include size, wood type, stain, finish, and additional leaves. Alternative base styles are available on some tables.
This item, as well as all of our other items, can be customized according to wood type, dimensions, finish, base design (if applicable), and epoxy color (if applicable). 
Read More
Hawthorne Square Reclaimed Wood Dining Table
The Hawthorne Square Reclaimed Wood Dining Table took ten months to get to us from the order date but we made the purchase knowing it would be approximately that long before the table made it to us. When it was time to make an inquiry regarding an approximate completion date, the folks at Rustic Red Door responded quickly and accurately. The result? It's truly the most breathtaking piece of furniture we've ever seen. When seated at the table, we and our guests can't stop caressing it while discovering all the notches, grains and nooks in the wood. Seriously. Wow. We are blown away.
Hi Jennifer!
Wow this is such great news to hear! We are so happy you and your guests love the table so much!!! We are so happy you enjoy all the notches, grains and nooks, we love that part of our tables too! We are so glad you are enjoying it and know your family will for generations to come! Thanks!