Dining Table Guide:
How to Choose a Unique Dining Room Table

Selecting the perfect dining room table for your home is a big decision and one that you will live with for years to come. If you haven't read it yet, visit Part 1 of our dining table guide to learn how to choose the ideal size and shape for your space and seating needs. 
We cover the benefits of a rectangular, round, square, and oval dining table and how to know which shape will fit best in your dining space. We also talk about how much space you need to comfortably seat your guests, with enough room to move about the table. 
Now it's time for the fun part: choosing a unique dining room table that fits your personal style! Dining tables come in many types of solid wood, with different stains, finishes, and unique characteristics like live edges and knots. 
Whether you love a modern dining table that acts as an eye-catching focal point for your dining room or prefer a more rustic wooden dining table for family gatherings, the right dining table is out there! 
The perfect piece for you embodies your personal style and makes all who sit at it feel welcomed and at home. Read on to learn how to find the dining room table style for you! 
Traditional Wooden Dining Table 
A traditional dining table, whether for your kitchen or dining room, is always in style. A traditional large dining table is usually rectangular in shape and built of solid wood. At Rustic Red Door, we love making our tables special by using reclaimed wood from old barns or factories to create unique dining tables full of character. This is perfect for a rustic-style home that seeks to bring elements of the outdoors inside. 
For example, we love farmhouse-style tables with unique features like breadboard ends, a sculptural base or hand-turned legs, and natural knots and nail holes. With wood dining chairs to match, these rustic dining tables are perfect for casual meals shared among friends and family members. Reclaimed wood has already stood the test of time, making it a timeless addition to any space. 
For a more unique dining table that still has enough space to seat a crowd, we also have modern dining tables that combine a reclaimed wood top with a steel base. Selecting a long dining table like this is sure to create a statement in your dining space. 
Live Edge Tables
Ready to make a statement? Live edge dining tables create a 100% unique dining experience and provide a more natural feel to a dining area. Because each piece of wood for live edge tables is hand-selected, this is the perfect option if you are interested in creating a custom wood dining table. The live edge, or a natural edge, provides a unique shape for your table that is unmatched. 
Other unique dining tables add a river effect to create an even more unique and natural feeling table. These river tables are eye-catching and completely one of a kind! 

Bar Height Table
Bar height tables, also known as pub tables, aren't just for bars and restaurants. These hightop varieties are perfect for small spaces, game rooms, and are a great option if you don't need as much seating capacity. 
Pub tables can be round, square, or rectangular. Share a meal with a friend on our whiskey barrel glass top dining table (a customer favorite!), or sip wine at our cafe tables.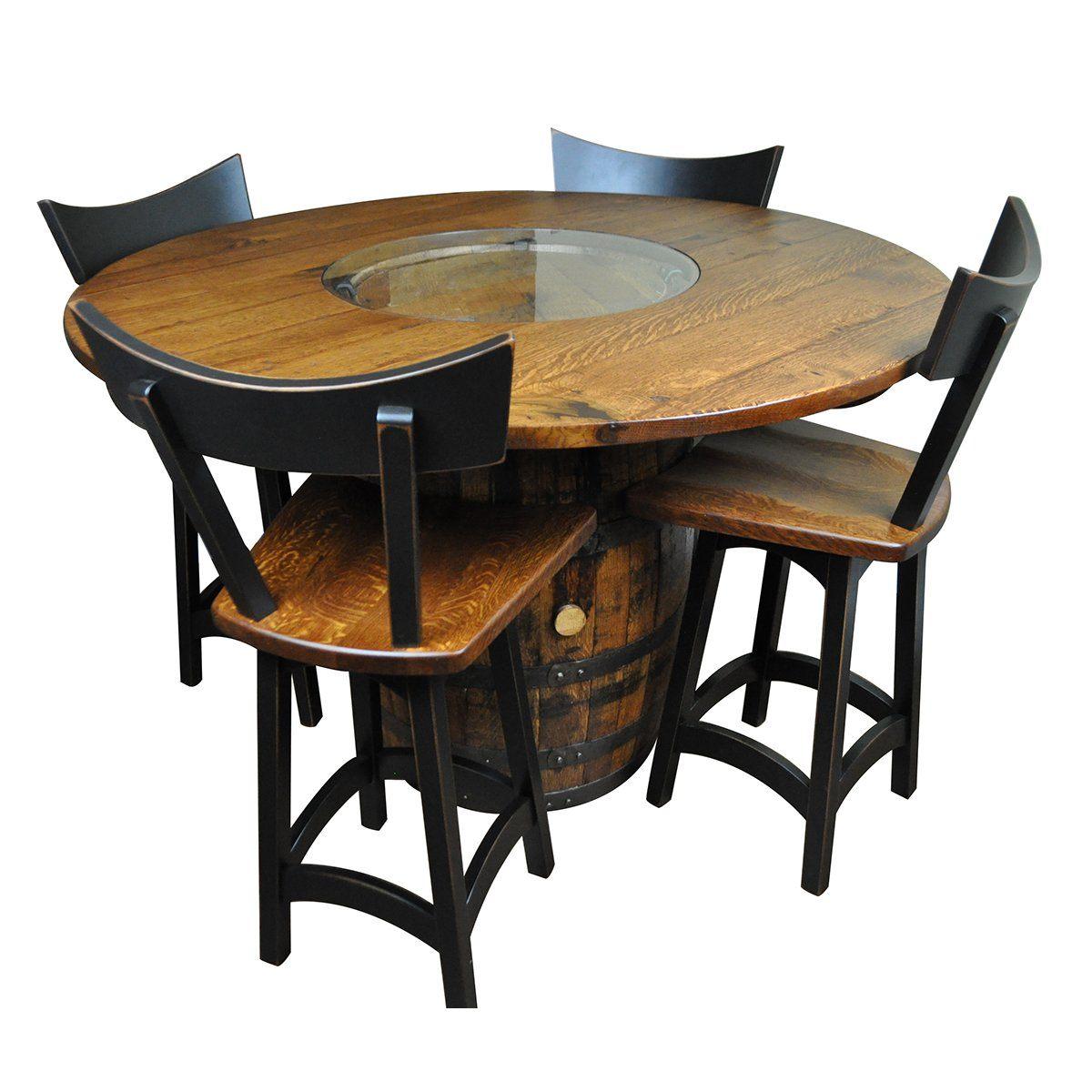 Shop for a Unique Wooden Dining Table
Whether for your kitchen or dining room, it's important to find the perfect dining table that fits your unique style. We hope these ideas inspire you with all the possibilities for your dining space. Be sure to check out our wooden dining table collection with barnwood dining tables, live edge tables, and more!