6 Best Reclaimed Wood Dining Tables
At Rustic Red Door, we love reclaimed wood! Some of our tables and furniture pieces are made of reclaimed wood from barns and other structures that make for beautiful, one-of-a-kind furniture pieces. 
Each piece of reclaimed wood has a story to tell, with unique characteristics specific to the history of the wood. We love to carry that history on by transforming the wood into heirloom furniture pieces that will last for generations to come. So if rustic home improvement for your dining room is what you're going for, we've narrowed down your search into this blog post!
Today we wanted to share some of our favorite, and best-selling, reclaimed wood dining tables. Scroll through to see our 6 favorite reclaimed wood dining tables, and explore more dining and furniture options for your home.
1. Hawthorne Extendable Dining Table
One of our most requested items, the Hawthorne reclaimed wood dining table is a beauty in its own right. Handcrafted from reclaimed oak barnwood that has faithfully stood the test of time, the Hawthorne extendable table is a perfect addition to any home.
This Square Table is extendable by adding 12" leaves in the middle of the table top. The leaves and 6" breadboard ends beautifully run perpendicular to the rest of the table. Because the square tabletop with its sizable overhang is combined with this specific type of trestle base, it's also the answer to eliminating those awkward chair scoots by providing ample leg and knee room on every side.
The top of the table pictured here measures 54" x 54" without any of the 12" leaves (sold separately) being added. This table gives you the option to fit it in small spaces as well as accommodate up to eight people. So there's a lot of flexibility with this piece. The addition of each leaf brings the table's dimensions to 54" x 66" and 54" x 78". The options available for the Hawthorne table (without leaves) range from 54"x54" to 72"x72". Additional customizations are available for this table, so tap to learn more!
2. Pierce Reclaimed Barnwood Dining Table
The rustic charm found in the beautifully weathered timber of our Pierce reclaimed oak barnwood dining table cultivates an overall feeling of warmth and welcoming to all who gather around.  
Constructed in a sturdy plank-style tabletop design, the reclaimed oak barnwood top includes a four-sided skirt and two optional 6" breadboards. It rests on a natural powder-coated steel trestle base that houses a reclaimed beam for added character and stability. The Pierce Table is available in two sizes: 42"W x 84"L x 30"H and 48"W x 78"L x 30"H, but custom sizes are available too!
This piece is stunning just as it is and can be an excellent focal point in the dining room. This style is very much going to be "trending" so you can count on using it for years to come.
3. Montana Reclaimed Barnwood Extendable Table 
Whether your design style is farmhouse, rustic, industrial, transitional, or eclectic, the features and craftsmanship of the handsome Montana Table are the perfect complements to any dining space. Its reclaimed oak barnwood plank-style top includes carefully placed hand-worn edges and optional 6-inch breadboard ends that run cross-grain to the main table. 
Your table should be designed to fit your needs, and the Montana reclaimed oak dining table can do just that. With standard lengths ranging from 5' to 12', you are sure to find the perfect-sized table for your family and home. The Montana table dimensions range up to 54"x144 ". Optional breadboard extensions are available and sold separately. (Standard breadboard extension width: 18". Other widths available upon request.)
4. Granby Reclaimed Barnwood Round Dining Table
Round dining tables don't get enough credit in our opinion - they are incredible! Not only are they great for smaller dining spaces, but they create an intimate and welcoming atmosphere for all who gather. Being able to see and hear everyone at the table is a huge perk!
The Granby round dining table made of reclaimed oak barnwood is paired with a uniquely designed, powder-coated steel, pedestal base. Perfect blend of natural and industrial styles.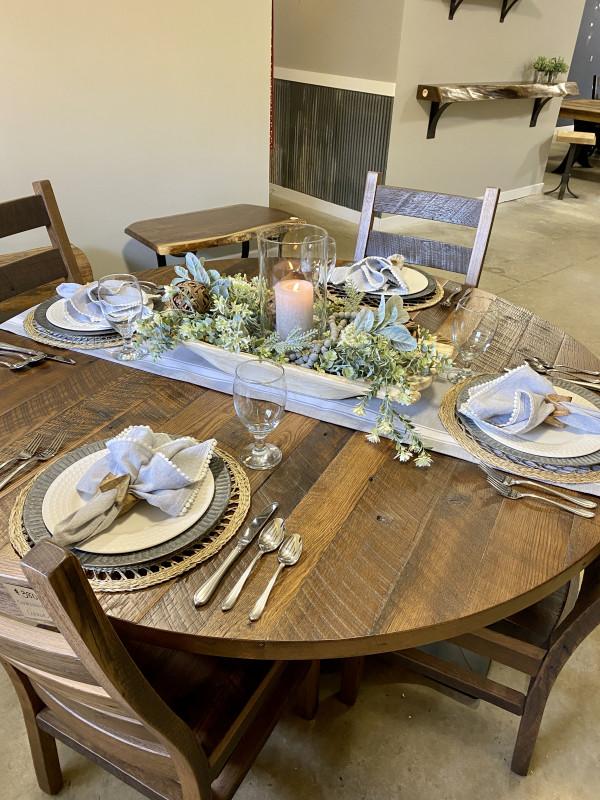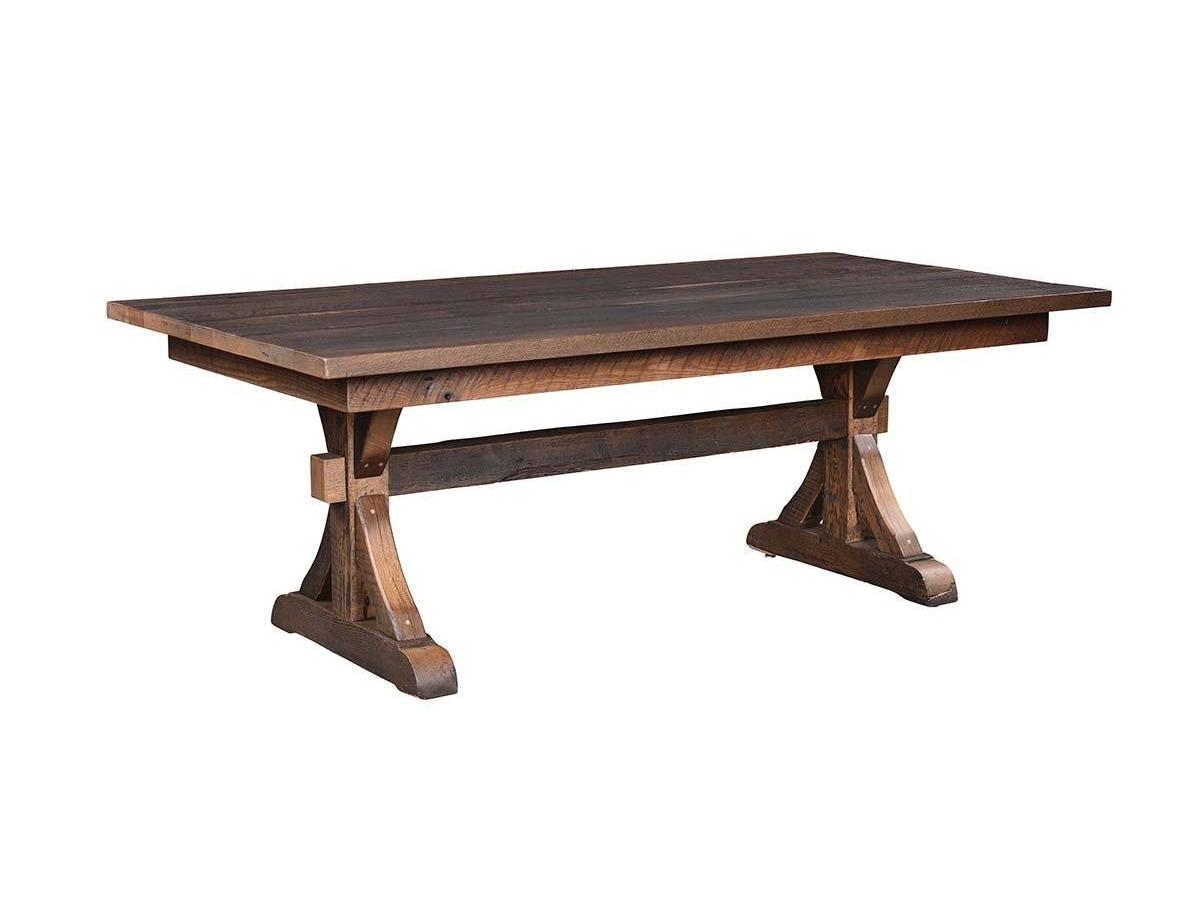 5. Bristol Reclaimed Wood Dining Table
Another wonderful reclaimed wood dining table is the Bristol Table. Made of reclaimed white oak, this table's nature is made to stand that test of time - and in fact, it already has!
White oak was often used on ocean-going ships and it is extremely durable, so it makes sense that generations of barns have also been made out of this strong material.
This plank-style top table sits atop a trestle base with a reclaimed barnwood beam for added character and stability. The Bristol table is available in numerous sizes and is extendable by adding breadboard on each end.
6. Avon Farmhouse Dining Table White Trestle Base
Last but not least, in our top 6 reclaimed wood dining tables is the Avon table! There's no better way to greet your guests with a timeless farmhouse-style dining table - a wonderful addition to any home.
Its reclaimed oak barnwood top and skirt reflect beautiful, natural characteristics found in the knots and grain in each wood piece. The Distressed Pearl trestle base allows a bit of the wood to remain visible, giving it somewhat of a distressed appearance. It contrasts perfectly against the tabletop's natural finish. 
This gorgeous table comes in various sizes ranging from 42"x60" to 48"x144".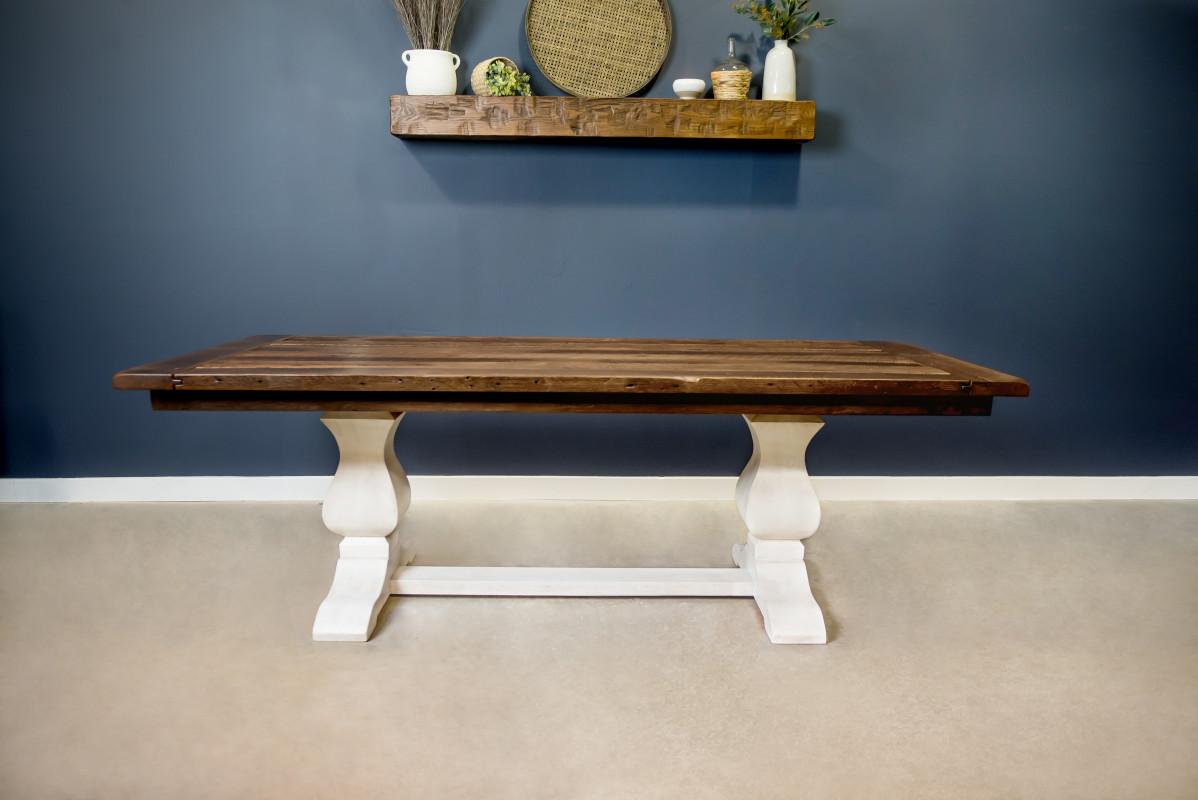 Shop our Best Reclaimed Wood Dining Tables
The tables you see on this page are some of our customer favorites! If you're shopping for a new dining table, shop our collection of reclaimed wood dining tables or live edge dining tables to find the best handcrafted furniture piece for your home. 
At Rustic Red Door, we believe that home is the place that matters most for your family- so you should get the furniture that helps you to create that cozy atmosphere. If you have specific preferences that need customization, fill out the form below for a complimentary design consultation and we'll help you get started.